BTN.com staff,

December 1, 2014

They come home, many of them bruised either physically or emotionally, and all they want to do is get back into the society they chose to protect. At the University of Maryland, there?s an effort underway to help military veterans move on with their lives after years of service and sacrifice.

But this isn?t a heavy, heart-wrenching tale of former soldiers overcoming difficulty through intense self-examination and sharing of war stories. In fact, these veterans are finding that integrating back into normal life can be a lot of fun.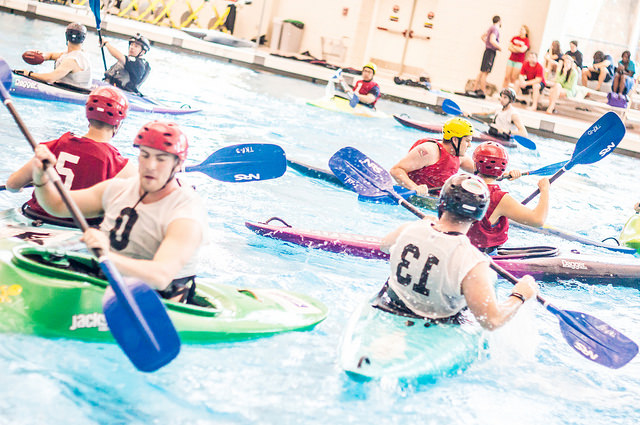 Earlier this month, the University of Maryland?s Veteran Adventure Orientation Program sponsored a kayak football tournament. This gave veterans who currently attend the University of Maryland the opportunity to paddle around a pool and bump boats while trying to put points on the board.
For those who don?t watch ESPN9 (where kayak football may or may not be televised), the game is played with five players per team, each in their own kayak, in an Olympic-style pool. The name notwithstanding, it doesn?t bear much resemblance to what you?d find on a gridiron. Play is something like what you?d find in Ultimate Frisbee, and ?the games are a blast,? according to Jake Crouse, 20, an adventure trip leader and challenge course supervisor with the Maryland Adventure Program and a junior studying math and psychology.
So, what happens when the ball lands in the water rather than being caught by a player from either team?
?It?s just a loose ball, a fumble, and it becomes a free-for-all,? Crouse said with a laugh. ?It?s an all-out sprint to paddle to get in position to pick the ball up. They knock other boats out of the way, and oftentimes you?ll have one kayak paddle up on top of another boat.?
Crouse and another Maryland student, Tyler Austin, 26, an Air Force veteran who served in South Korea, combined their efforts to create the Veteran Adventure Orientation Program. The kayak football tournament is just one of the events offered by the organization, which aims to engage veterans in physical ways.
Austin, a peer advisor for veteran engagement with the Veteran Student Life organization and a junior studying computer science at Maryland, was initially reluctant to get involved in these kinds of programs.
?At first I didn?t want to get involved - I felt like I just wanted to accomplish everything on my own,? he said. ?But school is really trying. There are a lot of bumps and struggles, and there were veterans in the community who were there to help me out. I felt it was a great thing to get involved with.?
Austin and Crouse got together thanks to multiple efforts to involve veterans in water-related events.
?Initially, there was a veteran non-profit community organization called River Runner, which provides occupational therapy for disabled veterans using kayaking as a tool,? Austin said. ?The goal was to get them into the water where they would be on equal footing, to prove to them there was no limit to their ability. We ended up bringing that over to the University of Maryland and started a chapter of our own.?
?We were doing these paddle-in-the-pool sessions, getting together with the Veteran Student Life program, teaching the veterans who have physical disabilities how to row in a kayak,? Crouse said, ?And we would finish with a game of kayak football.?
[btn-post-package]The Veteran Adventure Orientation Program was an outgrowth of those sessions at the university pool.
?At the beginning of the semester, we took 10 veterans on a kayaking weekend trip,? Austin said. ?I was one of the group leaders. We spent time talking about where we all struggled, what our transition was like, leaving the military and starting school again, and what our particular obstacles were.?
?There is a sense of belonging now,? Crouse said. ?It can be very difficult when you are transitioning from military to the campus. Will they be able to connect with people outside of the military, connect with civilian students? This lays groundwork for the veterans to discover a meaning for themselves outside of the military.?