BTN Communications,

December 1, 2014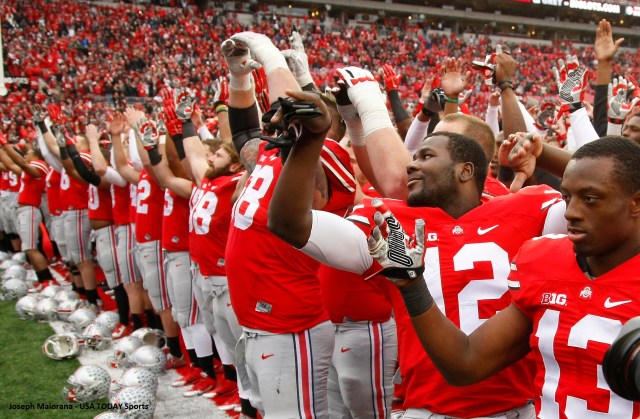 With the regular season complete, BTN will present the exclusive, live announcement of both coaches? and media All-Big Ten teams, as well as several Big Ten football awards during the BTN Live: All-Conference Selection Show at 6 PM ET tonight.
Host Dave Revsine and analysts Gerry DiNardo and Howard Griffith will be joined by select award winners during the show.
The 10 individual position trophies that will be announced Monday include the Griese-Brees Quarterback of the Year, Ameche-Dayne Running Back of the Year, Richter-Howard Receiver of the Year, Kwalick-Clark Tight End of the Year, Rimington-Pace Offensive Lineman of the Year, Smith-Brown Defensive Lineman of the Year, Butkus-Fitzgerald Linebacker of the Year, Tatum-Woodson Defensive Back of the Year, Bakken-Andersen Kicker of the Year and Eddleman-Fields Punter of the Year.
The conference?s top offensive, defensive, coach and freshman awards will be announced at 6 PM ET Tuesday on BTN Live. Included are the Graham-George Offensive Player of the Year, Nagurski-Woodson Defensive Player of the Year, Hayes-Schembechler Coach of the Year (coaches vote), Dave McClain Coach of the Year (media vote) and Thompson-Randle El Freshman of the Year.
About BTN: A joint venture between the Big Ten Conference and Fox Networks, BTN is the first internationally distributed network dedicated to covering one of the premier collegiate conferences in the country. With more than 1,000 events across all platforms, the 24/7 network is the ultimate destination for Big Ten fans and alumni across the country, allowing them to see their favorite teams, regardless of where they live. BTN2Go is the digital extension of the Big Ten Network, delivering live games and on-demand programming to Big Ten Network customers via the web, smartphones, and tablets. Events include football, men?s and women?s basketball games; dozens of Big Ten Olympic sports and championship events; studio shows; and classic games. Original programming highlights activities and accomplishments of some of the nation?s finest universities. The groundbreaking Student U initiative provides real-world experience for students interested in careers in sports television. The network is in more than 60 million homes across the United States and Canada, including carriage by all the major video distributors, such as DIRECTV, DISH, Verizon FiOS, AT&T U-Verse, Charter Communications, Comcast Xfinity, Time Warner Cable, Cablevision, Cox Communications, Mediacom, RCN, WOW!, and approximately 300 additional video providers across North America. For additional information, go to www.BTN.com.
###