Mike Wolf, BTN volleyball announcer,

November 25, 2014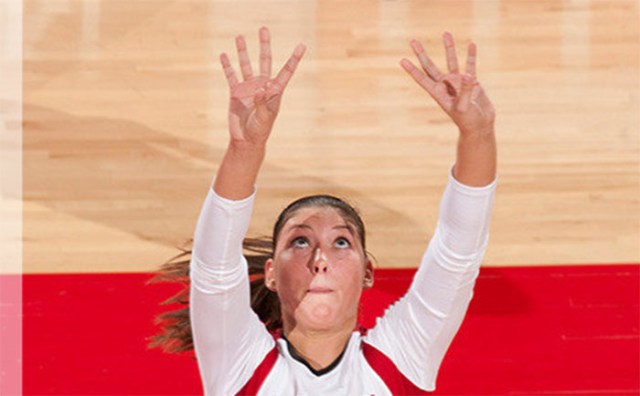 Two matches remain in the regular season, and barring an epic letdown, Wisconsin will be the 2014 Big Ten champions. Make no mistake, despite numerous discussions about unbalanced scheduling, the Badgers will have earned their first Big Ten Title since 2001 if they can close out the year with two wins.
While many of us would like to see Wisconsin play Penn State again, Kelly Sheffield?s team will have won 19 consecutive matches against some of the toughest competition in the country and done it in dominant fashion. With Rutgers and Purdue remaining on the schedule, the time for celebration is not far off for fans in Madison.
Overall
Conference
W-L
%
W-L
%
Wisconsin
26-2
.929
17-1
.944
Penn State
28-3
.903
16-2
.889
Illinois
22-7
.759
14-4
.778
Nebraska
20-7
.741
14-4
.778
Purdue
22-8
.733
12-6
.667
Ohio State
19-11
.633
10-8
.556
Michigan State
16-13
.552
9-9
.500
Minnesota
18-11
.621
8-10
.444
Michigan
12-16
.429
7-11
.389
Northwestern
16-13
.552
6-12
.333
Indiana
15-15
.500
6-12
.333
Iowa
13-16
.448
5-13
.278
Maryland
9-20
.310
2-16
.111
Rutgers
7-24
.226
0-18
.000
Rutgers, the only winless team in the conference, will not beat the Badgers on Wednesday night – even with the match being played in New Jersey. As for Purdue, the Boilers are capable of hanging with the league?s top team, as they did in the first set on Oct. 29, when they had a 21-14 lead before seeing it evaporate. However, Purdue?s recent play has left a lot to be desired and after being swept by inconsistent Minnesota on the road, it is hard to envision the Boilermakers beating the Badgers in Madison.
Should Wisconsin win both, it will become only the second team other than Penn State to win the conference title since 2002. Nebraska accomplished the feat in 2011, its first year in the league, and Wisconsin could win it after falling in the Big Ten opener to the Nittany Lions. Prior to that match in September, Coach Sheffield made it clear his team was not focused simply on one win against Penn State, but had bigger goals in mind.
?There have been a few teams that have been able to beat Penn State over the past few years,? Sheffield said. ?But there are not too many people who have been able to win a conference championship other than Penn State.?
Wisconsin may not have been one of those few teams to beat the Nittany Lions, but winning a Big Ten title was always the priority. Following that loss, the Badgers have rattled off 17 straights wins, with 14 of those coming via sweep.
Wisconsin has only been in jeopardy of losing a match once during the win streak, when it trailed Michigan in the fifth set before coming back for the win on Nov. 7. The other two challenges both came against Illinois. Though both were competitive matches, the Badgers did not face a scenario where they were points away from a loss. However, a dramatic comeback from down 23-16 in set 3 last Wednesday kept Wisconsin from trailing the Illini 2-1.
Outside of those three matches and the Big Ten opener, Wisconsin has looked like a team a cut above the rest of the conference. The dominance that has been on display from the Badgers this year is familiar for the Big Ten after years of Penn State reigning over the conference landscape. The last few years, teams that have run through the conference slate with just one loss have gone on to Final Fours and national titles. Keep that in mind, Wisconsin fans.
***
Tournament Bubble Update: (read last week?s breakdown of bubble teams for more)
Michigan
The Wolverines lost both matches this week, and, at 12-16 overall, are now incapable of getting the necessary .500 record for postseason eligibility. It's an unfortunate end for Michigan in a year that has been plagued by injuries. But there's a bright future for the three freshmen who saw significant roles in their first year with the program.
Michigan State
The Spartans took care of business against Northwestern and Rutgers and are guaranteed an above .500 record heading into the final week of the season. Wednesday night against Purdue is another big match, because Michigan State still does not have a win over a ranked team and the Boilers present that opportunity. Significant wins play a part in the selection committee's decision, and the Spartans do not have one.
Northwestern
The Wildcats will finish above .500, but will they have enough conference wins to earn a spot in the tournament? Northwestern fell to Michigan State last Wednesday in a match they needed between two teams contending for bids. With Penn State and Maryland remaining on the schedule, the Wildcats should be able to get to seven Big Ten wins but that may not be enough. The two wins over ranked competition still act as a boost to the cause come Selection Sunday.
Minnesota
After defeating Purdue at home last week for their first win over a ranked opponent, the Gophers have improved their claim for inclusion in the field of 64. On paper, Minnesota has a great case, but its overall and conference record is less impressive.
An 18-11 mark should have a team well within the tournament field, but 10 of those wins came against unranked non-conference opponents that made up a soft out-of-league schedule. As for the 8-10 mark in the Big Ten, four of those wins came against the bottom half of the conference and not one victory came against a team in top 4 of the league. That being said, win the next two against Ohio State and Indiana, and a 20-win team is unlikely to be left out of the tournament.
Indiana
The Hoosiers have lost three in a row and six of their last seven and would need to split their final two matches to remain at .500. Similar to Northwestern, Indiana could finish with seven conference wins but none of those would have come against ranked competition, leaving the Hoosiers without a significant win. Indiana remains a long shot for the postseason.
***
Live on BTN/BTN2Go this week:
No. 10 Nebraska at No. 4 Penn State - Saturday 8:30 ET (Watch on BTN2Go)
It is unfortunate for fans of Big Ten volleyball that this match is scheduled for the final match of the regular season for the second straight year. Conference title hopes need to be on the line when these two teams meet, and barring a Badger meltdown that will not be the case.
Early in the season, both teams had a lot to play for on Oct. 3 in Lincoln, and the Huskers came back from being brutalized in the first set to win in four. Since that match, Penn State has lost just once, to Illinois at Rec Hall, while the Huskers had an up-and-down first month of Big Ten play before rattling off wins in their last eight matches.
Nebraska?s Kelsey Fien has emerged in the second left side spot since being inserted into the lineup on Oct. 22 at Minnesota and has been in double figures in kills in seven of the nine matches since. The Huskers have won eight in a row but benefited from only playing one ranked team during that span.
Penn State has also benefited from a schedule without ranked competition the past few weeks, playing its last six matches against teams outside of the AVCA poll. The Nittany Lions swept all of those matches and have now won the last 35 consecutive sets, dating back to Oct. 17, a 12-match win streak overall.
Penn State must first head to Evanston on Wednesday, while Nebraska will visit Champaign before Saturday?s regular season finale.
This series never disappoints and we can expect another great match between these two rivals, even without the Big Ten Title in the mix.
Note: After eight service aces on Saturday at Maryland, Penn State's Micha Hancock is now 14 aces away from setting the Big Ten single-season record. Hancock has 100 aces this year and is chasing Gopher Shannon Osterling?s record of 113 from 1989.
| | |
| --- | --- |
| About Mike Wolf | Mike Wolf is a BTN announcer and calls Big Ten volleyball matches on the Big Ten Network. His Volleyball Reports will appear on BTN.com every Tuesday for the rest of the Big Ten volleyball season. You can also follow our extended volleyball coverage on Twitter with @BTNvolleyball. |