BTN.com staff,

November 24, 2014

Imagine you?re strolling along a path that dips and rises and branches in myriad directions. As you?re walking, you pass through a miniature bamboo forest, all the while watching the light and color around you change dramatically.

This dreamlike place doesn?t exist - yet. But it will soon, thanks to a team of landscape architecture faculty and students from Penn State.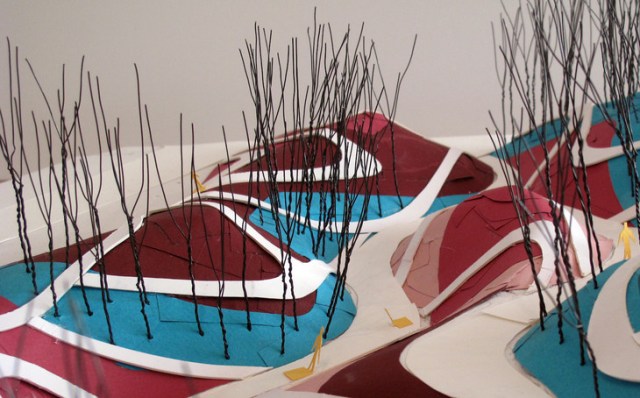 The group designed a park called the ?Happy Valley Garden,? which recently nabbed a first-place finish out of 900 international entries in the 10th China (Wuhan) International Garden Expo. The team?s concept will come to life in the summer of 2015 as part of a major garden festival in Wuhan, China, encompassing between 1,000-2,000 square meters within the expo space.
What set the ?Happy Valley Garden? apart from the other entries? For one thing, it incorporates elements of sustainability into the design, such as making use of recycled materials and even restoring and reusing landfill products. In addition, designers took a keen interest in water recycling and reuse, which they say will guide all aspects of the design and construction of the garden.
Penn State?s award-winning team, led by two landscape architecture design faculty members - Maria Debije Counts and Christopher Counts - consisted of six Penn State students from the university?s Stuckeman School of Architecture and Landscape Architecture. The students involved in the project were Chase Weaver, Na Yang, Richard Conte, Rebecca Purtell, Qin Fang and Andrew Seirfarth.
[btn-post-package]The team worked on the blueprints for the project as part of a summerlong internship at the Christopher Counts Studio, a Brooklyn, New York-based design firm that focuses on urban spaces. They set out to create a magical place that would evoke a playful sense of wonder, exploration and fun.
Visitors will be able to become intertwined in the contemporary garden?s leafy groves of miniature bamboo forests as they go on a journey through the different paths that ?reveal the sensual garden qualities of light, shadow, wind, smell, and sound,? said Marie Debije Counts. ?Voluptuous topography, flowing juxtapositions of planted color and dancing ribbons of concrete shape this imaginative living space that promotes a green and happy life.?
By Melissa Dittmann Tracey