BTN.com staff,

November 20, 2014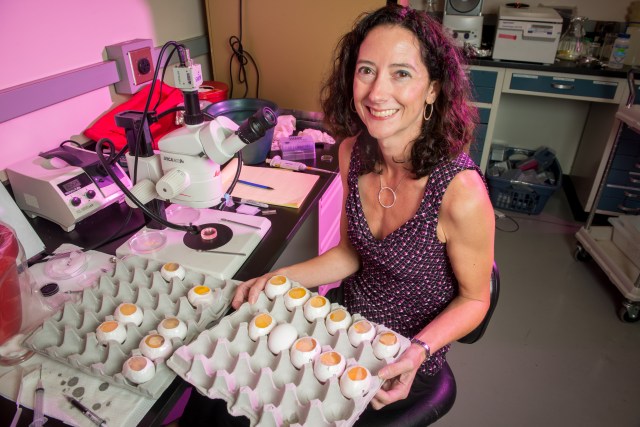 The work done by Lisa Taneyhill?s lab at the University of Maryland focuses on small objects such as chicken embryos. A recent grant from the National Institutes of Health (NIH) will allow that research to get much bigger.
The $1.9 million coming from the NIH?s Institute of Dental and Craniofacial Research division will allow her lab?s work to continue for at least the next five years, as they study the impact of cranial ganglia - a cluster of nerve cells responsible for receiving sensory information like taste, touch and smell. The grant will help her study neural crest-placode cell interactions during cranial ganglia assembly.
If your eyes just glazed over, she has a simpler explanation.
?We look at how two cell types come together to create these ganglia,? said Taneyhill, who serves as an assistant professor in Maryland?s Department of Animal and Avian Sciences. ?They act as the glue to keep these cells together.?
Taneyhill?s work basically involves looking at the development process involved in chick embryos, then projecting that into components of human and other animal bodies. If you?re wondering why that?s important, the answer is that the results could lead to her ultimate goal of learning more about cell regeneration. That, in turn, could eventually help cure ailments ranging from cleft palates and skin-pigmentation defects to heart disease and certain cancers.
?We?re taking a simple process that involves a simple structure with two cell types interacting,? she said. ?If we can understand how these ganglia are formed, maybe we can use that knowledge to understand other cell types and organs.?
Taneyhill said she cried ?tears of joy? when learning about the grant in September. She was at home with her husband and two kids when the news arrived.
[btn-post-package]
?I got the e-mail and put my computer down and said, ?Yes!?? she recalled. ?My son said, ?Why are you jumping up and down, Mommy?? I said, ?We got our grant!? My husband said to him, ?Mommy just did something really good at work, and that?s going to be good for a long time.??
Her University of Maryland lab takes in scientists at all levels, from post-doc all the way down to high school students. ?If I could, I would put my [four-year-old] son to work,? she joked.
If the grant sounds like a lot of money, that?s because it is, at least for this type of research. (?It seems like a lot to me!? she said excitedly.)
To put it in perspective, Taneyhill expects to get at least one more grant in the near future - but for much a shorter period of time and for only about one-tenth of the money. Having spent the last seven years at Maryland, the NIH grant will keep Taneyhill in College Park for at least the next half-decade. It will also help achieve her goals of gaining tenure as an associate professor and staying at Maryland for a long time to come.
?Maryland has been very supportive on multiple levels of my research program,? she said. ?I think it really is collaborative. Our department is very collegial, and it?s been a very nice place to work and get feedback on work.?
By Matthew Wood