BTN.com staff, BTN.com staff,

November 19, 2014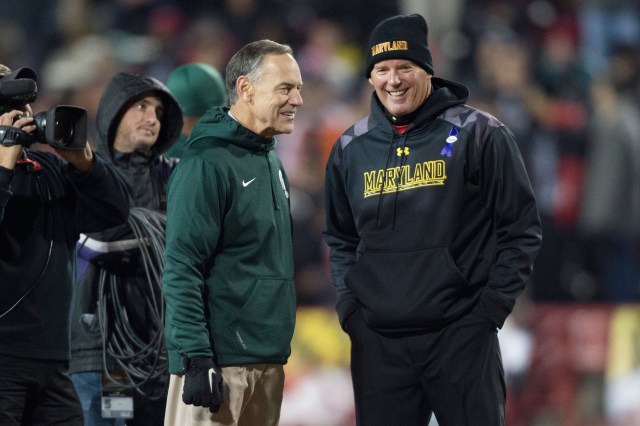 USA TODAY released its annual list of NCAA college football coaches salaries Wednesday, and the Big Ten has four of the 10 highest-paid coaches.
Michigan State's Mark Dantonio comes in at No. 2 to pace Big Ten coaches ($5,636,145), trailing only Alabama's Nick Saban ($7,160,187).
Ohio State's Urban Meyer is No. 6 ($4,536,640), Penn State's James Franklin No. 8 ($4,300,000) and Iowa's Kirk Ferentz No. 9 ($4,075,000).
The Big Ten is tied with the SEC with four coaches in the top 10. Bob Stoops (Oklahoma) and Charlie Strong (Texas) are the only others among the 10 highest-paid coaches.
How did USA TODAY get its figures? You can read all about that here. Basically, it added base salary to "other" pay to get each coach's total pay.
Here's a look at how all of the Big Ten coaches stack up.
2. Mark Dantonio – $5,636,145
6. Urban Meyer – $4,536,640
8. James Franklin – $4,300,00
9. Kirk Ferentz – $4,075,000
24. Bo Pelini – $3,077,646
30. Brady Hoke – $2,856,000
39. Pat Fitzgerald – $2,480,967
41. Gary Andersen – $2,285,000
45. Jerry Kill – $2,100,000
46. Darrell Hazell – $2,090,000
47. Randy Edsall – $2,033,880
52. Tim Beckman – $1,950,250
66. Kevin Wilson – $1,301,644
73. Kyle Flood – $987,000