Mike Wolf, BTN volleyball announcer,

November 18, 2014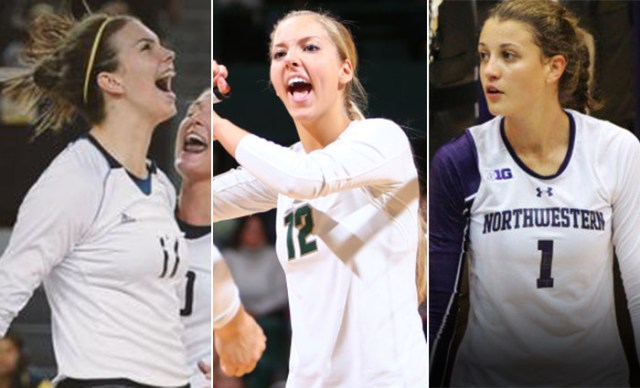 This is not a year for parity in the Big Ten, and the league may only get six teams in the NCAA tournament after having eight a year ago.
The conference is young and tournament stalwarts are feeling the growing pains of one of the largest turnovers of talent in recent memory.
It?s a safe bet that the six teams ranked in the latest AVCA poll will make the tournament, but the conference?s unranked squads leave a lot to be desired when it comes to their postseason résumés.
Any, or all, of the teams mentioned below could be left out of the postseason due to the fact they simply have not done enough to earn an NCAA bid. With that said, history and a potential overall winning record could be enough to have the selection committee look favorably on them.
Below are the reasons for and against the current Big Ten bubble teams.
MICHIGAN
Record: 11-13
Big Ten Record: 7-9
Ranked Wins: 3
RPI: 48
It?s a simple formula for the Wolverines; win three of your final four matches, and you?re in the tournament. However, accomplishing that feat is anything but simple.
Continuing a brutal stretch against ranked opponents, Michigan will play three of its final four matches against teams ranked No. 11 or higher after recently playing the nation?s new No. 2 team, Wisconsin, twice in a six-day span. No. 4 Penn State visits Ann Arbor on Wednesday before Michigan gets a chance to pull off the season sweep of No. 11 Nebraska on Saturday in Lincoln. The final week of the season sees the Wolverines return home to play Indiana, a team they loss to back in September, before heading to Champaign to face No. 10 Illinois.
Michigan owns the best record against ranked opponents of any Big Ten team on the tournament bubble, at 3-8, and when you add to that the best win – a sweep of then No. 8 Nebraska – any upsets in the next two weeks will just strengthen the cause. However, if Mark Rosen?s team fails to win three matches during that span, it will fall short of the minimum requirement of a .500 record that is necessary for postseason selection.
The Wolverines have been a depleted and young team this year, but they have played their best recently, and with two wins against the above ranked opponents and a home win against Indiana, they can reach the postseason. It will be a formidable task, but Michigan is capable of pulling it off.
***
MICHIGAN STATE
Record: 14-13
Big Ten Record: 7-9
Ranked Wins: 0
RPI: 49
The Spartans face a similar scenario to their in-state rivals in the final two weeks, however it is a considerably more reasonable one. Michigan State already owns a winning record, at 14-13, and the Spartans will play only one ranked team in the final four matches: No. 16 Purdue. The question for Michigan State becomes has it done enough to deserve a bid?
Cathy George?s team is 0-10 against ranked opponents. Its best win is probably against Oregon State in Corvallis in four sets on Sept. 13. That win won?t turn many heads on the selection committee, so if the Spartans are hoping for a postseason berth, a win against No. 16 Purdue on Nov. 26 is a must. Michigan State is No. 49 in the latest RPI, which is to its benefit but close examination of its Big Ten wins is likely to hurt their bid.
Michigan State has defeated Indiana twice, Michigan, Iowa, Maryland, Rutgers and Northwestern, all unranked and, with the exception of Michigan, in the bottom half of the Big Ten standings. Wednesday night the Spartans will face Northwestern in Evanston, and with both teams competing for the postseason, a win in that matchup is a necessity for Michigan State?s hopes.
Much like Michigan, the Spartans are a young team that has dealt with numerous injuries this year that forced them to shift the lineup. Michigan State could be a dangerous team with all of the talent it has introduced over the past two years, but it will have to make the tourney first and that begins with closing the regular season out strong.
***
NORTHWESTERN
Record: 15-12
Big Ten Record: 5-11
Ranked Wins: 2
RPI: 59
This has not been, by any means, a banner year for the Wildcats, as the résumé features several bad losses. However, Keylor Chan?s team is the only one out of this group, other than Michigan, with a win over a ranked Big Ten opponent and, barring four losses in the last two weeks, a winning record.
On Nov. 5, the Wildcats beat No. 9 Illinois in five sets in Evanston, snapping a seven-match win streak by the Illini. Northwestern would lose in four sets in the rematch the following Saturday but no other team in the hunt, again except for the Wolverines, can claim a win over a top 25 team, let alone a top 10 victory. Add to that an early win over No. 18 Minnesota, now unranked, and Northwestern gets another edge with multiple wins over ranked opponents. It?s not an inspiring résumé, but it is better than any of the other conference bubble teams, Michigan aside.
Five wins in conference play however is not going to get the job done. If you?re a Northwestern fan, you cannot help but look back at the missed opportunities. Northwestern dropped three straight five-set matches late last month, two of which came at home and the third was against an Iowa team that had not won a Big Ten match to that point. The Wildcats also had a 2-0 lead at home against Purdue and a 2-1 lead against Indiana in Welsh-Ryan. Had they finished off both of those matches, the outlook would be much brighter.
Opportunities remain, though, and as mentioned above the Wildcats will have a chance to prove their postseason worth with a direct bubble team matchup against Michigan State on Wednesday. Northwestern will also have a chance for redemption against Iowa, a résumé-building match against No. 4 Penn State and a trip to Maryland to close out the year. Eight conference wins would give the Wildcats a good argument, but Northwestern has too often been on the outside looking in when it comes to postseason selection.
***
MINNESOTA & INDIANA
I hesitate to put either team on the list, but both currently have winning records and could finish strong enough to be considered. However, neither team has a win over a ranked opponent – both are 0-7 vs. said squads – and résumé-worthy moments are hard to find for either team.
Minnesota can be given a quality win when you factor in that the Gophers beat the Buckeyes in the Big Ten opener, but Ohio State was unranked at the time. Indiana?s best win is probably against Minnesota, when the Hoosiers held off the Gophers in a 35-33 fourth set. Indiana also beat Michigan in five sets in the conference?s opening weekend, but unranked wins do little for tournament hopes.
Both teams have two remaining matches against ranked foes. Win one or both of those and then the comparisons can be made with the teams listed above. Even with those potential victories, both the Gophers and Hoosiers are long shots for the tournament.
***
There is plenty left to be decided in next two weeks, and the cases for these teams will alter depending on the outcomes. The Big Ten may not get more than six bids and frankly probably is not deserving of more. However, if a conference bubble team makes it in, it should be one with at least a victory against a ranked opponent, not just an overall winning record.
What is the committee rewarding if teams with winless records against the Top 25 are put in the tournament over teams that have multiple wins against ranked opponents? Does the sheer act of scheduling a relatively challenging slate mean a team is worthy despite losing all of its tough matches?
Each year the Big Ten figures to have six or seven ranked teams, which means if you go winless against those teams and it still benefits your RPI, why schedule any tough out of conference competition?
For comparison sake, last year all eight conference teams that reached the NCAA tournament were ranked heading into the postseason. Michigan had the least Big Ten wins that made it, with just eight, while the seven other teams had a .500 record or better in conference play. At 8-12 last year, Michigan had four wins against ranked opponents, two of which came in Big Ten play, including a victory over a top 10 Michigan State team. The Spartans, at 10-10 in league action, had six wins against ranked competition that included wins against Penn State and Nebraska, making MSU a shoo in.
The last time unranked league teams made the field was in 2012, when two got in despite not having a place in AVCA poll. The difference between those squads and the ones contending for spots this year is that both Michigan and Michigan State finished with winning conference records two years ago. Identical 11-9 marks in league play, along with five ranked wins for the Wolverines and two for the Spartans, gave them strong cases for playing in December.
A few weeks from now if winless teams against ranked competition receive bids, coaches desperate for a tournament appearance going forward should just make sure they have a winning overall record and not worry about the outcomes of ranked matches. The RPI does its job when comparing teams with similar records and similar quality wins, but when there are no quality wins, the RPI isn?t necessary to consider.
This is an argument to be had when the selections are made, but at the moment it seems hard to rationalize a team with a winless record against the AVCA poll making the field of 64.
| | |
| --- | --- |
| About Mike Wolf | Mike Wolf is a BTN announcer and calls Big Ten volleyball matches on the Big Ten Network. His Volleyball Reports will appear on BTN.com every Tuesday for the rest of the Big Ten volleyball season. You can also follow our extended volleyball coverage on Twitter with @BTNvolleyball. |