Tom Dienhart, BTN.com Senior Writer,

November 18, 2014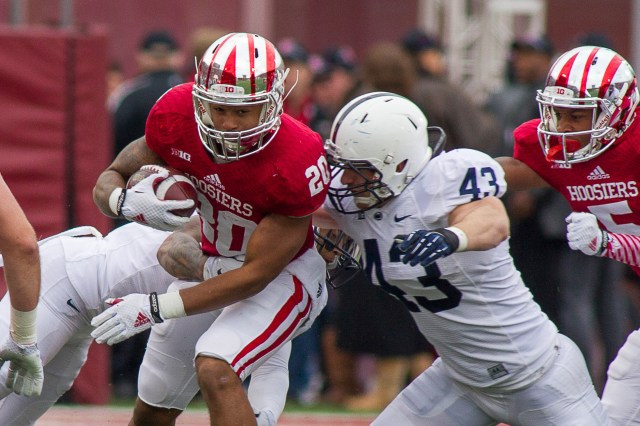 All season, the Penn State defense has set the tone for a rising program that became bowl eligible last week with a win vs. Temple. And the heart of that defense is senior linebacker Mike Hull, who leads the Big Ten in tackles with 111 (11.1 tpg) for the 6-4 Nittany Lions.
The 6-0, 232-pound senior is the lynchpin of a Penn State defense that ranks No. 2 in the Big Ten in scoring defense (16.2 ppg); No. 2 in total defense (265.6 ypg); No. 1 in rushing defense (83.1 ypg); No. 3 in pass defense (182.5 ypg).
[btn-post-package]
I caught up with the product of Canon-McMillan High in Canonsburg, Pa., whose father and uncle also played at Penn State, as he prepped to play at Illinois this week.
Q: Why has this defense been so good?
A: (Defensive coordinator Bob) Coach Shoop demands a lot of us, having us well-prepared when we go out on Saturdays. And we all work together as a unit. No one feels like they have to make every play. They know that if they do their job, everything else will work out.
Q: Being a Western Pennsylvania kid, what does it mean to you to be a Penn State linebacker?
A: It means a lot. Coming here, I was well aware of the tradition. There are a lot of great players who came before me. We try to recognize that each day and work hard to fill shoes.
Q: Who is your favorite all-time Penn State linebacker?
A: Hard to say. But I would say Paul Posluszny. I would watch him when I was in middle school. I idolized him growing up and I wanted be the type of player he was, never stop. He showed his leadership through his actions each Saturday.
Q: What has been your most memorable hit?
A: It wasn?t really a hit. But the one play that has stuck with is from the Michigan game last year when I batted the ball down in overtime to keep them away from the end zone. We eventually got that win. That has been my most memorable play.
Q: Who is the toughest guy on your defense?
A: I would say Anthony Zettel, by far. He?s a really tough guy and hard worker who does a great job when he?s out there. Off the field, everyone loves him. He is nice and down to earth and has the respect of his teammates.
Q: Who is the one teammate you wouldn?t want to fight?
A: Either Anthony Zettel or Austin Johnson. Zettel trains in MMA in the offseason, so he?s pretty much a trained killer. Austin Johnson is pretty wild himself. He?s a strong, physical guy.
Q: Is James Franklin always so upbeat?
A: He?s always positive. He does a great job bringing energy each day. I respect that. And I think that rubs off on everyone on the team-staff, trainers and players. We appreciate how he brings his A-game to practice each game.
Q: Do you ever talk to Mike Mauti?
A: I just talked to him last night. He?s a good guy. He?s always trying to reach out and help the guys he played with. He tells me to keep up the good work and to keep working hard. Recently, he said he hoped we could make it to a bowl and later texted that he is happy we were able to do it. He congratulated me and others on getting our sixth win last week.
Q: Have you talked to Bill O?Brien since he left for the Houston Texans?
A: A little in the offseason, but not since the season got closer. We are both busy.
Q: When you were a kid, what player were you in the backyard?
A: I was a Steelers fan, so I really looked up to Troy Polamalu. He was everyone?s favorite player in Pittsburgh, so it?s nothing unique. We all pretended to be him. He really sticks out in my mind.
Q: If you weren?t playing football, what would you be doing?
A: Probably wrestling in college somewhere. I really miss it. I love the nature of the sport, how tough it is and the mental aspect of it.
Q: Growing up in Western Pennsylvania, was your life like the movie ?All The Right Moves??
A: I have seen that movie, but it has been a long time.
Q: Were you Stefan Djordjevic of Ampipe High?
A: That?s pretty funny.
Q: Family Guy or Simpsons?
A: Family Guy. I like both, but I like Family Guy more. Me and my buddies used to watch Family Guy a lot growing up. We watched it pretty religiously.
Q: Who is your favorite character in Family Guy?
A: Brian. He?s pretty funny.
Q: You are going to the electric chair, what is your last meal?
A: Probably a Primanti Brothers sandwich. It?s a Pittsburgh thing.
Q: Do you have any hidden talents?
A: Nope. But, I do fish. But that?s not a hidden talent.
| | |
| --- | --- |
| About Tom Dienhart | BTN.com senior writer Tom Dienhart is a veteran sports journalist who covers Big Ten football and men's basketball for BTN.com and BTN TV. Find him on Twitter and Facebook, read all of his work at btn.com/tomdienhart, and subscribe to his posts via RSS. Also, send questions to his weekly mailbag using the form below and read all of his previous answers in his reader mailbag section. |
And if you want to leave a comment on this post, use the box below. All comments need to be approved by a moderator.