BTN.com staff,

November 17, 2014

In his ?day job,? Dr. Rafat Abonour is a professor of medicine and a researcher at Indiana University specializing in multiple myeloma, a rare blood cancer. But he?s also a running and cycling enthusiast, and for the past decade, he?s managed to combine these two sides of his life.

In 2005, a group of Abonour?s patients came to him with the idea to start a 5K to raise money for myeloma awareness and research. But he had another idea.

?I said, ?Listen. You guys come to me from all over the state and surrounding areas for second opinions. Why don?t I go to your town and spread the word about your disease and get interest???

The patients loved it. As an endurance runner, Abonour?s first thought was to run from town to town, but on further reflection, he realized a combination of running and biking might be a better way to cover more ground.

The first year, Abonour traveled from Indianapolis to Ft. Wayne, Ind., a distance of approximately 120 miles. He covered the mileage over two days, cycling the first and running the second.

Over the next decade, that trip morphed into an annual cycling event called Miles for Myeloma.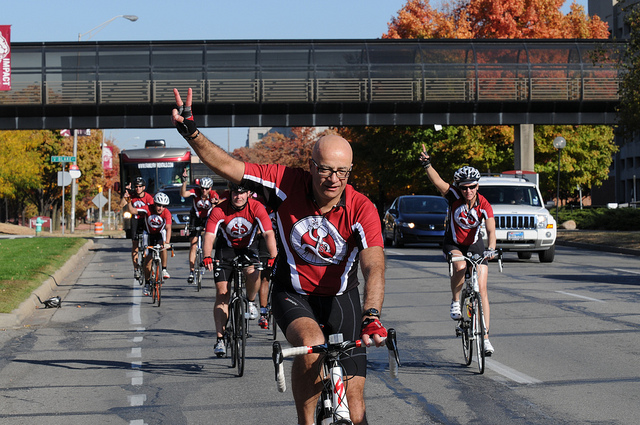 Each year, the route of Miles for Myeloma changes. Abonour and about 25 supporters make the trek along the predetermined course. This dedicated group of patient friends and family members visit towns to spread awareness. Sometimes patients themselves will ride part or all of the way with the group.
Abonour is assisted by a dedicated group of volunteers who organize the event: the Miles for Myeloma committee. Abonour chooses the cities, and the committee plans a safe route, recruits police escorts for busy areas, finds hotels and coordinates meals. One volunteer brings an RV each year and drives the route, carrying food and supplies and stopping to support the cyclists.
[btn-post-package]
?Those stops are really amazing because obviously we nourish ourselves, but we also nourish our souls,? Abonour said. ?We cry and laugh and reflect on the purpose of this event, which is really to bring people together to try to rally about a cause that will hopefully better the life of a patient with myeloma.
?I cannot do it without these wonderful volunteers,? he added. ?It?s just amazing what they do and how they rally everybody, and it?s been a wonderful ride because of them.?
In October 2014, Miles for Myeloma celebrated its 10th year with a special three-day ride. When the cyclists finished their journey in Indianapolis, almost 500 people were there to greet them - patients, families and IU colleagues.
During the past decade, Miles for Myeloma helped raise about $2.75 million for multiple myeloma research and treatment. The money raised has made a significant impact on IU?s work on this disease.
?We now have five members who are myeloma experts doing good research,? Abonour explained. ?Part of recruiting them to Indiana, part of retaining them here, part of the funds needed to manage their labs - [all that] was possible because of Miles for Myeloma.
?I?m really proud of the people I work with who have been dedicated to this program. The patients and their families are incredible.?
By Laura Depta