Brent Yarina, BTN.com Senior Editor,

November 10, 2014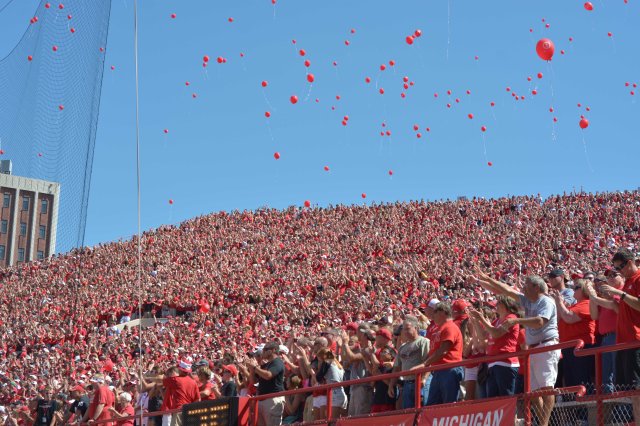 Where in America does college football mean the most?
That's a question nytimes.com recently considered and asked Facebook to study. To find the states with the highest concentration of college football fans, Facebook measured the percent of population in all 50 states that "Like" a college football team.
To no surprise, Big Ten states were high on the list, headlined by Nebraska (No. 2; 28 percent), which trailed only Alabama, Iowa (T-4; 25 percent) and Ohio (T-9; 21 percent).
Also, to no surprise, the SEC accounted for six of the top 10 states. The only non-SEC or Big Ten state in the top 10: Oklahoma, at No. 3.
This fancy graphic sums it all up.
See all the Big Ten results
Nebraska – 28 percent
Iowa – 25 percent
Ohio – 21 percent
Wisconsin – 19 percent
Michigan – 19 percent
Indiana – 11 percent
Pennsylvania – 9 percent
Maryland – 8 percent
Illinois – 6 percent
Minnesota – 4 percent
New Jersey – 3 percent
Not a lot stands out here. Indiana could be a surprise as a middle of the pack Big Ten state, but let's not underestimate Notre Dame fans' impact on that 11 percent. Illinois near the bottom might be the biggest surprise, actually, what with all of the Big Ten alumni in Chicago.
Here's what nytimes.com said about its data:
"It was provided by Facebook using estimates of support for the Football Bowl Subdivision programs, based on the share of Facebook users in a county who ?like? a team. Facebook likes are an imperfect measure of fan intensity, including the fact that Facebook users may not be representative of the population at large. The results are also influenced by how intensely different universities cultivate their social media presence, and how widely Facebook is used by people in a given location."