BTN.com staff,

November 9, 2014

?If the track is tough and the hill is rough, THINKING you can just ain?t enough!?

So wrote Shel Silverstein in his classic collection of poetry, Where the Sidewalk Ends. The book is a favorite of Minnesota Army National Guard Company Commander and Captain Amber Manke, who?s also working toward a Ph.D. in organizational leadership policy and development at the University of Minnesota.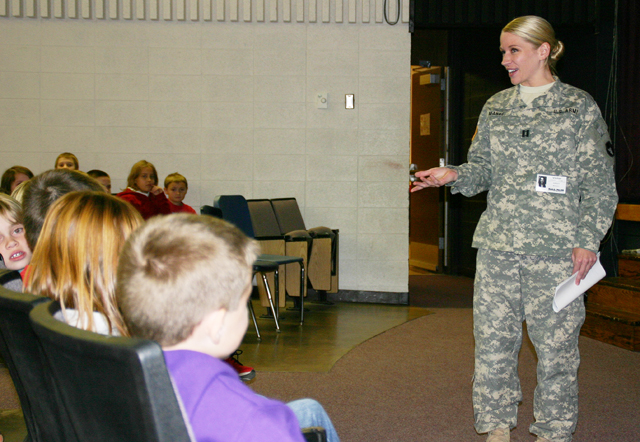 It?s easy to see why. The book?s themes of self-reliance, optimism, the importance of experience and compassion for one?s fellow human beings correspond to her own life journey, which started in the small town of Milaca, Minn., where she was raised.
It?s a place many people who grew up in the rural Midwest would find familiar. She describes Milaca as having ?13 churches and two bars.? It was there that Manke realized she wanted to help people when she grew up, but she wasn?t exactly sure how to do that - yet.
After completing a bachelor?s degree in criminal justice at St. Cloud State University, she began work on her Masters. She started advising and counseling undergraduates in an academic setting, and found herself enjoying that more than she expected.
?I?d work with students who didn?t really know what their next step was, or what they needed to do, they were usually just taking classes to ? take classes,? Manke said. ?And I really took a vested interest in that position, sitting down with students, finding out what their passion and interests were ? I just really enjoyed that.?
[btn-post-package]
After becoming full time in the Minnesota Army National Guard, Manke expanded on that interest, helping fellow soldiers navigate their education opportunities and benefit options as a counselor.
?I want them to find purpose in what they?re doing and help them connect to best and what fits their skill set,? she said. ?I don?t ever want to sit down with a service member and push them towards a school or a specific program that?s not right for them just for the sake of getting a degree.?
Today, she commands a company of more than 100 soldiers in addition to educational counseling and her own academic pursuits. And on top of that, she?s a tireless volunteer who?s involved with a number of worthy causes and organizations. She?s spent countless hours working for Second Harvest, Habitat for Humanity, Feed My Starving Children and others.
?I think that along with school and other commitments required of us, it?s important to still take the time to do what makes your soul happy,? she said. ?For me, volunteerism is that.?
Manke also gives her time to Mission Continues, a non-profit organization that supports veterans transitioning back to civilian life.
?They no longer have [to put] on the uniform and are no longer being told what to do,? she explained. ?And they?re missing something. So [Mission Continues] helps transition veterans back to that life. They want to give back and are devoted to serving others. It?s a great environment and a great time.?
Although quick to downplay her achievements, Manke?s personal commitment to various causes has earned her accolades. In 2012, she was selected out of thousands of applicants to be a Tillman Military Scholar, which helps service members pay school expenses outside of the G.I. Bill.
And earlier this year, she was given a Veterans' Voices award by the Minnesota Humanities Center. The honor recognizes former service members who give back to their communities.
So what advice does she have to those aspiring to balance work, school, duty and personal passions - and actually find success and fulfillment in all of those areas at the same time?
?Never turn something down because you don?t think you?ll have enough time,? Manke said. ?Always remember you make time for the things that are important to you - even if that means turning off the TV or giving up a Friday night.?
By Ben Warden