BTN.com staff,

November 6, 2014

Inspired by their experiences in college and elsewhere, these Pathfinders are passing by the typical, well-trod career paths and blazing their own trails. We?ll explore the unconventional approaches these Big Ten alums are taking to work.
Athlete, entrepreneur, designer, philanthropist - Michigan State University alumna Lauren Aitch is all of these in one.
From 2005-10, Aitch played center for the Spartans women?s basketball team. She earned her bachelor?s and master?s degrees in just five years and played professionally overseas. Now, she runs two companies as well as her own foundation.
Aitch grew up with basketball - and green and white - in her blood. Her father, Matthew Alexander Aitch, played for Michigan State and the Indiana Pacers, and Aitch recalled wanting to be like him.
?My dad said to me, ?When you?re ready to learn how to play basketball, I?ll teach you,?? Aitch said. ?So around ages 10, 11, 12, I said, ?Yeah, I?m ready.? That?s when he started to teach me how to play, and I picked it up pretty quickly.?
Aitch?s father passed away unexpectedly near the end of her sophomore year at MSU. Around that same time, she was also recovering from an ACL tear and dealing with a transition in the coaching staff.
?There were a lot of changes that occurred while I was a student-athlete at Michigan State,? Aitch said. ?There were some difficult times, but we had a great support system at Michigan State, and they were very understanding.?
After five years as a student-athlete, Aitch left MSU with a bachelor?s degree in advertising and design as well as a master?s degree in public relations. She left East Lansing for the cobblestone streets of Copenhagen, Denmark, where she played basketball professionally for one year.
It was during her time overseas that Aitch really fortified her other true passion - design. ?I lived in downtown Copenhagen, which is like the fashion capital of Scandinavia,? Aitch said. ?It was like a fairy tale.?
Growing up, Aitch was taller than most girls (she topped out at 6?1?). Consequently, she always had a difficult time finding clothing that fit and complemented her body type.
?When I was young, I thought, ?This would be so much easier if I just designed my own line,?? she said.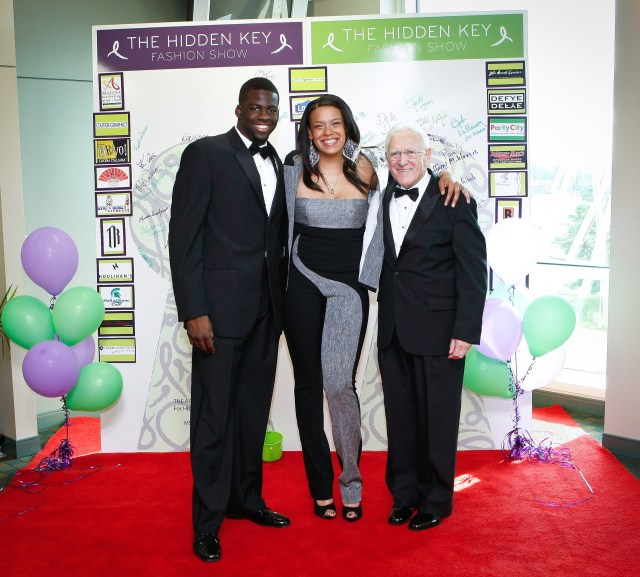 Her stay in Denmark allowed her to do just that. Aitch spent her free time sketching and learning about design. She had samples made at a local design house and laid the groundwork to start her own company, Lady Aitch.
At the same time that she was getting her new business going, she began toying with the idea for a foundation. Together with Dr. Jim Potchen and the Michigan State University Health Teams, Aitch developed the mission for The Aitch Foundation - to raise money for early detection of hidden cancers.
?My dad did not pass away from cancer, but I have had six family members who are either warriors or have passed away from cancer,? Aitch explained. ?I wanted to make it a cause that?s really going to change people. I wanted it to be something that made sense, something that would be powerful, something people would feel connected to. I wanted to help.?
The Aitch Foundation holds the annual Hidden Key Fashion Show at Spartan Stadium, which enlists former student-athletes and community leaders as models. The first show, held just 20 days after Aitch?s return from Denmark, raised $10,000 and featured clothing designed specifically for her former teammates.
The Aitch Foundation also sponsors advocacy days. These events provide opportunities for people to enroll in health insurance, get routine physicals and receive cancer screenings. The goal is to help people learn more about their overall health.
?It?s a two-tier fight, the way that I look at it,? Aitch said. ?You have to have the research, but you also have to have an educated population.?
Since returning from that trip to Copenhagen, Aitch?s business and charitable work have grown. She designs custom suits for Lady Aitch and is transitioning her patterns for ready-to-wear. She is a designer-in-residence at The Runway, a fashion incubator in Lansing, Mich.
She also started another company, Our Own, which produces high-performance undershirts primarily for people in public-service occupations such as police officers and hospital workers.
Her fashion show is in its fourth year, and her foundation now includes a youth-mentoring program. Aitch?s hope for the future is to hire more staff, get greater public engagement and help more people overall.
?I aspire to make my company a platform for people to come in and engage in their passions,? Aitch said. ?The more people we can touch, the more people we can help. That?s what I?m looking for within my companies.?
By Laura Depta