Brent Yarina, BTN.com Senior Editor,

November 5, 2014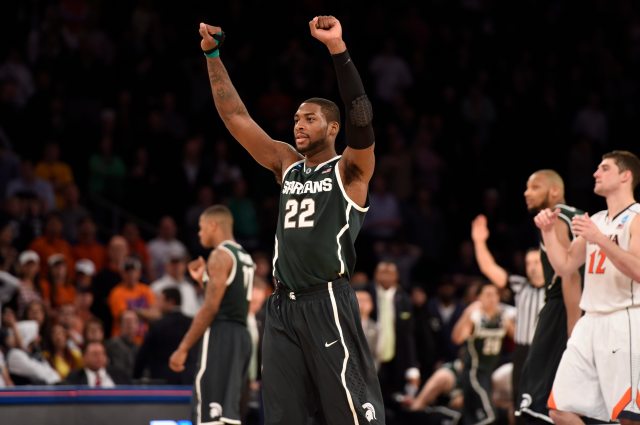 Sporting News columnist and BTN contributor Mike DeCourcy posted Sporting News' 2014 preseason All-Americans on Wednesday.
The Big Ten has one first-team honoree. It's got to be Wisconsin big man Frank Kamsinsky, right? Nope, it's Michigan State star Branden Dawson.
Wisconsin's Sam Dekker and Nebraska's Terran Petteway check in on the second team, while Kaminsky, the conference's preseason player of the year, lands on the third team.
The third-team honor for Kaminsky is a bit surprising, if for no other reason than he was named AP preseason All-America on Tuesday.
That said, Dekker and Petteway on the second team make perfect sense.
Here's what Sporting News said about the Big Ten players.
FIRST TEAM
Branden Dawson, Michigan State
"Watching his across-the-board dominance in the 2014 Big Ten Tournament, it seemed impossible not to be moved to believe he could rank among this season?s best players. (And yet, curiously, the folks who voted for the preseason All-Big Ten team didn?t include him)."
***
SECOND TEAM
Sam Dekker, Wisconsin
"Nearly all those who visited the LeBron James Skills Academy in July - scouts, recruiting analysts, college basketball commentators - raved that no one among the collegians at the camp performed at the level Dekker did. His growth to 6-9 and the Badgers? success in 2014 appears to have unleashed his potential. "
Terran Petteway, Nebraska
"Petteway?s spectacular - no, ridiculous - run of performances down the stretch last season carried the Huskers to their first NCAA Tournament appearance in nearly two decades."
***
THIRD TEAM
Frank Kaminsky, Wisconsin
"Kaminsky is as versatile an offensive center as college basketball has seen this decade. He hits from long range, he can put the ball on the floor and drive it for longer stretches than most 7-footers and he can score against single-coverage inside."
See the full Sporting News team here.
Biggest Big Ten snub? That would have to be Michigan's Caris LeVert.