BTN.com staff,

November 3, 2014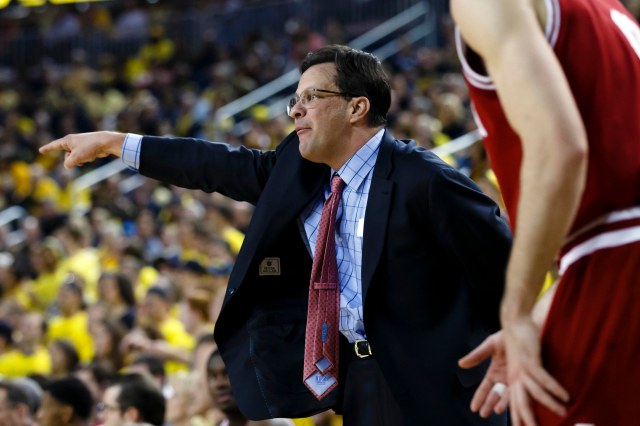 (AP) Indiana coach Tom Crean suspended three players on Monday for what he described as "poor choices."
Guard Stanford Robinson and forwards Troy Williams and Emmitt Holt will miss the first four games of the season. Crean did not elaborate on the reasoning behind the punishment for returning starters Robinson and Williams.
Police cited Holt early Saturday morning for illegal consumption of alcohol, a misdemeanor, and operating a vehicle under the influence of alcohol under age 21 following an accident in which he allegedly drove into teammate Devin Davis and caused a head injury.
"I think it's poor choices," Crean explained on his first weekly radio show of the season. "Does leadership matter? Absolutely. Leadership matters the most when nobody of authority is around, and that's probably what we're lacking as much as anything else. But there's a lot of things that play a part in it and you deal with it the best way you can and you hope that people grow."
For Indiana, it can't get much worse.
In September, junior guard Kevin "Yogi" Ferrell and Robinson entered pretrial diversion programs after being charged in April with consumption of an alcoholic beverage by a minor and possession of false identification. In February, forward Hanner Mosquera-Perea, now a junior, was arrested in Bloomington on preliminary drunk driving charges.
The Hoosiers' young, inexperienced roster now faces an even greater challenge because of the suspensions and the injury.
The 6-foot-7 Davis was expected to play a major role on Indiana's undersized front line. But the injury could force him to miss a substantial amount of time.
"Devin is not only a teammate, but a great friend and it pains me to know that I have caused him harm," Holt said in a statement released Monday night. "I sincerely regret my actions, and I understand that I must be held accountable to the high standards that coach Crean and IU have set for all of us. I want to apologize to coach, to my teammates and to the entire IU community for not living up to the expectations that this program and university deserve. I will work hard in the coming days, weeks and months to become a better man and teammate."
The Bloomington police released an official crash report Monday that indicated both players had been drinking. Holt is an 18-year-old freshman from Webster, New York. The team said he had a blood-alcohol level of 0.025, less than legal limit of 0.08. Davis is a 19-year-old sophomore from Indianapolis.
According to the report, Holt told police that Davis "jumped" in front of the car as he started to drive away. The police determined the primary cause of the accident was "pedestrian's action."
Davis' parents said in a statement issued by the school Sunday night that "there is a road to recovery ahead."
"We want to thank the incredible team at IU Health Bloomington Hospital for taking such great care of Devin," the statement said. "We also want to express our gratitude to coach Crean, who has been by Devin's bedside for most of the past two days and to all of his coaches, teammates and the extended Hoosier family who have kept him in their prayers."
The continual problems, however, have put Crean under a microscope that prompted some Hoosiers fans to start asking tough questions on Crean's radio show.
One fan asked Crean why he deserved to keep his job. Another fan, who said he had previously served as a student trainer, wondered why Crean shouldn't be blamed for all of these legal problems.
Crean maintained his composure.
"My shoulders are fine, so you can put it on me. But it doesn't change what we're trying to do. You're entitled to your own opinion," Crean said after expressing gratitude for the caller's contributions as a student. "It's part of the job, it's part of the responsibility."
But Crean did acknowledge some of the blame rests with the players and their decisions, too.
"Troy and Stan, and I hope I made this clear earlier, this was this summer and it was not smart," Crean said as he drew a distinction between what happened over the weekend with Davis and Holt. "But it was done and let's move on."