BTN.com staff,

November 3, 2014

You would be hard-pressed to find an American composer alive today who?s had a more distinguished career than William Bolcom.

He?s won a Pulitzer Prize for Music, the National Medal of Arts and a number of other awards. He has written several symphonies and operas, as well as Songs of Innocence and Experience, an acclaimed epic cycle of voice and orchestral music based on the collection poems by the same name from William Blake. And perhaps no artist since the Gershwin brothers has managed to bring popular song and Western ?art music? together so successfully.

He also taught at the University of Michigan for an incredible 35 years, from 1973 to 2008. Though he no longer teaches, Professor Emeritus Bolcom still lives in Ann Arbor and stays involved with the university in other ways.

BTN LiveBIG: How did you end up teaching at the University of Michigan?

Prof. William Bolcom: I?d been visiting the U-M School of Music often since 1967, when I first visited William Albright, a composer and organist I?d befriended at Tanglewood [a music center for the Boston Symphony Orchestra] in 1966. He invited me several times to have works done and to meet the faculty.

I fell in love with Ann Arbor?s trees that crossed over roads, not something you find often on either coast. (I?d grown up in Washington state and went to school in California, and lived in New York many years after that.)

BTN: What made you stay there for such a remarkably long time?

Bolcom: I was intent on buying composing time, which was in short supply in New York City. I'd gone freelance, leaving academe in 1968, and had several jobs at once to keep afloat for several years. It was an education in the real world of music for me.

In 1972, the department advertised for a new composer to replace their retiring chairman Ross Lee Finney, a teacher of many fine composers, and I applied.

I think my colleagues-to-be, including Leslie Bassett, the new department chairman, found that attractive, and I was given a job in 1973. My wife-to-be Joan Morris and I moved to Ann Arbor that August. Soon I found an ideal environment to work in, excellent colleagues and students, a refreshingly open attitude stylistically (many other places were much more doctrinaire in those years) and - as it proved - administratively.

Like Bill Albright, I was a performing composer - as were an enormous percentage of the composers in the past we still play and listen to. It was soon apparent that, with Joan's career skyrocketing after 1974, I was, like Bill Albright, going to be on the road a lot, certainly for a professor of composition. (We kept our New York place for business reasons for many years. It?s an easy commute from here.) So we found ways to continue touring and still give our students full attention. There are many schools that wouldn?t be as understanding!

In a few years, Prof. Bassett asked me to give a course, The Composer and the Music Business, for which Joan Morris and I gave a fundraising concert at Power Center. I am an ignoramus as regards the inner workings of the so-called music business - a very chaotic affair at best - but I knew many people in the midst of it. Our concerts paid for bringing them to the campus to talk to students.

Later on my friend, the poet Richard Tillinghast, and I arranged a course, Words and Music, in which we coached young poets and composers on how to collaborate. Our course, which we gave several times over the years, became a model for several similar courses in other universities.

In my 35 years, I was given enormous freedom by the school. I wrote three operas for Lyric Opera of Chicago, working with the company for almost 20 years from 1986 to 2005. Putting an opera together requires a composer to be on-site for over a month with each opera. How to see my students? We found ingenious ways, the most striking one being in 1999. Paul Boylan, then the dean of the school of music, bankrolled my six students for a stay in Chicago while my [opera] A View From the Bridge was in rehearsal. They got to attend the last week of rehearsals, see how a professional opera house is run - Lyric opened their arms to them, even giving them free tickets for several operas - and see the dress rehearsal!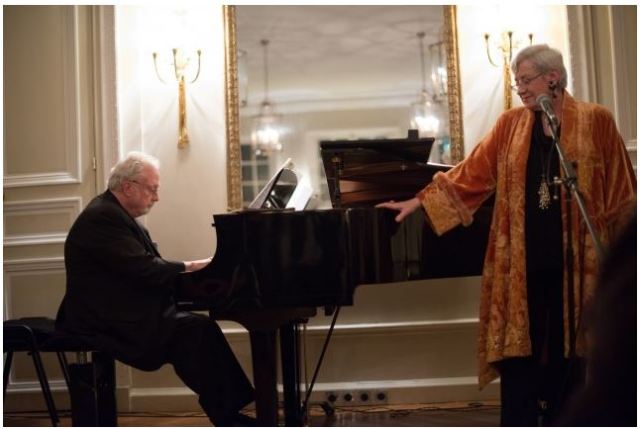 I don't know how many places would have allowed faculty members to be absent as much as we have been, though we still gave enough face-time to our young students. From the mid-1970s through quite some time, we averaged 40 to 50 concerts a year in our field of classic popular song. In 1981, Joan was invited to teach at the fledgling musical theater department, now one of the most famous in the U.S. She later moved to the theater department to concentrate on cabaret rather than Broadway material.
This sort of understanding and support, and our many friends here, are why Joan and I have stayed here for 35 years of teaching, and have not left after our retirements in 2008 and 2009. Many of Joan?s students have starred on Broadway, and I?ve been blessed with a number of wonderful students who have done about as well as one can do in this field of composing what?s sometimes called ?art music? - that is, non-pop, non-moneymaking music for the most part.
We?ve also stayed because we like it here very much. Going back to New York - as so many people thought we?d do - would not help our careers, which are still going, though thankfully at a much more leisurely pace. Though we often miss attending things we read about and would have experienced if we lived there full-time, living in Manhattan is simply too expensive for artists right now, and it is just as easy to continue our careers here in our comfortable home outside Ann Arbor, which we?ve come to love after 41 years.
BTN: You?ve had quite a distinguished career, one that?s included winning major awards and composing works that will be long remembered.
Bolcom: From your mouth to God's ear, as we say in New York. I won't be around to find out.
BTN: [Laughs] Well, looking back, which accomplishment stands out as particularly memorable and significant for you?
Bolcom: I?ve been performed by many of the greatest orchestras, my operas have done reasonably well for newer fare in a conservative field, and I?ve written for fantastic performers of all stripes. But I might have to count my epic cycle, Songs of Innocence and of Experience, as my signature work. One of my major reasons for coming here was to buy time to finish the piece, which premiered in Stuttgart [Germany] in January 1984, was given the American premiere at Hill Auditorium on the U-M campus that April, and after several other performances in the U.S. and London, was performed and recorded here by Maestro Leonard Slatkin, well-known soloists and U-M?s orchestras and choruses in 2004. The recording won four Grammys.
BTN: Has teaching students about music aided you in the creative process, and vice versa?
Bolcom: Of course!
BTN: I know you're not teaching regularly anymore.? In what ways are you still involved with the University of Michigan?
Bolcom: I am currently on the Bicentennial Committee for the 2017 celebration.
I also lobbied the school to present Darius Milhaud?s magnum opus L?Orestie (Aeschylus?s Oresteia in poet and playwright Paul Claudel's French version), a huge work which inspired my Songs in many ways, for the 100th anniversary of Hill Auditorium. This was done exactly nine years after the 2004 performance of my Songs in that same hall and has been splendidly recorded (and is just now available) on Naxos Records, as were my Songs. In both cases, SMTD [the School of Music, Theater and Dance] and the university collaborated on the works? presentation and found the funding.
I don?t teach anymore at the school, but SMTD has instituted a William Bolcom professorship, bringing composers who often are not academically affiliated to teach our students, which has been amazingly successful.
BTN: While a professor, did you have much contact with other parts of the university?
Bolcom: I provided scores for the dance department, co-directed a show with the theater department, and instituted the Words and Music course mentioned earlier with the English department. Joan was assistant curator at the Clements Library and produced several musical shows there. She also did a series of revues at the Michigan League, all these with musical theater and acting students.
BTN: Ever attend football or basketball games, or any other sports?
Bolcom: My Sicilian brother-in-law came here and we went to a few football games. I?m terrible at sports and rarely follow them.
BTN: Well, do you have a favorite fight song? Is it Hail to the Victors?
Bolcom: Absolutely. It?s not easy to write a tune like that, believe me.
By Brian Summerfield