BTN.com staff,

November 1, 2014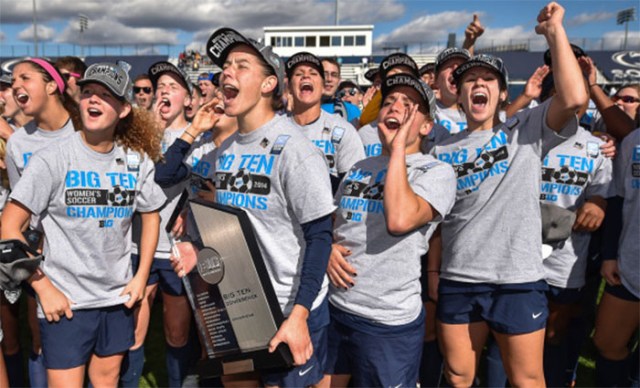 After winning its 16th Big Ten Championship and third outright title in the past four years, Penn State earned the No. 1 seed in the 2014 Big Ten Women?s Soccer Tournament. The tournament will be hosted by Purdue University in West Lafayette, Ind., beginning Wednesday. The tournament champion will earn the Big Ten?s automatic berth to the NCAA Tournament.
[ MORE: View the official 2014 tournament bracket (PDF) ]
Penn State finished the season with a 12-1-0 conference record, and clinched the Big Ten Championship with a 2-1 win over Iowa last Sunday. The Nittany Lions will face No. 8 Northwestern in the first round of the Big Ten Tournament next Wednesday beginning at 1:30 p.m. ET.
Wisconsin garnered the No. 2 seed in the tournament after concluding the Big Ten season with a 9-2-2 record. The Badgers will take on No. 7 Illinois in the third game of the tournament at 4:30 p.m. ET on Wednesday. Wisconsin and the Fighting Illini will be meeting for the second time in six days after playing to a 0-0 draw in double overtime on Oct. 31.
Michigan secured the No. 3 seed in the Big Ten Tournament after concluding the conference season with an 8-2-3 record. The Wolverines will challenge sixth-seeded Minnesota in the first round on Wednesday night at 7:30 p.m. ET. Michigan defeated Minnesota, 2-1, in overtime on Sept. 12.
Rutgers earned the No. 4 seed in the Big Ten Tournament after finishing the season with an 8-4-1 record. The Scarlet Knights will take on fifth-seeded Iowa in Wednesday?s opening game beginning at 10:30 a.m. ET. Rutgers defeated the Hawkeyes, 1-0, on Sept. 28. The Scarlet Knights will be making their first Big Ten Tournament appearance.
The Big Ten Women?s Soccer Tournament semifinals will begin at 11 a.m. ET on Friday, Nov. 7, while the tournament will conclude with the championship game at 3 p.m. ET on Sunday, Nov. 9.
Live streamed coverage of all four quarterfinal matches will be available on BTN Plus. BTN and BTN2Go will provide live coverage of the first semifinal on Friday, with the second semifinal game streaming live on BTN2Go at 2 p.m. ET and airing on delay on BTN beginning at 11:30 p.m. ET. The championship game will air live at 3 p.m. ET on Sunday. Follow all the Big Ten Tournament action at bigten.org and on Twitter @bigtenchamps.