Tom Dienhart, BTN.com Senior Writer,

October 31, 2014

Earlier this month, Michigan called a meeting of its Board of Regents in which a number of issues surrounding the athletic department were discussed by school president Mark Schlissel.

"I'm being thoughtful and deliberative in examining these issues," Schlissel said at the Oct. 16 meeting. "This university deserves nothing less than my careful, deep consideration.

"I'd like to thank the regents in particular for their help and advice in these issues as I work closely with them to carefully consider our way forward."

At that point, Michigan athletic director Dave Brandon?s future seemed to be in peril. Today, Brandon?s future became clear: Brandon resigned his position and it was made official during Schlissel's Friday press conference.

This isn't a shock and many knew this day was coming. It was just a matter of when Brandon was going to be gone.

Things hadn?t been going smoothly for the department Brandon was running, including growing alienation from fans who felt he was cheapening the iconic ?Michigan? brand with a number of his business decisions. But worst of all: The football program is floundering.

The tipping point for Brandon's departure was the ham-handed way his team handled the Shane Morris concussion situation, in which the athletic department looked equal parts dysfunctional and clueless. No one seemed to be on the same page, communication between the coaching staff, AD and medical personnel was poor and culminated with Brandon finally officially addressing the situation via a press released at 1 a.m. ET days later.

Who was running the ship?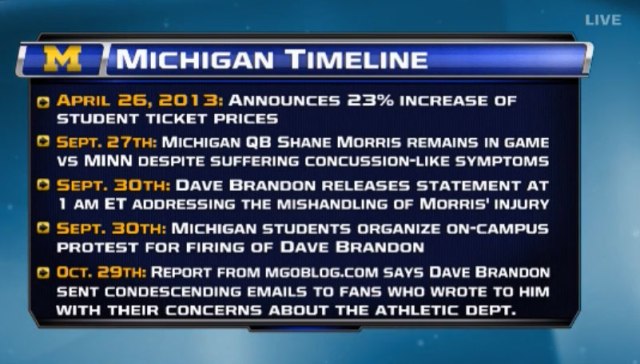 There were other missteps that embarrassed this proud school. A Brandon-proposed postgame fireworks display was nixed. There also was a botched ticket promotion where fans could get two free tickets to the Minnesota game with the purchase of two Coke products, cheapening the proud Michigan product. There have also been multiple reports of Brandon rudely answering emails from fans despondent over the football team's troubles.
And the students turned against Brandon and his department. How bad did it get? At one point, an on-line petition calling for Brandon?s ouster was circulated and a student protest rally was held in front of Schlissel?s house calling for Brandon to be dumped.
?The frustration directed at the athletic department has been building since before the football team?s recent struggles,? said public policy grad student Zeid El-Kilani.
?Mr. Brandon has engendered a toxic atmosphere, which engenders the marginalization of central segments of the university community by promoting the corporatization of the Michigan experience.?
Brandon was a ?Michigan Man,? Class of ?74, a former letterman under Bo Schembechler who arrived on campus from the corporate world after serving as chairman of Domino?s Pizza. And, upon being hired in January 2010 to take over for Bill Martin, many felt Brandon treated Michigan like a corporate brand, trampling any feeling of community or family among the athletic department.
There was no fostering of community within the school or outwardly toward fans and alums. This was a button-downed business. Period. And, Brandon was a colossal failure for a school that is on losing streak on many levels. And the most precious Michigan child is ailing the most: The football program.
The last time Michigan won a Big Ten football title? It was the 2004 season.
Brandon?s selection of Brady Hoke has proven to be misguided. Hoke debuted with an 11-win season and Sugar Bowl win in 2011. But the program has been circling the drain ever since, posting eight wins in 2012, then seven in 2013. This year had been an abomination, with the Wolverines sitting at 3-5 and in peril of missing the postseason.
The combination of football futility and aloof leadership was too much for Brandon to overcome.
***
| | |
| --- | --- |
| About Tom Dienhart | BTN.com senior writer Tom Dienhart is a veteran sports journalist who covers Big Ten football and men's basketball for BTN.com and BTN TV. Find him on Twitter and Facebook, read all of his work at btn.com/tomdienhart, and subscribe to his posts via RSS. Also, send questions to his weekly mailbag using the form below and read all of his previous answers in his reader mailbag section. |
And if you want to leave a comment on this post, use the box below. All comments need to be approved by a moderator.