BTN.com staff,

October 19, 2014

Earlier this year, Indiana University?s football team got a dramatic win on the road against the ranked Missouri Tigers. For senior safety Mark Murphy, it was the high point of an illustrious collegiate athletics career.

?Hands-down, it was the best win,? he said. ?Pulling off the last-minute touchdown, cheering on the sidelines with my teammates and celebrating in the locker room after that victory was special.?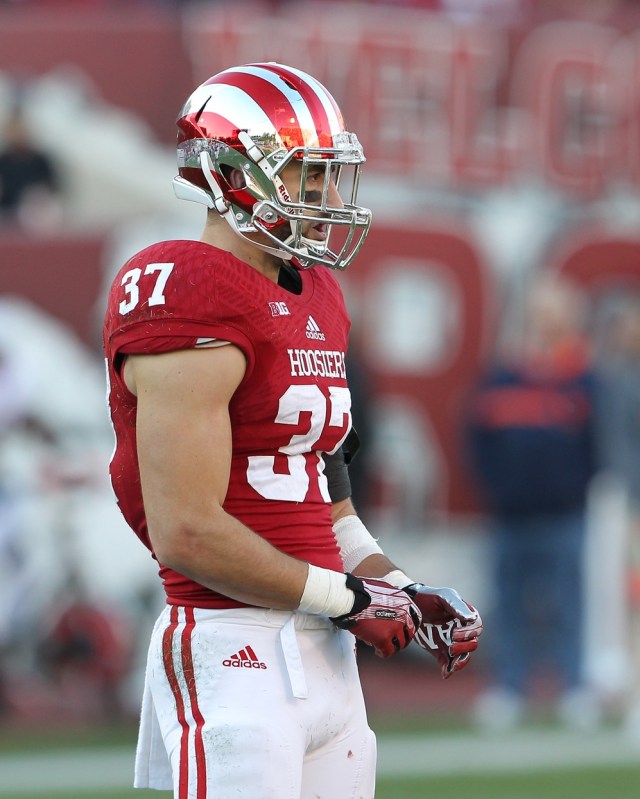 With 241 tackles before this season started, Murphy was the team?s active leader in the category - and at press time, he?d notched 11 more and an interception in 2014. But he may be more celebrated for his achievements off the field.
For his work with the Boys & Girls Club, Read Across America, Hoosiers Outrun Cancer and other organizations, Murphy was nominated for the 2014 Allstate AFCA Good Works Team, one of the most coveted and prestigious honors in college football. The award recognizes players whose charitable involvement and community service contributions go above and beyond the norm.
Murphy truly enjoys going out into the community and making a difference. He mentioned his work with a local Special Olympics football team and visiting an elementary school with Read Across America as recent highlights.
?Giving [the Special Olympics football team] a tour of our facilities, then taking them out on the field and doing drills ? it was just great to see them have fun,? Murphy said. ?And with Read Across America, we go to a local elementary school, hang out with the kids, read to them and have them ask us questions about what it?s like being a student-athlete.?
Also, Murphy?s impressive 3.85 GPA earned him a nomination for the Campbell Trophy, which is annually awarded to college football?s top student-athlete.
Football, community service and academics - how does he manage to do so well in all of these areas? Murphy credits the culture of Indiana football, his faith and his family.
[btn-post-package]?The biggest thing about being a student-athlete is managing your time, getting things done when they need to be done,? he said. ?Luckily, here at Indiana there are so many resources that can help. Whether we need help managing our time or we need a tutor for a class, the resources are always here.?
Murphy also credits his dad Mark, a Green Bay Packers safety (not to be confused with the team's current CEO of the same name), for instilling valuable advice about focusing on the things he has the power to manage.
?He would say, ?There are two things you can control: your attitude and your effort.? And for me, whether it?s on field or in class, I try to always have the best attitude I can and give the best effort I can.?
And on the days when it all seems like too much, Murphy leans on his faith.
?My favorite Bible verse is Colossians 3:23, which says whatever you do, do it with all your heart. And no matter how my day is going or how I?m feeling, it reminds me to do what I?m doing with all my heart.?
So what advice would he give to an incoming freshman on balancing a full plate of athletics, activities and academics? In short, focus on what you can do in the present moment.
?The biggest thing is not to worry about next week or next month, and more on what you need to do today,? Murphy said. ?Don?t overwhelm yourself.?
By Ben Warden