BTN.com staff,

October 18, 2014

When they decided to form their own charitable organization, former University of Minnesota football player Eric Decker and his wife, Jessie James-Decker, wanted to make sure it reflected both of their personalities and priorities.

One issue: The two have substantially different backgrounds.

Eric spent his entire childhood in Cold Spring, Minn., where he was a multi-sport standout. As a Golden Gopher, he played football and baseball (and was even selected in the MLB Draft - twice), and he was a wide receiver for the Denver Broncos for four seasons before coming to the New York Jets earlier this year.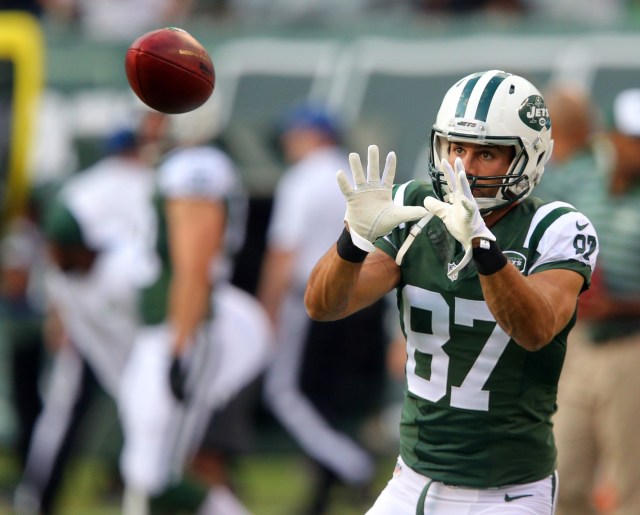 Jessie, on the other hand, came from a military family that moved around relatively frequently when she was younger. (Her father, Steve, still serves in the U.S. Air Force.) Born in Vicenza, Italy, her dreams of becoming a country music performer brought her to Nashville, Tenn., when she was a teenager.
To put it another way, she?s a little bit country, he?s a little bit rock n? roll.
In the end, the pair - who are also co-stars of the television show Eric & Jessie: Game On - realized they didn?t have to narrow the focus of their foundation down to a single area.
?Being a professional athlete and my wife being able to touch so many people [as an entertainer], we want to give back in a way that is important to both of us,? Eric said.
Eric and Jessie had already developed Deckers Dogs in Denver. This organization was affiliated with Freedom Service Dogs of America, which strives to ?fund the rescue, care and training of a service dog for military veterans returning home with disabilities.?
The involvement with Deckers Dogs stems largely from Jessie?s upbringing, Eric said.
?Being a military kid, growing up and having to move to a lot of places, it?s part of her,? he explained. ?Also, just respecting the military?s fight for our country - I think that?s made Deckers Dogs fitting.?
They widened the scope of their charitable efforts with the Eric + Jessie Decker Foundation (EJDF), which launched in July. The Foundation will incorporate Deckers Dogs into a wider plan of action, which includes:
Partnering with non-profit organizations committed to preventing bullying and building self-confidence in children who have been victimized.
Partnering with NFPs that run afterschool programs focused on keeping kids off the streets, providing a safe environment and fostering the growth and development of valuable life skills.

These two elements of EJDF are largely the product of an incident Eric experienced growing up. While a junior in high school, there was a tragic shooting in which an emotionally troubled student murdered two of his classmates.
?I think a lot of those issues stem from being picked on and bullied, whether it?s verbal or physical,? Eric says. ?These kids are being abused in a way. I think it?s important to teach those kids how to have self-confidence. With social media, it?s changed how people communicate. I think we need to help kids with their character, values and everything in life.?
However, fighting bullying isn?t just a priority for Eric. As someone who constantly moved, Jessie dealt with those challenges as a child, he added.
?She always had to make new friends. If she didn?t fit in with the crowd, she?d get picked on,? he said. ?It?s hard when you?re young and still developing to have those experiences.?
That anti-bullying conviction grew stronger this year, when Eric and Jessie had their first child, daughter Vivianne Rose Decker, in March.
?I have a kid now,? Eric said. ?I?d never want my kid to ever go through with that.?
For the EJDF?s first major event, Eric and Jessie hosted fans aboard a yacht on September 29. The evening included appearances from fellow Jets players and a performance from Jessie.
Being able to launch EJDF in New York is a plus. While Deckers Dogs had success in Denver, the Deckers now live in a city with 8 million residents and millions more in the surrounding suburbs. Additionally, they plan to expand the Foundation after the season in Nashville, where they spend most of their time during the offseason.
?I think the opportunities are endless with how many people are here,? Eric said. ?With what happened on 9/11 - it?s close to home out here, especially with some of the bases not being far from New York City. There?s the ability to network, to meet people that want to be a part of something special, to give back and to really get that satisfaction of changing someone?s life. I?m excited to use this city to open up those opportunities.?