BTN Communications,

October 9, 2014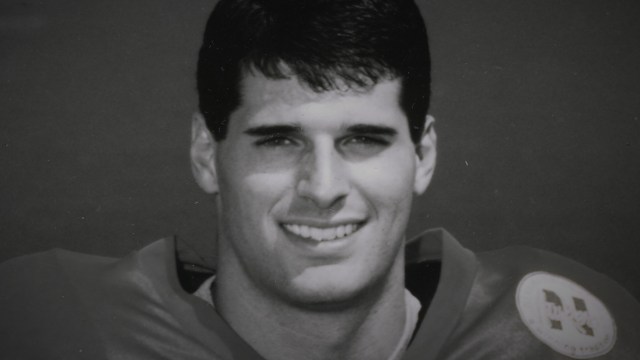 CHICAGO - The story of Brook Berringer, a beloved University of Nebraska quarterback who is best remembered for his resilience and selflessness in the face of adversity and his tragic death two days before the NFL Draft, is legendary in the Cornhusker state.
On Oct. 18, viewers across the country will learn more about his life and enduring spirit when BTN Originals debuts Unbeaten: The Life of Brook Berringer, as told through the eyes of the producers who bring fans the BTN signature series The Journey and Tiebreaker, BTN?s first feature-length documentary. The hour-long documentary, presented by Physicians Mutual, airs at approximately 10:30 PM ET, immediately following the Nebraska at Northwestern game on BTN/BTN2Go.
Bill Friedman, BTN?s coordinating producer for original programming, said Unbeaten is just not a sports story, but a story about human character. ?Brook was way ahead of his time. He built a reputation for giving back, and he is beloved because so many think he represents what a Nebraskan should be. His life is a great college football story that happens to take place in Nebraska.?
Berringer began the 1994 season as the Huskers? backup quarterback but was thrust into the starting role when Heisman Trophy candidate Tommie Frazier was diagnosed with blood clots. Berringer helped lead the team to seven straight wins and a berth in the Orange Bowl against Miami. While Frazier returned to start the game, Berringer entered in the second quarter and helped spark a comeback. The win capped off the undefeated season, and gave legendary Nebraska Head Coach Tom Osborne his first National Championship.
As the 1995 season dawned, Berringer and Frazier engaged in a spirited battle for the starting job - a job that Frazier eventually won by a narrow margin. Berringer selflessly accepted his backup role that season, as Frazier and the Huskers rolled to a second straight National Championship
The following spring, two days prior to the 1996 NFL Draft, Berringer lost control of the two-seater plane he was piloting and died when the plane crashed. He was 22 years old.
Unbeaten features rare, archival footage of Berringer on camera, highlights of some key Nebraska games leading up to the National Championship and interviews with Frazier, Osborne, and Brook?s mother, Jan Berringer, who shares some of the thousands of letters she received in the wake of his passing.
The BTN Originals crew also was in Lincoln this September, when the 1994 championship team was honored prior to the Huskers? game against Miami. The crew captured exclusive footage and an interview with Berringer?s teenage nephew, who walked onto the field wearing a No. 18 jersey in honor of the uncle he never met.
Unbeaten is directed by Matthew Engel and Kevin Shaw, who together also directed Tiebreaker, the story of the 1973 Ohio State-Michigan football game that ended in a 10-10 tie and its controversial aftermath.
The premiere of Unbeaten will have limited commercial interruptions.
# # #
About BTN: A joint venture between the Big Ten Conference and Fox Networks, BTN is the first internationally distributed network dedicated to covering one of the premier collegiate conferences in the country. With more than 800 events, all in HD, the 24/7 network is the ultimate destination for Big Ten fans and alumni across the country, allowing them to see their favorite teams, regardless of where they live. BTN2Go is the 24/7 simulcast of BTN that delivers live and on-demand programming via the internet, smartphones and tablets to customers of participating video providers. Events include football, men?s and women?s basketball games; dozens of Big Ten Olympic sports and championship events; studio shows; and classic games. Original programming highlights activities and accomplishments of some of the nation?s finest universities. The groundbreaking Student U initiative provides real-world experience for students interested in careers in sports television. The network is in more than 52 million homes across the United States and Canada, including carriage by all the major video distributors, such as DIRECTV, DISH, Verizon FiOS, AT&T U-Verse, Charter Communications, Comcast Xfinity, Time Warner Cable, Cablevision, Cox Communications, Mediacom, RCN, WOW!, Rogers Cable, Shaw and Shaw Direct (Canada) and approximately 300 additional video providers across North America. For additional information, go to www.BTN.com.
About BTN Originals: BTN Originals (@BTN_Originals) is the Big Ten Network?s award-winning original programming that includes such series as The Journey: Big Ten Football, The Journey: Big Ten Basketball (@BTNJourney) and Big Ten Elite. BTN Originals is uniquely qualified to provide viewers with unparalleled storytelling and an all-access pass into the Big Ten Conference. – See more at: http://btn.com/2013/10/30/btn-to-air-1973-osu-michigan-documentary/#sthash.BMAZGBt8.dpuf