BTN.com staff,

August 22, 2014

Kickoff is fast approaching. To help count down the days to Aug. 28, the BTN.com team is discussing one topic every day. Think of it as our countdown to kickoff. Today?s topic: West top tradition?

See Tom Dienhart, Sean Merriman and Brent Yarina?s picks in this post.

See our other 2014 countdown to kickoff posts:

[display-posts tag="debate-it" posts_per_page="5"]
Tom Dienhart: Jump Around. Every fan should experience ?Jump Around? in Camp Randall Stadium at Wisconsin, a tradition that signals the start of the fourth quarter. You can feel the stadium sway. Really. While you're jumping up and down, don't forget to check out the student body loving every second of the tradition. The players, too.
***
Sean Merriman: Jump Around. It's become one of the most talked-about traditions in college football. Before the start of the fourth quarter, the popular House of Pain song blasts on the speakers throughout Camp Randall Stadium. The fans, the band, and the players all get into it. Even Wisconsin men's hoops coach Bo Ryan joined the fun last year.
***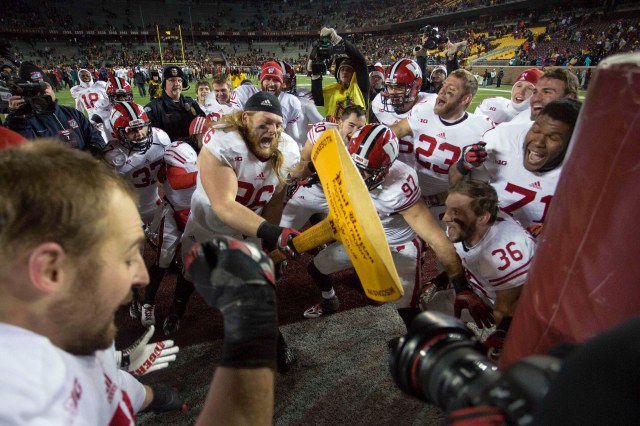 Brent Yarina: Paul Bunyan's Axe. My favorite Big Ten trophy, Paul Bunyan's Axe is cool – it's six-feet long – historical – it's awarded to the victor of the game's oldest rivalry – and highly coveted – it's led to some hurt feelings recently. The series has been one-sided, with Wisconsin taking the last 10 meetings, but it never gets old watching the players sprint after the hardware and swing it around following the final whistle.