Sean Merriman, BTN.com web editor,

July 25, 2014

Every college, it seems, has at least one well-known celebrity backer, whether it be on the gridiron, the hardwood, the diamond or the mat. But who are those figures in the Big Ten? I asked our Twitter followers that very question, and then came up with this list of the top celebrity fans for all 14 Big Ten schools.

Here we go.
Illinois: Bill Murray

Born and raised in Wilmette, Illinois, a northern suburb of Chicago, Murray is a huge Fighting Illini fan. In fact, Murray followed the 2005 Illini hoops team from the Chicago Regional to the national title game and even gave the team a pep talk before a game. It was just this past year when Murray gave a panhandler a hard time about being from North Carolina before going on a rant about how UNC cheated Illinois out of a championship in 2005, and then, finally giving him money.
Honorable Mention: Dick Butkus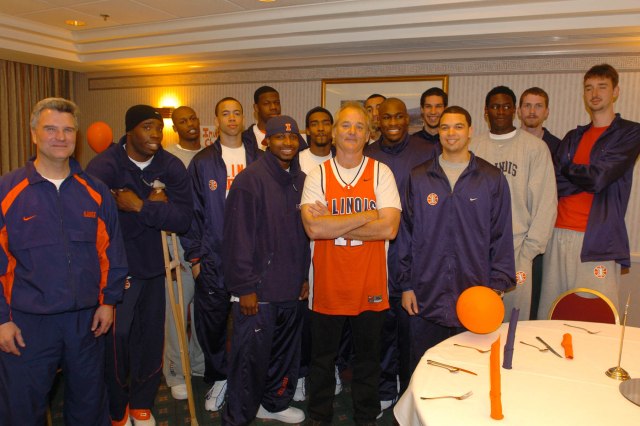 ***
[ MORE: Video: "My Wish" gives B1G fan recruiting visit | Video: Brandon Scherff is strong ]
Indiana: Mark Cuban
The owner of the NBA's Dallas Mavericks graduated from Indiana University's Kelly School of Business in 1981 with a B.S. in Business Administration. He is an avid Hoosier fan, and can be seen here in his IU football jersey, while waving the green flag to start the 98th running of the Indianapolis 500.
Honorable Mention: John Mellencamp
***
Iowa: Ashton Kutcher
Born and raised in Cedar Rapids, Iowa, Kutcher attended Iowa and is a lifelong Hawkeyes fan. He can be seen here with Iowa legend Dan Gable and actress Mila Kunis at this past season's Penn State-Iowa wrestling match at Carver-Hawkeye Arena.
Honorable Mention: Tom Arnold
***
Maryland: Scott Van Pelt
This proud Maryland alum was born in Brookeville, Maryland and grew up in the Washington, D.C., area. Van Pelt is a SportsCenter anchor on ESPN, serves as the co-host of SVP & Russillo on ESPN Radio, and also hosts various golf events for the network.
Honorable Mention: Kevin Plank
***
Michigan: Kate Upton
One of the most well-known models in the world, Upton was born in St. Joseph, Michigan. She has been seen at several Michigan sporting events, including the 2013 National Championship Game, in which her Twitter interaction with Wolverine point guard Spike Albrecht became a national story.
Honorable Mention: Russell Crowe
***
Michigan State: Magic Johnson
Earvin "Magic" Magic is no sidewalk alum. He led the Spartans to that magical 1979 National Championship, has a statue in his honor in front of the Breslin Center, and is known as the face of Michigan State basketball. He's not only a fan, he is Michigan State athletics.
Honorable Mention: Kid Rock
***
Minnesota: Tony Dungy
One of the school's most prestigious alumni, Dungy attended the University of Minnesota from 1973-1977, while staring on the Gophers' football team. In addition to playing at Minnesota, Dungy also served as an assistant coach for the Gophers following his playing career and remains one of the top supporters of the football program.
Honorable Mention: Yanni
***
Nebraska: Larry the Cable Guy
Daniel Lawrence "Larry" Whitney, better known as Larry the Cable Guy, was born and raised on a pig farm in Pawnee City, Nebraska. The stand-up comedian is well known across Husker country as being one of the top Nebraska football supporters around, regardless of his celebrity status. This photo is certainly evidence of that.
Honorable Mention: Warren Buffett
***
Northwestern: Seth Meyers
Not only is Seth Meyers a die-hard Northwestern fan, but he was also born in the school's backyard, right in Evanston, Illinois. Meyers is the former head writer for NBC's Saturday Night Live and currently hosts Late Night with Seth Meyers, which premiered earlier this year. He is one of many well-known TV personalities who strongly support Northwestern football.
Honorable Mention: Stephen Colbert
***
Ohio State: LeBron James
Arguably the most famous athlete in the world, LeBron James has made it clear that he would have attended Ohio State had he not gone directly from high school to the NBA. James has been on the OSU sideline, he has spoken to the team, and he even has his own locker at Ohio State's Value City Arena.
Honorable Mention: Vince Vaughn
***
Penn State: Ryan Seacrest
One of the top television personalities around, Ryan Seacrest is a big Penn State fan. He has been spotted at Penn State sporting events, including this 2009 game against Ohio State in State College.
Honorable Mention: Lisa Salters
***
Purdue: Drew Brees
It?s been nearly 14 years since Brees threw his last touchdown pass in a Purdue uniform, but he always tries to find time to show his college colors. Despite enjoying a standout NFL career, Brees makes it a point to show his constant support, as he did by attending the 2013 Heart of Dallas Bowl.
Honorable mention: Jim Gaffigan
***
Rutgers: Mario Batali
This well-known American chef and media personality is all Rutgers University, through and through. An alum of the school, Batali is one of the school's top supporters, often sporting the school's colors.
Honorable Mention: Natalie Morales
***
Wisconsin: Andy North
North, a two-time U.S. Open champion, is known as one of the top supporters of Wisconsin athletics. Born in Thorp, Wisconsin, and raised in Monona, Wisconsin, North makes it a point to cheer on the Badgers on a regular basis, no matter where they may be playing.
Honorable Mention: Steve Stricker