BTN.com LiveBIG Staff,

July 18, 2014

Despite having two veteran grandfathers, Greg Freisinger never considered the military as an option - but that changed on Sept. 11, 2001.

?As a senior in a northern New Jersey high school, I could see the World Trade towers fall across the Hudson River, and I remember feeling like it was my time to serve.?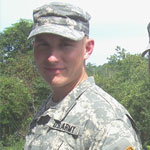 Freisinger would go on to spend four years as an officer with the U.S. Army?s 84th Engineering Battalion, during which he took part in a humanitarian mission in Thailand and earned a Bronze Star for his actions in Operation Iraqi Freedom.
Because of his military service and commitment to academic excellence - he?s currently earning his Ph.D. in biomechanical engineering at The Ohio State University (OSU) - Freisinger was recently named a 2014 Tillman Military Scholar.
The program is part of the Pat Tillman Foundation, which was started in memory of the late professional football player and soldier who was killed in 2004 in the line of duty in Afghanistan. Since 2008, it?s provided millions of dollars in scholarships to U.S. service members, veterans and military spouses seeking higher education.
Freisinger is the first student from OSU to receive the distinction, for which only 60 are selected out of more than 7,500 applicants. ?It is an honor and truly humbling to be selected as a Tillman Military Scholar,? he said. ?I am so thankful to Marie Tillman and the Pat Tillman Foundation for everything they have done to support veterans and spouses.?
Freisinger selected OSU for his doctoral studies largely because of his wife, he said. ?I met Susan, who was also an Army Engineer Officer, while we were both stationed in Hawaii. She was in Army ROTC at Ohio State and had such great things to say about the city [of Columbus] and the university. After visiting the campus and speaking with the professors, I could sense their passion for biomechanical research and the upwards trajectory of the program.?
In addition to the strength of its academic programs and the endorsement of his spouse, something else made OSU feel like the right fit for Freisinger.
?Ohio State offers a lot of support through its Office of Military and Veterans Services department,? he explained. ?After weighing all the factors, it was an easy decision to pick Ohio State, and one I couldn?t be happier with.?
With more than 2,200 military and veteran students, Ohio State has received national recognition for their veteran friendly environment including being named one of the country?s top ?Military Friendly Schools? by Military Times magazine.
His research is currently focused on severe knee osteoarthritis and total joint replacement as well as improving patient outcomes through improved surgical techniques. ?Orthopedic surgery is often considered an art and a science. As a mechanical engineer, I can bring a unique perspective to help quantify the art of surgical technique from a scientific perspective,? Freisinger said.
After earning his Ph.D., he plans to work in the field with soldiers at an Army research lab or medical center.
?I would like to lead a team of researchers on issues such as human performance, injury prediction, rehabilitation following limb loss and prosthetic development,? he said. ?Investigating the influence of mechanics on biological systems has given me a deep respect for how complex and amazing the human body is. With the increases in technology seen in the past 10 years, huge strides have been made in understanding how the human body works and finding ways to help those in need.?
By Jorge Rivera