Jeffrey Eisenband,

May 7, 2014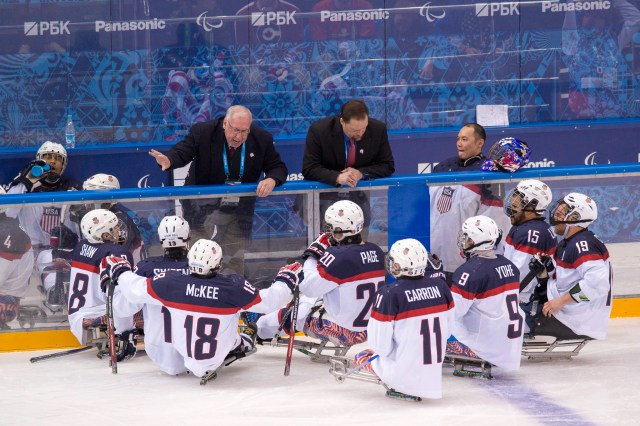 Jeff Sauer admits he was not initially ecstatic over the prospect of coaching the U.S. National Sled Hockey Team.
?They came to me and asked if I?d be interested. I wasn?t real excited about getting back into coaching again. I liked the administrative side of things,? he says.
Sauer, 71, coached Division I hockey at Colorado College (1971-1982) and Wisconsin (1982-2002). He won two national championships in Madison, and his 655 career wins are seventh most on the all-time list.
Sauer had nothing left to prove in coaching, but taking on the sled team gave him new energy.
?I was on the ice with these athletes for one day and I got hooked.?
In June 2011, Sauer was offered the position of U.S. National Sled Hockey Team head coach. On July 15, 2011, he was named head coach. As the president of the American Hearing Impaired Hockey Association and the head coach of three U.S. Winter Deaflympic Ice Hockey Teams, Sauer entered the job with experience coaching handicapped players.
Sauer led the squad to a gold medal at the 2012 International Paralympic Committee Ice Sledge World Championship and silver medal in the 2013 edition of the competition. The competitions served as tune-ups for the 2014 Paralympics in Sochi, Russia.
?We were the defending gold medal champs from the last Paralympics,? Sauer says (the U.S. won gold in 2010 in Vancouver). ?I would have been really disappointed if we hadn?t played for a gold medal. The goal was to get to the gold medal game and give us a chance.?
Sauer has coached household NHL names. Chris Chelios, Curtis Joseph, Brian Rafalski, Mike Richter, Gary Suter, Dany Heatley, and Rene Bourque are among those who played for Sauer in Madison.
Trading skates for sleds does not change Sauer?s philosophy. He prepares his sled hockey players with the same intensity he used on future NHL stars.
?To be honest, I don?t do anything different with these players than I would do with a regular team,? he says. ?The only negative with these players is because of the sledge situation and stuff, they cannot skate backwards very well. Other than that, everything we do is something I would do with a regular hockey team.?
Part of the coaching experience for Sauer has been learning the stories of each player. It is through these interactions he knows pity is not in their vocabulary. The 17-man team in Sochi included four military veterans. In terms of disabilities, eight were born with their handicap and nine developed their condition in another way. Ages ranged from 15 to 35.
?It was very humbling the first time I walked into the locker room. You?ve got prosthetics hanging from lockers, guys moving around the floor,? Sauer says. ?The hardest part about it for some of these athletes is getting from the locker room to the ice.?
Sled hockey players go beyond the cliché of hockey players being tough. They battle the inability to walk, many of whom once enjoyed normal health. They glide around with a constant physical chip on their shoulder to go along with the heat of competition.
?I?ve heard the stories of the players. I know each one of them and how they got to the position they?re in with, in terms of disabilities, but there?s no ?woe is me? attitude about them. They?ll talk about it up front and personal if you want. They would like to be treated like regular athletes, period. That?s how I treat them,? Sauer says.
The players and Sauer respond well to each other. In Sochi in March, the U.S. Sled Hockey Team claimed Paralympic gold. The road was not totally smooth, as the U.S. suffered a 2-1 loss to Russia in the group stage. For the powerhouse Americans, this was not on the agenda, but the coach sees even that as a positive.
?It probably turned out to be the best thing that happened to us for a number of reasons. It got us back on track because some of the games we had played were very easy to win,? Sauer says.
In the semifinals, the U.S. knocked off a previously undefeated Canada team, 3-0. In the gold medal game, the U.S. got revenge for their previous defeat with a 1-0 win over the host Russian team.
?Winning two championships at Wisconsin was a great accomplishment. This was a different kind of enjoyment so to speak. I put my heart and soul into this team from a coaching standpoint and those guys bought into it and put in their wherewithal, as well,? Sauer says.
Unlike the Olympic team, the American players do not go back to the NHL. Many of the men return to jobs, school (high school for a couple players) and amateur teams. Sauer says he wishes he could work on the ice with the players five days of week, every week, but it is not economically feasible. The lack of action only makes Sauer and his players miss each other more. The coach estimates he has talked to each player five or six times since the Paralympics.
?Right now, each one of those 17 players is like a second son to me. That?s how I feel about them and I treat them like that. I think they appreciate it.?
Although Sauer is close with his players, the U.S. Paralympic Committee regulations require him to keep his distance in the celebration. On April 3, the sled hockey team made a trip to the White House, along with other athletes of the Olympics and Paralympics. Sauer and the coaching staff were not part of the celebration.
Sauer also did not receive another portion of the glory: a medal. Like all Olympic and Paralympic coaches, Sauer left Sochi without hardware, despite his team?s performance.
He does not care about a hard copy. Sauer is jubilant over the gold medal each of his players have the right to don. However, there may be something else more exciting in his mind: getting back on the ice with his team.
In July, Sauer will get his players to shake off the rust and get back on the ice. Tryouts for the 2015 IPC Ice Sledge Hockey World Championships will narrow down a new squad for the year cycle.
Sauer?s ticket is booked.
?As long as they want me, I?ll stay with them,? he says.