Tom Dienhart, BTN.com Senior Writer,

February 4, 2014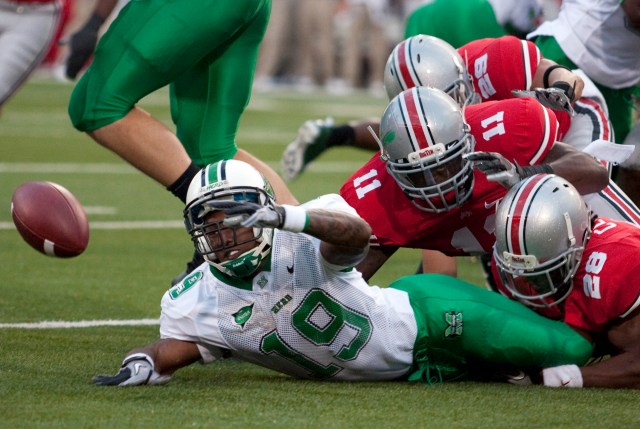 Signing Day is tomorrow. It?s a day when every program is a winner. It?s an exciting day when every signee teems with All-American potential. It?s a glorious day with much back-slapping and giddy Internet chat room blather by full-grown men who should know better.
The following is a cautionary tale meant to temper your child-like glee. I humbly present the biggest recruiting bust for each Big Ten school over the past decade. A moment of silence, please ? thank you.
[ PROGRAM ALERT: Watch our Signing Day Special at 4 p.m. ET Wednesday ]
Illinois: Melvin Alaeze, DE, Randallstown, Md., (Randallstown), 2006.
This may be the most heart-breaking story of all. The five-star recruit and No. 4 player in America according to Rivals, Alaeze could have gone anywhere in the nation. He inked with Maryland but didn?t qualify and went to Hargrave Military Academy. Maryland revoked its offer before he got to campus when Alaeze was charged with intent to distribute marijuana. He then signed with Illinois in 2007 but never played after being suspended for missing classes. Alaeze spiraled terribly from there, as he was sentenced to eight years in prison for attempted murder and armed robbery.
Indiana: Jerimy Finch, S, Indianapolis (Warren Central), 2007.
Rivals.com rated Finch the top safety in the nation, as he signed with Florida. But Finch bolted Gainesville after a season and landed in Bloomington in 2008. Finch was a modest contributor on defense and special teams and left before his senior season for tiny Marian University in Indianapolis.
Iowa: Dan Doering, OL, Barrington, Ill. (Barrington), 2005.
A five-star recruit and the No. 4 offensive tackle in the nation per Rivals.com, Doering was supposed to be one of the next great Hawkeye offensive linemen. But, it never materialized for the No. 30 player in the nation, according to Rivals.com. He lacked a top work ethic and was shuffled around the line, never playing on a regular basis.
[ MORE: Top three recruiting needs for each Big Ten team ]
Michigan: Kevin Grady, RB, Grand Rapids, Mich. (East), 2005.
A classic ?best that never was? tale. Grady was a spectacular flameout largely because of injury and a drinking problem that landed him in trouble. Grady was the first Michigan player to enrollee early, arriving as a five-star recruit. The jump start helped, as Grady ran for 483 yards and caught 14 passes as a freshman as Mike Hart?s backup. Grady never would approach that rushing total again, running for 187, 33 and 80 yards in his remaining three seasons with just six catches. His tenure never gained traction and he eventually was moved to fullback after missing his junior season due to injury, becoming little more than a role player.
Michigan State: Antonio Jeremiah, DT, Hilliard, Ohio (Darby), 2007.
Rivals.com had Jeremiah as the No. 14 defensive tackle in the nation. The mammoth man never flipped the switch in a moribund career that you wouldn?t know even existed unless you looked it up. The staff tried him on the offensive line. To no avail. Jeremiah was nothing more than a bit player who suffered a knee injury going into his final season. A fitting end to a failed tenure.
Minnesota: Hayo Carpenter, WR, Lawndale, Calif. (College of the Canyons), 2009.
He was a four-star JC recruit with 4.3 speed that Tim Brewster-What else?–hyped even more, as Carpenter picked the Gophers over Florida and a host of others. Alas, he finished with three catches for 43 yards in two years after being touted as the No. 1 JC player in the nation by Scout.com. The Carpenter era epitomized the Brewster era-lots of sizzle, no substance. Perfect.
[ MORE: Video: Why recruiting rankings aren't everything ]
Nebraska: Harrison Beck, QB, Clearwater, Fla. (Countryside), 2005.
He was the No. 1 ranked quarterback in Florida and the No. 3 ranked pro-style quarterback in the nation, according to Rivals.com. Beck was supposed to be Bill Callahan?s top signal-caller. Nebraska actually accepted his commitment and turned away a visit from Mark Sanchez, who was supposed to visit the following week in the summer of 2004. Beck never emerged ahead of guys like Joe Ganz and Zac Taylor. Beck eventually left for N.C. State and finished at North Alabama.
Northwestern: Davon Custis, DL, Gahanna, Ohio (St. Francis De Sales), 2009.
He played four anonymous seasons in Evanston. He just didn?t have the heart for it. Custis contributed little during his tenure. Check out this resume: redshirted in 2009, played in two games in 2010, played in one game in 2011 and 2012. Not what you?d expect from one of the 25 best defensive ends in America, according to Rivals.com.
Ohio State: Dorian Bell, LB, Monroeville, Pa. (Gateway), 2009.
According to reports in May 2011, Bell was suspended for the season because of what was believed to be a third violation of the athletic department?s drug and alcohol abuse policy. As a redshirt freshman in 2010, Bell dealt with injury and made little impact when he played. Rivals.com rated him a five-star recruit, the No. 3 outside linebacker in the nation and No. 33 overall prospect. He barely created a ripple on the field in Columbus.
Penn State: Antonio Logan-El, OT, Forestville, Md. (Forestville), 2006.
Known as ?ALE,? Logan-El was a five-star recruit and the No. 5 offensive lineman in the nation, according to Scout.com. He famously burned Maryland in a very public national signing day event, inking with PSU and causing Terrapins coach Ralph Friedgen to steam. Logan-El never played a down for the Nittany Lions after redshirting as a freshman in 2006. He never seemed to have a fire in his belly for football and struggled with intense conditioning.
Purdue: Selwyn Lymon, WR, Fort Wayne, Ind. (Harding), 2005.
He was the big, physical wideout that Joe Tiller?s offense had been pining for. Alas, Lymon never materialized into much more than a pedestrian option who teased with potential. The No. 7 wideout in the nation, according to Rivals.com, Lymon also had some off-field issues, as well, as he was stabbed in the chest during a night club fight in March 2007, according to published reports. Night clubs? In West Lafayette? Who knew?
Wisconsin: Jake Bscherer, OL, Sturgeon Bay, Wis. (Sturgeon Bay), 2006.
Pick a prep All-American team, and this guy probably was on it. Rivals.com had him as the No. 4 offensive tackle in the nation. Bscherer played almost exclusively as a backup his first two seasons and then redshirted in 2008. He started six games the next season on his way to a spectacularly undistinguished career.
| | |
| --- | --- |
| About Tom Dienhart | BTN.com senior writer Tom Dienhart is a veteran sports journalist who covers Big Ten football and men's basketball for BTN.com and BTN TV. Find him on Twitter and Facebook, read all of his work at btn.com/tomdienhart, and subscribe to his posts via RSS. Also, send questions to his weekly mailbag using the form below and read all of his previous answers in his reader mailbag section. |
And if you want to leave a comment on this post, use the box below. All comments need to be approved by a moderator.