Tom Dienhart, BTN.com Senior Writer,

November 30, 2013

ANN ARBOR, Mich. — Michigan-Ohio State games usually are exciting. This one was a classic.

There were 1,129 yards of combined offense; 83 points; a melee that saw three players ejected (Watch); a valiant comeback; a last-second touchdown; a gutsy two-point conversion call that failed (Watch) all wrapped in a 42-41 Ohio State win over Michigan that sucked the air out the Big House and left the 113,511 fans breathless.

"That was a classic game, I just want to congratulate our players,? said Urban Meyer. ?Someone asked a question about what means more, our 24th win in a row or our second straight win against our rival. No question, it's the second win against our rival. I want to give (Michigan) credit. They have great players and that was a battle. A great game, classic."

[ MORE: With Alabama's loss, Ohio State a double winner Saturday ]

Exhilarating. Enthralling. Exhausting. Entertaining. And, yes, a classic.

Most important of all, the win moved Ohio State to 12-0, pushing its winning streak to a mind-numbing 24 in a row. And coupled with Alabama's loss at Auburn, the Buckeyes are poised to move into the No. 2 spot in the BCS standings and earn a spot in the title game with a win in the Big Ten title game.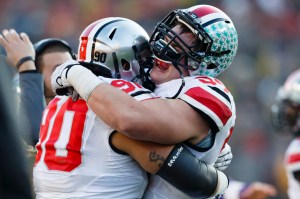 Many of the victories along the way have been ho-hum. But this one was one of the most dramatic during the streak. And, it wasn?t supposed to be this close, as Ohio State was a 16.5-point favorite.
But, this is a rivalry game. And, you know what they say about rivalry games …
Michigan marched down field in the dying minutes and scored a touchdown to cut Ohio State?s lead to 42-41. But instead of going for the tie by attempting an extra point, Wolverines coach Brady Hoke asked his players if they wanted to go for two points and the win. They did. The crowd roared. Gutsy call. And a good call, too, as Michigan struggled to contain the Ohio State tandem of Braxton Miller and Carlos Hyde all game.
?We weren?t doing a great job stopping them,? said Hoke. ?And we play the game to win. I thought about it. And, we did it.?
Devin Gardner?s pass was picked off, sealing victory for Ohio State.
Game over.
This was the Buckeyes? ninth win in the last 10 meetings in this oh-so-heated rivalry that?s known simply as ?The Game.? In fact, the last time Ohio State lost to Michigan was on this field two years ago, a 40-34 victory for the Wolverines. Since then, it?s been all victory laps for OSU. And none have been more thrilling for the Buckeyes than this triumph.
[ MORE: See all of the best shots from the Ohio State-Michigan game ]
The Buckeyes can exhale and continue to dream about winning the Big Ten-and maybe getting into the BCS national championship game for the first time since making consecutive trips after the 2006 and 2007 seasons. OSU last won a national crown in 2002.
The Buckeyes season ended right here in 2012. The Buckeyes were shackled by probation, unable to win the Big Ten crown and play in the postseason because of NCAA sanctions. A 12-0 mark was good, but it left Buckeye Nation wondering: What if? Ohio State is unencumbered in 2013-and things are about to get really interesting.
Up next is Ohio State?s first trip to the Big Ten title game where it will play Michigan State in the most anticipated league championship game in the three-year history of the event. Beat the Spartans, and a spot in the BCS title game may loom.
Like Ohio State, Michigan State moved to 8-0 in Big Ten action today, taking a 14-3 decision vs. Minnesota. The teams didn?t meet during the season. But they played in 2012, as Ohio State took a 17-16 victory in East Lansing. It was a hard-fought, defensive effort that saw the Buckeyes notch 383 yards and the Spartans total 303. A similar game could unfold next Saturday in Indianapolis, with many anticipating the clash between the Ohio State offense and Michigan State defense which are the class of the Big Ten in those respective categories. But first, OSU had to get by Michigan and its suddenly hot offense.
[ MORE: See what Braxton Miller's phone looked like after rivalry win ]
"They threw the ball — we didn't get the normal pressure that we normally have,? said Meyer. (Devin) Gardner is an excellent thrower. I'm not quite sure I saw the same thing from the past few games when he struggled. Early in the season, like against Indiana, he looked like he did against Indiana. But we've got to fix some things."
Michigan offensive coordinator Al Borges emptied his playbook, calling a variety of misdirection plays and screens that kept Ohio State off balance in the first half, which ended deadlocked at 21. At one point during the second half, it looked like the Buckeyes would run away after taking a 35-21 lead with 1:05 left in the third quarter. But the Wolverines responded with three fourth-quarter touchdowns to make this one a thriller.
Credit must be given to Michigan quarterback Devin Gardner, who fought through a bad ankle to hit 32-of-45 passes for 451 yards with four touchdowns for an offense that notched 603 yards vs. an OSU defense that was allowing only 333.4 yards. That production was a stark contrast to an offense that often had struggled in 2013. Michigan entered the game No. 10 in the Big Ten in total offense (362.8 ypg).
Where was this all season?
It?s too late now, as 7-5 Michigan waits to learn its bowl fate. The Buffalo Wild Wings Bowl? Gator Bowl? The Texas Bowl? Regardless of the destination, this is a disappointing season for the Wolverines in Year Three under Hoke. Michigan still hasn?t won a Big Ten crown since 2004.
Ohio State has bigger dreams ahead this season. And it can thank its own offensive heroes on a day when the defenses for both teams got beat up.
The Buckeyes saw quarterback Braxton Miller hit just 6-of-15 passes for 133 yards with an interception and two touchdowns. But he and running back Carlos Hyde did their damage on the ground. Miller ran 16 times for 153 yards and three scores, averaging 9.6 yards per carry. Hyde was even better.
Time and again on this chilly-but-sun-splashed day, Ohio State ran up the middle with Hyde, who continued to make a case for being the top running back in the Big Ten. (Sorry, Ameer Abdullah.) He shredded the Michigan defense for 226 yards rushing on 27 carries, averaging 8.4 yards per tote.
"It starts with the offensive line, no question it starts with the offensive line and it finishes there,? said Meyer. ?And right in between you have the two guys. When I say our offensive line that includes our tight end, he played very well. Carlos Hyde, I know at Boston College my friend Steve Addazio has his (Andre Williams), but if we have a draft, I've got mine."
Add it all up, and Ohio State ripped through Michigan for 393 yards rushing (8.5 ypc) en route to 526 total yards-and made one huge stop on that two-point conversion that had the Buckeye Nation on the edge of its seats. What would Woody Hayes and Bo Schembechler have thought of all of this offense?
"I think Coach Schembechler and Coach Hayes — the two coaches in the generation I was growing up — would've looked out and seen two teams playing as hard as they possibly can which is what this rivalry is all about," said Meyer.
| | |
| --- | --- |
| About Tom Dienhart | BTN.com senior writer Tom Dienhart is a veteran sports journalist who covers Big Ten football and men's basketball for BTN.com and BTN TV. Find him on Twitter and Facebook, read all of his work at btn.com/tomdienhart, and subscribe to his posts via RSS. Also, send questions to his weekly mailbag using the form below and read all of his previous answers in his reader mailbag section. |
And if you want to leave a comment on this post, use the box below. All comments need to be approved by a moderator.