Tom Dienhart, BTN.com Senior Writer,

November 27, 2013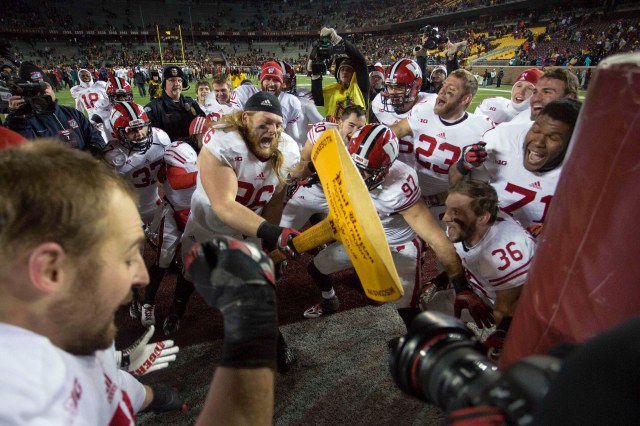 See the picture above? Minnesota coach Jerry Kill thinks Wisconsin's actions following last Saturday's rivalry win at TCF Bank Stadium should lead to a discussion about axe protocol. Really. Read more here.
If you missed it, Wisconsin won Paul Bunyan's Axe for the 10th consecutive year and pretended to chop down the west goal post at TCF Bank Stadium. The Badgers waited until the Gophers players finished singing "Hail! Minnesota" with the band, and then moved in on the east goal post and wanted to pretend to chop it down. The Gophers didn?t like that and wouldn't let them get to it. This led to a standoff, and security had to help separate the teams.
"Whether we go around the field, or they go around the field, and our team needs to get off, or we sing the song and get off — the administrations know we need to handle it in a different way on both sides,? Kill said. "So we?ll let them work it out, and I?m sure they?ll get it right, and then they?ll pass it along to both coaches."
What makes celebrations great is the fact they are spontaneous. Trying to set up a protocol is a big buzz kill. Me thinks Minnesota is more upset about losing the Axe 10 times in a row than how Wisconsin wants to celebrate.
| | |
| --- | --- |
| About Tom Dienhart | BTN.com senior writer Tom Dienhart is a veteran sports journalist who covers Big Ten football and men's basketball for BTN.com and BTN TV. Find him on Twitter and Facebook, read all of his work at btn.com/tomdienhart, and subscribe to his posts via RSS. Also, send questions to his weekly mailbag using the form below and read all of his previous answers in his reader mailbag section. |
And if you want to leave a comment on this post, use the box below. All comments need to be approved by a moderator.