Tom Dienhart, BTN.com Senior Writer,

September 16, 2013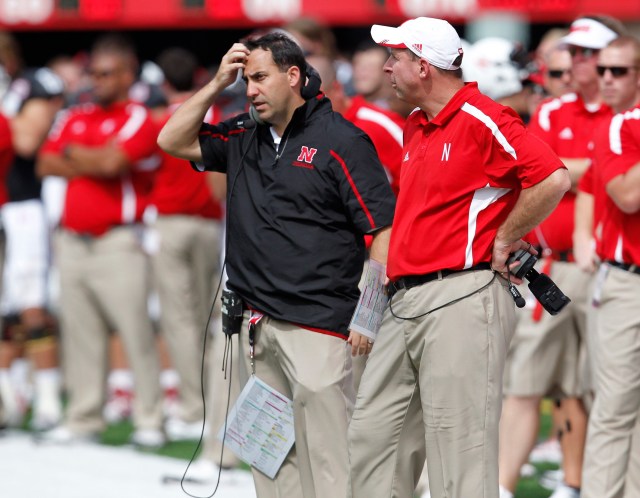 Nebraska legend Tommie Frazier apparently is fed up with Cornhuskers? football in its current incarnation. And he let the world know about it after witnessing Nebraska?s 41-21 home loss to UCLA on Saturday.
It was a frustrating afternoon for Huskers fans, who saw their team race to a 21-3 lead and then not score again in a 41-21 defeat. Frazier was on hand in Memorial Stadium, honored at halftime for his induction into the College Football Hall of Fame. Here is what he tweeted after the game.
Here's the full script:
?After letting it sink in for about 4 hours I still struggling. It?s time to get rid of the defensive play caller, the Dc, lb dl and db coaches. I hate saying this but this crap is getting old. How in the hell do you not make adjustments or put your players in the position to compete? If this is what is going to happen for the remainder of the season, count me out. I don?t care if we lose a game but the way we are losing is just not what #Nebraska fans deserve. I have fought, bled, and cried over this program. I didn?t do all that for the program to become what it has today. Time for change! I will comment about the offense this week on Tommie?s X?s and O?s. Trust me you don?t want to miss it. #Huskers?
Harsh stuff, no doubt, spoken from the heart and apparently with a cool head.
[ MORE: Dienhart: "This was a big step back" for Nebraska ]
Huskers coach Bo Pelini was asked Monday for his response to Frazier?s criticism.
?We have a staff, players and administration - everybody here - who?s busting their butt to do everything we can to win football games and to do everything we can for student-athletes,? Pelini said. ?Since I came back here, I?ve embraced the former players, and if he feels like that, so be it. We don?t need him. That?s a shame. Until you?ve sat in this seat - until you?ve sat and done it - anybody can have an opinion. Anybody can do that. It?s easy to point fingers and stand outside and throw stones. I take it for what it is.?
Frazier responded to Pelini's remarks on Twitter:
This is a season of big promise for Nebraska. It?s 2-1 with many big games left. The Huskers still could win the Legends. They still could win the Big Ten, which would be the program?s first league title since 1999.
But, issues still need to be ironed out on a defense that has upset Frazier. Nebraska's defense is currently ranked 106th in the country in yards per game with 460.5, and they are currently allowing nearly 30 points a game. And, frankly, the offense also needs more consistency. What is its identity?
Now, Frazier has picked a public spat with Pelini, whose defensive coordinator is John Papuchis, defensive line coach is Rick Kaczenski, linebackers coach is Ross Els and secondary coach is Terry Joseph. This isn?t what a Nebraska program with so much on the line needs, as it looks to make a push for big things in 2013.
Everyone is entitled to an opinion. And some people?s opinions matter more than others. The next few weeks in Lincoln will be interesting.
| | |
| --- | --- |
| About Tom Dienhart | BTN.com senior writer Tom Dienhart is a veteran sports journalist who covers Big Ten football and men's basketball for BTN.com and BTN TV. Find him on Twitter and Facebook, read all of his work at btn.com/tomdienhart, and subscribe to his posts via RSS. Also, send questions to his weekly mailbag using the form below and read all of his previous answers in his reader mailbag section. |
And if you want to leave a comment on this post, use the box below. All comments need to be approved by a moderator.