BTN Communications,

August 27, 2013

BTN most certainly is. BTN?s fall programming kicked off last night with the debut of #BTNLive. The show airs at 5 PM CT Monday through Friday and is simulcast on FOX Sports Radio
For all the NFL junkies out there, tonight?s episode includes an all-star lineup of special NFL guests, including former OSU linebacker and current Green Bay Packer, A.J. Hawk, and former MSU football star and a quarterback for the Washington Redskins, Kirk Cousins (pictured below). Friday?s episode will include special guest Drew Stanton, former Spartan standout and a quarterback for the Arizona Cardinals.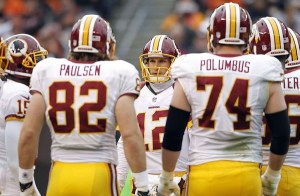 Looking for one last bit of preseason coverage? Following #BTNLive tonight and tomorrow night are the hour-long debuts of Big Ten Football Preview: Legends Division and Big Ten Football Preview: Leaders Division. Both shows will air at 7 PM ET.
BTN?s football schedule kicks off at 7 PM ET Thursday with two games, one on Friday and five on Saturday. The Final Drive will close out the day?s coverage on Thursday and Friday and airs every football Saturday following the last Big Ten football game of the day.
If you are like me and like watching the games while running errands or hitting the gym, BTN2Go can be your best friend. And with all eight games live on BTN and BTN2Go, you?ll never miss any game action. For more information on BTN2Go, head over to BTN2Go.com. And if you?re not sure which channel your game is on, go to BTN.com/GameFinder.
Also returning to the 2013 studio lineup and debuting next week are Big Ten Pulse at 7 PM ET on Monday, (it also airs at 7 PM ET on Thursdays,) BTN Football & Beyond at 7 PM ET on Tuesday and BTN Football Report, at 7 PM ET on Friday. With seven games on Saturday, Sept. 7, we get to do it all over again!
So pull on that lucky jersey, grill some hot wings and get situated on the couch. Big Ten football is back!