BTN.com staff,

December 13, 2012

One of the hottest debates around the Big Ten Conference's announced plan to expand to 14 schools revolves around the future look of the two divisions. Currently, Iowa, Michigan, Michigan State, Minnesota, Nebraska and Northwestern reside in the Legends Division while Illinois, Indiana, Ohio State, Penn State, Purdue and Wisconsin are in the Leaders Division.

The addition of Maryland and Rutgers poses this question: What comes next? We've launched a survey question in this post with three ideas for divisions. Tell us your choice and add any other feedback, too. BTN's experts will discuss these ideas on Monday's "Football Report" at 6:30 p.m. ET.

Also, the numbers tell us that by now many of our readers and viewers have submitted their answers to our first Big Ten expansion and realignment survey, which we launched earlier this month. It's still live if you haven't seen it.

Results will be forwarded to the Big Ten Conference office.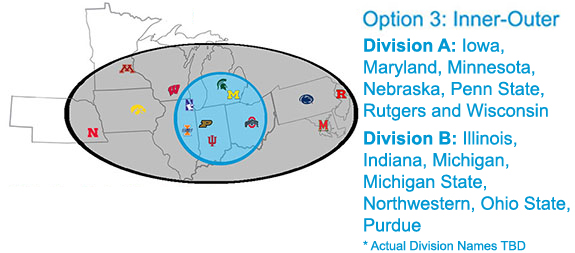 ***