BTN.com staff,

July 24, 2012

The latest in our entertaining and insightful series of Big Ten Olympic Journals is in and it's from U.S. swim team co-captain and Michigan graduate Peter Vanderkay, one of four swimmers sending back reports. Vanderkaay reveals the name of his Olympic roommate, the all-you-can-eat McDonald's, and more as we're just days away from Friday's Opening Ceremony. Read Vanderkaay's latest entry in this post and check out all of our Big Ten Olympic Journals throughout the 2012 Olympics.

Here's what Vanderkaay sent us late Tuesday night:
That's me and Connor and … the torch.
Photos from Pete Vanderkaay
"We arrived in the Olympic Village yesterday and it was a pretty easy travel. We had another charter flight, this time direct from Vichy to London. Customs is so much easier to clear when you fly private. They pretty much just stamp your passport and send you on your way. I highly suggest draining your bank account to fly private next time you travel. It's the elite athlete way – just kidding.
"The village has been pretty good so far. The first order of business upon arrival was a rush to the dining hall and scour it for the best eats. So far everything has tasted pretty good and everyone is desperately staying away from the free, all-you-can-eat McDonald's. It's always a last resort if nothing on the menu is appetizing, but mostly not consumed until after the competition is over.
"In 2004, I saw an Aussie guy try to eat 100 McNuggets in one sitting only to throw up at number 96. So close, yet so far away. But he tried his best, and that's what the Games are all about.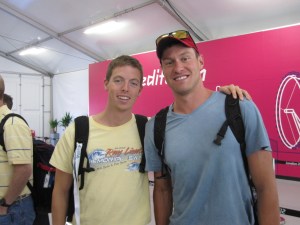 Look at this – Olympic roomies.
Photos from Pete Vanderkaay
"The first nights sleep here was a little bit rough. The weather here has been perfect, hot and sunny with zero clouds. The only problem with that is our apartments don't have functioning air conditioning. I'm rooming with Connor "The Future" Jaeger and our room was a total hot box. To add insult, a barrage of professional grade fireworks exploded at 12:30 a.m., instantly waking us up. Needless to say, I'm feeling a little bit tired today. Luckily we have a fan in our room for tonight.
"The other thing that's happening in the village is something that sounds like amateur karaoke. It's being blasted constantly from somewhere in the plaza. I know Davis Tarwater is super excited about this prospect. I've seen him perform before and it's legit. He's got moves like Jagger.
"On a serious note, I'm really excited to be here. Being here in person gives a much different and unique perspective on the Olympics. I'm able to see the nuts and bolts of how the Games get put together.
"There is so much planning that goes into it that it can be overwhelming to think about. Thankfully, we have a wonderful staff that works incredibly hard to give us the chance to be at our best.
"Go USA!!!"
| | | | | |
| --- | --- | --- | --- | --- |
| A veteran of the 2004 and 2008 Olympics, Vanderkaay has won two relay golds and a bronze in the 200 free. He and others chronicle their Olympic journey here for BTN.com. Read all of our Olympic journals. | Davis Tarwater | Peter Vanderkaay | Matt Grevers | Connor Jaeger |