Tom Dienhart, BTN.com Senior Writer,

July 18, 2012

Kirk Ferentz knows what it?s like to be the best. He had his Iowa program among the Big Ten?s best from 2002-04, when the Hawkeyes went an aggregate 31-7 with two Big Ten titles. But since then, Iowa has just one double-digit victory season (2009). With that, I present 10 reasons for Iowa fans to be excited about the 2012 season playing in an uber-tough Legends Division. Earlier, I offered up 10 reasons why Illinois and Indiana fans should be excited.

1. Greg Davis. A sage mind, the new offensive coordinator arrived from his most recent job of running the Texas offense with a vault of ideas to spruce up what had become a moribund and predictable Hawkeye offense under Ken O?Keefe, who took a job with the Miami Dolphins. Davis? most profound impact will be on the passing game, as he has introduced more formations and personnel groupings in what will be a more sophisticated, diverse and unpredictable attack.

[BTN.com: See all of Dienhart's 10 reasons to be excited posts]

2. Phil Parker. He has been on Kirk Ferentz?s staff since the beginning in 1999. Now, he assumes defensive coordinator duties after the retirement of Norm Parker, who isn?t related to Phil. While Norm Parker?s bend-but-don?t-break defenses were noted for their execution of a basic scheme that emphasized not giving up the big play, look for Phil Parker?s defense to be more aggressive in its coverages and blitz schemes.

3. James Vandenberg. Is there a better passing quarterback in the Big Ten? Probably not. The senior figures to thrive under the watchful eye of new coordinator Greg Davis, who has developed the likes of Major Applewhite, Colt McCoy and Vince Young. Vandenberg threw for 3,022 with 25 touchdowns and just seven picks last season. He could be poised for a big season.

4. Linebackers. This figures to be one of the best collections in the Big Ten. James Morris is back in the middle, with Christian Kirksey flanking him. The juniors tied for the team lead in tackles last season with 110 each. Morris should be even better after battling an ankle issue in 2011, while Kirksey plays bigger than his size (6-2, 220). Look for Anthony Hitchens-who arrived on campus as a defensive back–to claim the other starting slot.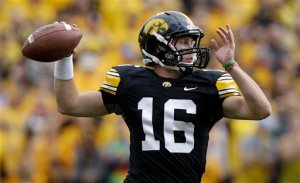 US PRESSWIRE
5. Staff shakeup. For years, staff stability had been a staple of Kirk Ferentz?s Iowa tenure. But that all changed radically after last season. For the first time since Ferentz took over in 1999, there are new coordinators (see above). But the changes didn?t stop there. Ferentz hired his son, Brian, to coach the offensive line. Former o-line coach Reese Morgan is now coaching the defensive line. LeVar Woods was moved from a non-coaching role to linebackers coach. Darrell Wilson is now secondary coach after coaching linebackers. David Raih was promoted from G.A. to tight ends coach. Got all that?
6. Keenan Davis. Yes, losing Marvin McNutt hurts. The guy left Iowa City with every significant receiving record after making 82 catches for a Big Ten-high 1,315 yards and 12 touchdowns in 2011. But Davis is a great building block for the 2012 wideout corps. The senior?s 50 catches are the second most for any returning Big Ten player. Sophomore Kevonte Martin-Manley needs to step up as a sidekick after nabbing 30 passes for 323 yards and three touchdowns last season. And he looks capable.
7. C.J. Fiedorowicz. Learn how to pronounce his name. The junior is primed for a breakout season and may emerge as the Big Ten?s top tight end. He showed flashes in 2011 with 16 catches for 167 yards and three scores. Fiedorowicz will be a deadly threat on third downs and in the red zone.
8. Micah Hyde. Iowa will miss three-year starting cornerback Shaun Prater, but Hyde is a special talent in his own right. The senior cornerback has shutdown ability and will be one of the Big Ten?s top cover men. B.J. Lowery will form a nice tandem with Hyde to form a corner duo that will employ more press coverage.
9. Offensive line. Yes, only two starters are back in center James Ferentz and guard Matt Tobin. But the front always is a strength for the Hawkeyes, right? Keep an eye on new left tackle Brandon Schreff, a sophomore with star potential.
10. The schedule. It?s not crazy to envision the Hawkeyes starting 5-0 with opening games vs. Northern Illinois (in Chicago); Iowa State; Northern Iowa; Central Michigan; Minnesota. That would set up a huge trip to Michigan State on October 13 following an off Saturday on October 6. Win that, and the possibilities for Iowa seem endless.
BTN.com senior writer Tom Dienhart is on Twitter and Facebook, all of his work is at btn.com/tomdienhart, and you can subscribe to it all via his RSS feed. Also, send questions to his weekly mailbag using the form below.
And if you want to leave a comment on this post, use the box below. All comments need to be approved by a moderator.