BTN.com staff,

January 23, 2012

After the injury to Trevor Mbakwe, I fully expected this to be somewhat of a ?what if?? season for the Gophers. And that certainly appeared to be the case through four conference games, as Minnesota stumbled to a 0-4 start in the Big Ten. But Tubby Smith?s team has responded by winning three straight games, most recently in a stomping of Northwestern at The Barn. And although Minnesota had dropped some close games over its losing streak, the turnaround isn?t simply a matter of fortunate ball bounces:
| | | |
| --- | --- | --- |
| | Minnesota Points Per Possession | Opponents? Points Per Possession |
| 1st 4 games | 1.02 | 1.13 |
| Last 3 games | 1.14 | 0.94 |
By efficiency margin, Minnesota is playing as well as anyone else in the Big Ten right now (except Ohio State–how the heck did that team lose twice already?). Take this with a couple of caveats, however. For one, the Gophers have won the past three games against teams with negative efficiency margins in conference play. But it?s also worth noting that two of those wins have come on the road. However you want to look at it, this is not a team headed for the bottom of the standings, so give Tubby Smith a lot of credit for regrouping and retooling the Gophers in light of losing one of the conference?s premier players for the season.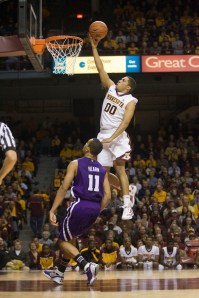 On the receiving end of Minnesota?s victory yesterday was a fading Northwestern team. You could pretty much set your watch to the fact that the Wildcats would exhibit a poor defense, but what?s new this season is the suddenly ineffective offense in conference play. Only Penn State and Nebraska (whose offense is among the worst in major conference teams) sit with worse point per possession marks. Bill Carmody?s offense has always shot well from long distance, but this season opponents are forcing the Wildcats to score inside:
| | | | |
| --- | --- | --- | --- |
| Team | Two-Pointers (%) | Three-Pointers (%) | Three-Point Attempts/Field Goal Attempts (%) |
| Northwestern, 2011-12 | 44.7 | 37.2 | 37.1 |
| Northwestern, 2010-11 | 47.5 | 36.6 | 45.5 |
| Northwestern, 2009-10 | 48.1 | 36.6 | 47.3 |
| Northwestern, 2008-09 | 47.9 | 37.6 | 42.7 |
Even worse, as Northwestern has been more selective with its outside shooting, it hasn?t resulted in any additional accuracy from behind the arc. A big part of the offensive sluggishness is Drew Crawford's dropoff in conference play. The swingman is shooting just 43 percent on two-pointers in conference play, while still consuming a lot of shots. A similar dropoff occurred last year, so it's worth watching. While the Wildcats have an easier schedule over the second half of the conference slate, there?s not much margin for error with 5 losses already.
Also yesterday, Illinois lost a close game at home to Wisconsin. The Badgers suddenly look like the dangerous team we figured they?d be all season long. It?s a couple weeks away, but that February 4th matchup with the Buckeyes in Madison could break the conference race wide open. For the Illini, the second-straight close loss has this team headed for the bubble. They still look more likely than not to get in (especially considering the state of the Pac-12), but it?s going to ride on the results of close games from here on out.
Another team in trouble is Purdue, which looked awful at the Breslin Center on Saturday. While Michigan State?s offense has been fantastic so far this year, this Boilermaker defense is much more permissive this season, allowing teams to score 1.07 points per possession. To put that in perspective, Purdue allowed 1.07 PPP in conference games just five times all last season. And the Big Ten featured much better offenses last year as well. I?m skeptical though that Purdue is this bad on defense, given that teams are shooting over 40 percent from behind the arc. Coupled with the lack of three-point attempts by opponents (not uncommon to see this with Purdue, as the Boilers tend to get into the shirts of perimeter players), this outside accuracy might just be some bad luck. Even if it is though, it?s not like Purdue has been defending all that well in the paint, either (Matt Painter used to have an Easy Button named JaJuan for that). For sure, one cannot call this defense a good one, even if it?s not quite as bad as it?s looked so far.
Defense hasn?t been a problem for the most part for Michigan, but it was for the beginning of a road loss at Arkansas. The Razorbacks made their first 11 shots of the game and led by 20 before Michigan woke up. To their credit, the Wolverines battled back to the point where Trey Burke?s three-point attempt that rimmed out as time expired would have won the game. While road losses to credible major conference teams are not things that typically haunt you on Selection Sunday, there?s a body of work that fairly raises questions about how well Michigan plays away from the Crisler Center. This is a team that?s still searching for its first road win, after all. We?ll soon find out, as Michigan only has 4 home games remaining, one of which comes against a dominant-looking Ohio State team. The first road test comes tomorrow, when John Beilein?s team visits West Lafayette.