BTN.com staff,

December 9, 2011

Wednesday night brought a slew of closer-than-expected games for Big Ten teams. Most were able to escape without deflating losses, but the way they played may tell us more than the final result. Let's dive right in.

Fresh off a rollicking defeat of Gonzaga that pushed them into the Top 25, the Illinois Fighting Illini squared off against a sneaky good St. Bonaventure squad. Things started out well enough, with Illinois scoring 17 points on their first 11 possessions, but what followed was some of the worst offensive basketball you are ever going to see.
| | Points | Efficiency |
| --- | --- | --- |
| First 11 possessions | 17 | 1.55 |
| Next 40 possessions | 13 | 0.33 |
| Final 8 possessions | 18 | 2.25 |
Over 40 possessions, spanning most of both halves, it took the Illini three trips down the court for each solitary point. For some perspective, that's equivalent to simply chucking it from half-court every time and making one out of every nine attempts. Illinois may have been better off doing just that over those 40 possessions–I bet they have somebody that can shoot 20 percent from half-court.
Illini fans have seen this movie before, and it usually doesn't end well (see 38-33, Penn State). Despite a good defensive effort, this one was headed down the same sad path as the Bonnies built a nine point lead with just over five minutes remaining. Illinois had scored below a point per minute to that juncture, so making up nine points in five minutes was a massive task indeed.
Fortunately, Brandon Paul finally decided to go to the rim. The junior guard led a furious charge, including a pivotal five-point possession in which he scored, got fouled, missed the free throw, then repeated the whole process again after a tip-out. After his made free throw, the game was suddenly tied, and some timely offense from Meyers Leonard down the stretch was enough to clinch the win.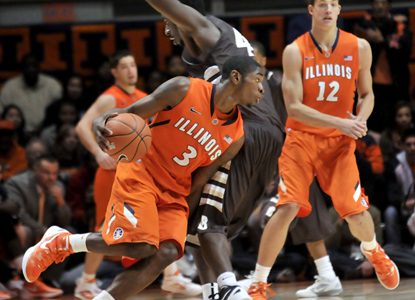 It's hard to know what to take away from a game like this. The most obvious thought is that this offense may be in some trouble. St. Bonaventure hasn't exactly been locking people up–in fact, the 0.81 efficiency posted by Illinois marks the lowest output allowed by the Bonnies all season. This means bad teams like Arkansas State, Siena, and Cornell fared better against this defense than Illinois did. That's reason for concern.
An optimist would say that past Illinois teams would lose this game, and that would certainly be true–the last time Illinois won a game in which they shot under 40 effective field goal percentage was December 2005. Let's also not forget about the defense displayed by Weber's team–the Bonnies were held to their lowest output of the season.
Illinois fans won't like to hear this, but this squad's efficiency numbers are starting look eerily similar to the 2007-08 team. Here's the comparison:
| | Adj. Off. Eff. Rank | Adj. Def. Eff. Rank | KenPom Rank | Luck Rank |
| --- | --- | --- | --- | --- |
| 2007-08 Illini | 83 | 21 | 40 | 341 |
| 2011-12 Illini | 77 | 21 | 40 | 28 |
That team went 16-19 overall but lost a litany of close games. Check out the far right column, Ken Pomeroy's "Luck" statistic. In 2007-08, the Illini played almost every team close but just couldn't get over the hump in close games. This season, Illinois is over-performing in close games, and the result is an undefeated record and a top 25 ranking that may not be fully deserved. This is a young team, so there's still time for them to improve. Illinois would be well advised to do so if they don't want to be sweating on Selection Sunday.
Purdue just couldn't shake a pesky Western Carolina squad–the Catamounts even held a brief lead midway through the second half–but the Boilers were able to keep them at arm's length down the stretch for a five point win. Purdue's ball-handling was the main issue, as they turned it over on a season-high 22 percent of their possessions, although a lowly 41 percent conversion rate on twos didn't help.
Much like in the squeaker against High Point, Purdue had no business allowing Western Carolina to stay close. This is a middling Southern Conference team. Still, the Boilermakers are 8-2 with a couple nice wins, and their two losses are to Alabama and Xavier, both away from Mackey. Our projection of a third place finish for them still looks solid, although Michigan State and Indiana are making a case for that spot.
Speaking of Michigan State, they got a 20 point win over Central Connecticut that made Tom Izzo sweat a lot more than most 20 point wins. The Spartans trailed for most of the first half as Central Connecticut was able to crank up the tempo and beat Michigan State down the court for easy looks.
In the second half, however, the Spartans blew the doors off, going inside and controlling the offensive glass. For the game, Michigan State scored 1.34 points per trip, their second straight lofty output as they enjoy the softer part of their schedule. The Spartans' defense has looked good all season, so it would be big news if they can keep their offense rolling. They'll need it this Saturday as they travel to face Gonzaga.
Nebraska narrowly avoided another humiliating defeat as they got by Florida Gulf Coast by the slimmest of margins. As usual, it was the Husker offense that sputtered, as a bad defense held them to 0.87 points per trip. Nebraska didn't shoot all that well, but the real problem was turnovers, as nearly a third of their possessions ended in miscues. Bo Spencer had a horrific night, turning it over seven times and needing 11 shots to score just six points.
It's safe to say that Nebraska isn't as good as we thought they'd be. Sure, we thought they'd miss the NCAA Tournament, but their recent play has them closer to Iowa and Penn State than to the meaty middle of the conference.
Penn State wasn't so lucky to avoid the chopping block as they lost to Lafayette at home. This is officially the worst loss of the Pat Chambers era, and it will likely remain so for a long time (unless the Nittany Lions manage to lose to Mount St. Mary's next weekend). Penn State got off to a solid start, but Lafayette led the final 30 minutes of the game.
The Nittany Lions played fair enough defense–Lafayette can actually score fairly well, and this was their third lowest efficiency of the season–but the Penn State offense was wretched. The Lions shot three of 23 from downtown and weren't able to take advantage of a whopping 20 offensive rebounds. Just after I praised Tim Frazier's amazing start, he went 0 for 12 from the field and turned it over five times. Penn State should just forget about this game and move on.
One Big Ten team did manage to blow out a lesser opponent without much drama–Wisconsin led wire-to-wire in a 28 point win over Wisconsin Green Bay. The Badgers actually struggled from outside, shooting just three of 17 from three (18 percent), but their tiny turnover rate and stifling defense carried the day. Jordan Taylor posted 15 points, 10 assists, and no turnovers in the tuneup. Wisconsin hosts UNLV this Saturday in their last tough nonconference test.
The weekend brings a slew of interesting games. Tonight, Iowa looks to get things on track in a visit to Iowa State, and Saturday has a bevy of must-watch tilts:
UNLV at Wisconsin
Ohio State at Kansas
Kentucky at Indiana
Michigan State at Gonzaga
It's been a light week for big-time matchups, but our patience should be rewarded tomorrow. Enjoy the hoops.