Tom Dienhart, BTN.com Senior Writer,

November 22, 2011

The Michigan-Ohio State game is the annual exclamation mark on the Big Ten season. This year?s storyline: Can the Wolverines end the Buckeyes? seven-season run of dominance? A Wolverine victory not only would ease the pain for Michigan fans, but it also will enhance the team?s resume in its bid to earn a BCS at-large bowl slot.

While Michigan-Ohio State will take a big stage this Saturday, it still must play second fiddle to the Penn State at Wisconsin tilt when it comes to importance on the 2011 season. The Nittany Lions already have claimed a share of the Leaders Division title. But they want more: A trip to Indianapolis for the inaugural Big Ten title game. Wisconsin is after the same thing in what will be a winner-takes-all-clash in Madison for the right to play Michigan State-which already has sewn up the Legends Division-for the Big Ten?s automatic BCS bowl bid and spot in the Rose Bowl.

The other game to watch: Purdue at Indiana. While the Hoosiers? bowl hopes died weeks ago, the Boilermakers can become bowl eligible for the first time since 2007 with a victory in Bloomington. Almost as important: A win would bring the Old Oaken Bucket back to West Lafayette for Purdue, which has won six of the last eight trips to Indiana dating to 1995 with losses in 2001 and 2007. A chance to ruin the Boilers? bowl hopes and retain the Bucket would help lessen the pain Indiana has suffered during a rebuilding year under first-year coach Kevin Wilson.

BEST MATCHUP: It will be fun to watch the Northwestern offense clash with the Michigan State defense, but this game has no real impact on division races with the Spartans already kings of the Legends Division and the Wildcats just jockeying for bowl position. Instead, all eyes will on Madison and the matchup between the Wisconsin offense and the Penn State defense. The Badgers are No. 1 in the Big Ten in total offense (479.6 ypg). The Nittany Lions are No. 3 in total defense (287.4 ypg). Something will have to give in this classic battle of irresistible force vs. immovable object.

PLAYER ON THE SPOT: Ohio State QB Braxton Miller. He has flashed moments of brilliance, but his play has been spotty-which you would expect from a true freshman. Miller is the Big Ten?s No. 6 most-efficient quarterback, hitting 53 percent of his passes for 762 yards with nine touchdowns and three interceptions. He has been more effective with his feet, running 128 times for 595 yards and six touchdowns to make him the Buckeyes? leading rusher. But Miller must hit enough passes to keep a hot Michigan defense that is coming off its best effort of the season vs. Nebraska honest if Ohio State wants any chance to win in Ann Arbor. Miller has completed less than half his passes in each of the last three games (20-of-46 for 270 yards with three touchdowns and a pick), as OSU has gone 1-2.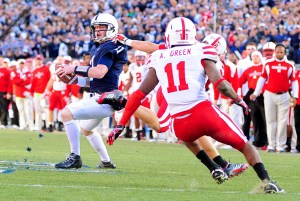 KEEP AN EYE ON: Penn State QB Matt McGloin. In what was his first game as the ?official? starter, McGloin was solid in a 20-14 win at Ohio State. He hit 10-of-18 passes for 88 yards with an interception. But most importantly, McGloin avoided the disastrous mistake. And he kept the chains moving with three key completions on third downs in the first half. For the Nittany Lions to have any shot to win at Wisconsin, McGloin must be effective and largely mistake-free. That may be difficult vs. a Wisconsin defense that leads the Big Ten and is No. 3 in the nation vs. the pass (146.8 ypg).
BEST COORDINATOR MATCHUP: Wisconsin offensive coordinator Paul Chryst vs. Penn State?s defensive coaches. Chryst may be the top offensive coordinator in the nation. He pushes the buttons on the No. 1 scoring offense in the Big Ten (44.8 ppg). And the unit is equally adept at running (245.1 ypg, No. 1 in the Big Ten) as it is passing (234.5 ypg, No. 4th in the Big Ten). Chryst will match wits with myriad good defensive minds. Tom Bradley was the coordinator, but he has given way to Larry Johnson and Ron Vanderlinden. And it?s the Nittany Lion defense which is why Penn State finds itself on the precipice of advancing to the league title game. Penn State ranks No. 1 in the Big Ten in scoring defense (13.0 ppg). This will be the most severe test yet for all of these coaches.
BEST COACHING MATCHUP: Michigan State?s Mark Dantonio vs. Northwestern?s Pat Fitzgerald. Dantonio is a front-runner for Big Ten Coach of the Year honors, as he has the Spartans in the Big Ten title game and poised to advance Michigan State to its first Rose Bowl since the 1988 season. Fitzgerald already has established himself as one of the top coaches in Northwestern annals, guiding the Wildcats to bowl eligibility for a school-record fifth season in a row.
BEST QUARTERBACK MATCHUP: Michigan State?s Kirk Cousins vs. Northwestern?s Dan Persa. It doesn?t get much better than this. Cousins is the No. 3 most efficient quarterback in the Big Ten, hitting 63 percent of his passes for 2,521 yards with 19 touchdowns and five picks. Persa looks finally to have regained his 2010 form after battling injury often this season. Persa has thrown for 1,918 yards with 15 touchdowns and is coming off two big games that have seen him throw for 588 yards with six touchdowns vs. Rice and Minnesota. And when Persa isn?t in the game, the Wildcats insert Kain Colter, who has proven to be one of the nation?s most versatile signal-callers and keeps the NU attack humming. In fact, is there a better quarterback tandem in the nation than Persa-Colter?
THE SCHEDULE
Friday
Iowa at Nebraska, noon ET
Saturday
Ohio State at Michigan, noon ET
Michigan State at Northwestern, noon ET
Illinois at Minnesota, 3:30 p.m. ET
Penn State at Wisconsin, 3:30 p.m. ET
Purdue at Indiana, 3:30 p.m. ET
Tom Dienhart is a senior writer for BTN.com. Find all of his work at www.btn.com/tomdienhart, follow Dienhart on twitter at @BTNTomDienhart, and click here to subscribe to his RSS feed. You can send him your football questions to his Big Ten mailbag, too.