BTN.com staff,

November 10, 2011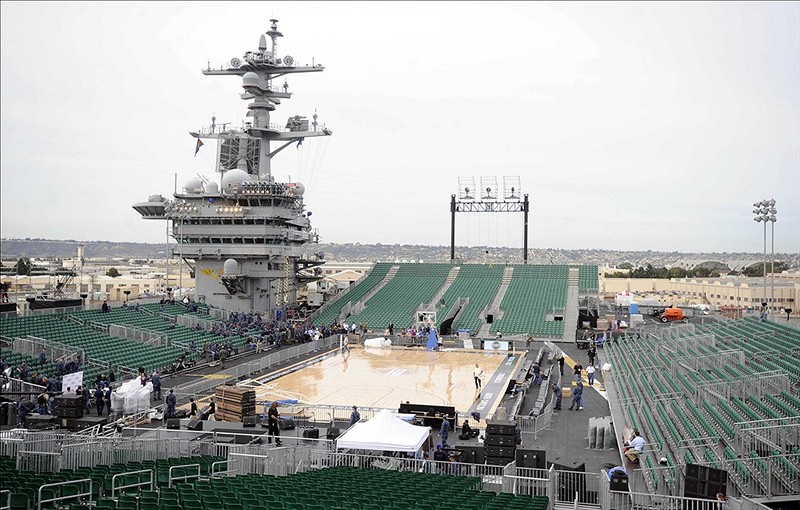 We already know Michigan State will wear camouflage basketball uniforms against North Carolina on Veterans Day. But here's a really cool photo of the court on the deck of the USS Carl Vinson. Magic Johnson, a Michigan State alum, and James Worthy, a North Carolina alum, will serve as honorary captains for their alma maters at the game. Read the full AP story here. And the "Daily Edition" on MSUSpartans.com offers up a glimpse of the trip in the latest installment of "Michigan State All-Access."
BTN will return to the court this Friday beginning at 7 p.m. ET as Indiana plays host to Stony Brook. Immediately following at 9 p.m. ET, Wright State takes on Ohio State in Columbus.
Basketball coverage continues on Sunday with a pair of games. At 5 p.m. ET, BTN will be back in Bloomington as the Hoosiers face Tennessee-Chattanooga. Northwestern invites Texas Pan-American to Welsh-Ryan Arena for a 7 p.m. ET tip-off. On Monday, Purdue fans can tune in at 7:30 p.m. ET to watch the Boilermakers take on the High Point University Panthers.
BTN will recap all of the week's games on Tuesday night at 10:30 p.m. ET on The Finale, hosted by Mike Hall and featuring analysts, Jim Jackson and Shon Morris. Fans that missed this week's season preview shows can watch them online at BTN2Go.com. Click here to view the men's preview show and here to view the women's preview show.