Tom Dienhart, BTN.com Senior Writer,

November 9, 2011

It doesn?t get any bigger than this. Iowa quarterback James Vandenberg knows that. He understands the magnitude of this Saturday?s visit from Michigan State. Each school still controls its destiny in the Legends Division. The winner will be in the driver?s seat to advance to the inaugural Big Ten title game in Indianapolis. BTN.com senior writer Tom Dienhart talked to Vandenberg to get his thoughts on the big game vs. the No. 13 Spartans (7-2, 4-1) and his standout season.

The Vandenberg file: The 6-3, 212-pound quarterback is a big reason why the Hawkeyes (6-3, 3-2) are in this spot. In his first season as a starter, Vandenberg has blossomed into perhaps the best passing quarterback in the Big Ten. The junior is No. 2 in the league in passing efficiency, hitting 62.6 percent of his passes (154-of-246) for 2,089 yards with 18 touchdowns and just four interceptions.

Q: How has the offense developed this season?
A: I think we found a good balance these last couple of weeks by getting the running game going early, which really opens up the passing game. Having that good balance makes teams kind of pick their poison. It really is what we are looking for, that balance of run and pass.

Q: What has running back Marcus Coker, the Big Ten?s top rusher, meant to the attack?
A: He is a great player and great guy. A lot of our players look up to him and how hard he works day in and day out. He?s just a good physical runner and has given us a good, physical presence in our run game. But I think he?d be the first to tell you that it all starts with our o-line. They have been playing well these last few weeks and have opened some big holes and allowed him to get going down hill.

Q: How are you a different quarterback compared to last year, when you backed up Ricky Stanzi and saw action in just three games?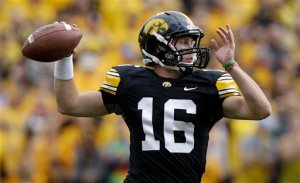 A:I think I have just matured. Things aren?t as new as they used to be. We have a new team and new challenge this week in Michigan State which has a great defense, and the challenges will keep going up. As far as being able to understand what a week is like, what playing a Big Ten schedule is like, it?s never easy. But as Coach Ferentz always says, you have to have a routine. And I think I have gotten into one. I didn?t always have that in the past. But as these weeks have gone on, I have settled into one.
Q: How have you changed as a passer?
A: I don?t know if I have changed as a passer that much. I definitely have learned how to better understand defenses as a whole more, seeing all the parts from the fronts to the coverages, picking up on tendencies. But as a passer, I don?t know how much I have changed.
Q: What did the coaches say to the players after the 22-21 loss at Minnesota?
A: I think everyone in that locker room was very disappointed with how we played in all phases. We didn?t execute in the red zone on offense, and that came back to bite us in the butt. I get the feeling we all knew we didn?t play as good as we could have. And it?s always your goal to play as good as you can, and as good as you are capable. We took a step forward against Michigan.
Q: Growing up in Keokuk, Iowa, what?s it mean to be a Hawkeye since you grew up watching many great Iowa players?
A: It?s a dream come true. I?m trying to savor everyone one of these last three weeks. It?s going so fast this year. It really makes you appreciate how fortunate we all are. I couldn?t ask to be at a better place. It has been everything I expected.
Q: What would it mean to get to Indianapolis for the inaugural Big Ten title game?
A: Obviously it would be huge, but we are trying to take this one game at a time. We have a great opponent in Michigan State. They have one of the best defenses in the nation. It?s gonna be a huge challenge for us. We?ll just let the cards fall as they will.
Q: You will face a Michigan State squad that is No. 1 in the Big Ten in total defense (249.4 ypg) and No. 2 in scoring defense (12.4 ppg). What are your impressions of the unit?
A: They are very tough in all phases. They don?t really give you anything easy. We will have to work for every yard and make sure we are really sharp to put some drives together.
Tom Dienhart is a senior writer for BTN.com. Find all of his work at www.btn.com/tomdienhart, follow Dienhart on twitter at @BTNTomDienhart, and click here to subscribe to his RSS feed.