BTN Communications,

October 12, 2011

When Big Ten Football and Beyond airs every Wednesday at 7 PM ET, viewers may not realize that creating Beyond, as it is known in-house, is a 36-hour process to produce slightly less than one hour of actual show content. Show producer Paul Cordell oversees the entire process from start to finish in coordination with host Dave Revsine and analysts Gerry DiNardo, Chris Martin, the Chicago Tribune?s Teddy Greenstein, and Sports Illustrated?s Andy Staples, as well more than a dozen of other production staffers.

Most of the Beyond crew has a long history with the network.
Cordell began working at BTN in August 2007, just before launch. In addition to Beyond, he produces Big Ten Football Report on Friday nights and Saturday?s post-game show. His role as producer is to develop show content and present it in a way that keeps fans and viewers interested and entertained.
Revsine, BTN?s first on-air hire, has served as BTN?s lead studio host for a wide array of programming since the network?s inception.
DiNardo joined BTN as an analyst in 2007 after serving as the head coach at Vanderbilt, LSU and Indiana.
Martin has also been an analyst for BTN since 2007 and is a former Northwestern defensive back who played on the Wildcats? 1995 Rose Bowl team.
Greenstein is a reporter for the Chicago Tribune and is in his second year on Beyond.
Staples is a college football writer for Sports Illustrated based out of Orlando, Fla., and is in his first year on the Beyond show.
At 10 a.m. ET on Tuesdays, Cordell begins the process of creating each week?s show.
First, he and the analysts take part in a conference call to discuss the show?s layout and potential topics. This gives Cordell the opportunity to get a feel for the video he?s going to need so he can get a jump on filing the requests. Some of the video comes from footage BTN already possesses in-house while others must be requested through FOX in Los Angeles.
?That?s a benefit of our partnership with FOX,? Cordell said. ?Any and all video footage we may need that we don?t have is instantly obtainable.?
On Wednesday morning, Cordell and the analysts meet in one of the network?s conference rooms, ?Big Ten Country,? to review his rundown. The rundown is the show?s schedule, which includes segments, topics, talking order, camera angles and graphics.
As the host, it?s Revsine?s job to turn each topic into a conversation-starting question. After the group decides on the questions, the analysts begin discussing each issue and stating their opinions. This allows them each to get a sense for each other?s stance on the topics.
For high-profile games like Nebraska at Wisconsin, the analysts discuss their respective keys to the game. This allows them to get a feeling for each other?s opinions, and to better devise a plan on who will talk first. It also eliminates the element of surprise which allows each analyst to create more flow from comment to comment.
?Chemistry among the on-air guys is huge,? Cordell said. ?Once they get comfortable with each other off-set, become friendly with one another, understand each other better, the on-air product is far better. It?s just more natural.?
After the meeting concludes, the analysts get to work. They begin to research and prepare so they can select their picks for ?most indispensible? offense and defensive players, ?off the radar? players and Heisman candidates. After they make their decisions they will prepare the video footage. They cut their own clips, and diagram the X?s and O?s with the yellow marker viewers are accustomed to seeing on TV.
Cordell?s job during the break between meetings and air time is to work with other production staff to assemble the graphics. By reviewing the rundown, he will know that certain segments will require particular graphics to illustrate division records, standings, stats and more.
Once all video elements, graphics, and all other material is prepared and ready, it?s show time. Revsine, DiNardo, Greenstein and Martin, along with camera operators and a stage manager, head into the studio. Cordell, director Mike Newsham and the remaining production staff go into the control room, the network?s nerve center.
Staples, who lives in Orlando, is unable to be in studio every week. On weeks where he is unable to make the trip, Staples shoots his segment from the FOX affiliate station there.
Revsine and Staples will be displayed on a split screen. Revsine will introduce the topic and then kick it to Staples. Staples will then run through his material.
Cordell sits in the control room throughout the show and is in constant communication with Revsine via a headset and a small speaker in Revsine?s ear. Cordell tells Revsine which segment they are shooting, and other information when necessary.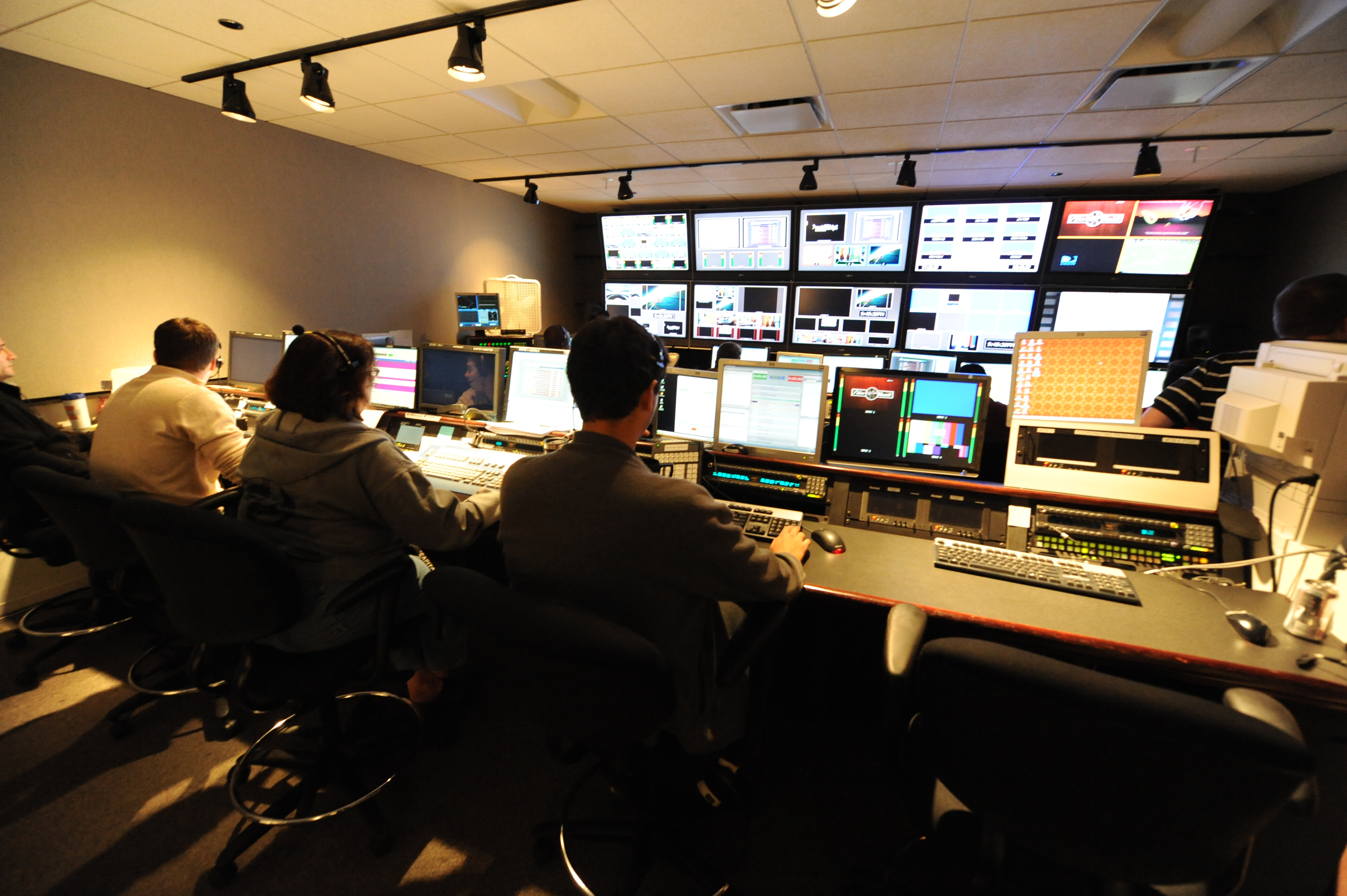 ?We?re going to shoot the Heisman Watch now. Coach will start, then Teddy. Do the ?under radar guy? first then top 5,? Cordell says.
There is a lot of commotion and ongoing chatter in the control room during the show. The front row handles all the video and directs the camera operators in the studio. They stand by to insert all the pre-cut highlights, and then flip back to the cameras that are shooting the talent on set. In this particular week?s segment, Martin breaks down film and offers analysis of Baylor quarterback Robert Griffin III during the ?Beyond? segment. The production crew in the control room first selects the camera angle on Martin in the studio, then rolls the pre-cut Griffin highlights for Martin to explain. Once he completes his analysis and the highlight ends, Newsham uses the camera that is focused on Martin in time for a finishing thought.
The back row controls all the graphics, including charts, statistics, topic bars and the ticker. They take the topics that were discussed earlier in the day and pre-build graphic features that are inserted into the show at the right time.
The front wall of the control room features dozens of television screens that each serve a slightly different purpose. This allows the production crew to view the clips that are prepared and saved, as well as the show.
For example, one TV features a large box on top with three boxes titled A, B and C on the bottom. The top box is the live video feed, while A through C are preview screens with stored highlight videos. When they need to insert a particular clip the director will count down 5, 4, 3, 2, 1 and then shout, ?Roll A!?
Big Ten Football and Beyond airs Wednesday nights at 7 PM ET.