BTN.com staff,

September 24, 2011

It's Week 4, and we're on the lookout for great images from our TV broadcasts. We collect selected screen shots right off the TV in our Big Ten Screen Plays archive page. Did you spot someone you know? Or did you see something on one of the games that we just must include in our collection? Let us know in the comments section!
How many Penn State fans are celebrating another Nittany Lions touchdown by being gently tossed in the air. We count six. Nice work.
Again, Michigan State fans just showing tremendous planning when it comes to appropriate head gear.
Ohio State points bring … more Ohio State pointing. Sometimes it's just that simple.
Red, white and so, so you. Good job, everybody.
Go … Badgers.
When Wisconsin gets rolling, Badgers fans get loud! Also, happy birthday.
Plenty of orange, little bit of blue.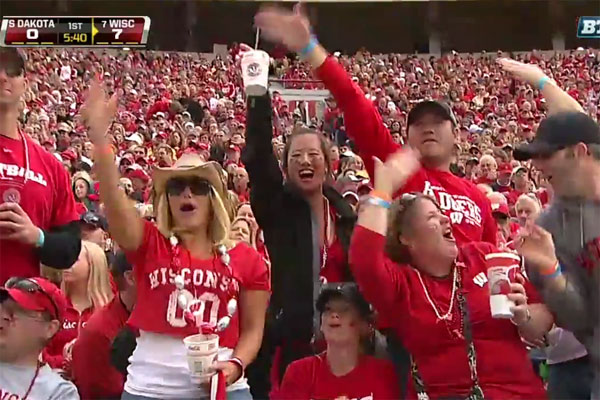 Here, several thousand Wisconsin fans signal "first down" all at once. Teamwork.
Michigan fans can bring the wild headgear, too.
Old school. No face mask. Tough look. Good job.
Lots of fans wear school colors to games. On a few wear sunglasses with frames that coordinating school colors. We salute you, fellow on the far left.
This gentlemen is with San Diego State and it's a safe assumption he's thankful this game wasn't scheduled for late November.
These Iowa fans are waving shoes in the air before kickoff. We've never been to a game at Iowa and we want to know about this tradition, if it is one. Let's crowd source this, folks. Send us answers in the comment box below.
This is a shot of Michigan fans after the Wolverines scored their first touchdown against San Diego State. Note the sharp Michigan throwback jersey in the middle of the crowd. That jersey will forever be linked to that Notre Dame game.
It's a "Green Out" at Iowa today. The ?Green Out? is to support former Hawkeye safety Brett Greenwood, who has been in the hospital since collapsing on Sept. 9 while working out. He remains hospitalized in a medically-induced coma. And these Hawkeyes fans have chosen a nice shade of "passionate." Well done, little Hulks. Well done. Look below to see them in action after an Iowa score.