BTN.com staff,

September 4, 2011

Each week we keep our eyes glued to the TV as BTN covers Big Ten football and the fans that watch the games. That's why we've started to collect a smattering of selected screen shots right off the TV of some of the moments that made us smile. Are you in any of the photos below? Let us know in the comments box below. And keep enjoying the rest of the Big Ten football season.
Sure it was raining in Iowa City during that big storm that delayed the game, but it hardly dampened the enthusiasm of this little Hawkeyes fan.
We love our Big Ten mascots, especially when they take an active part in sending the team out to the field. Release the Lions!
Seeing more and more of these suits at sporting events. These two monochromatic Purdue fans go dancing after a Purdue score. Wonder if they wear these at home when watching games on TV?
BTN's Lisa Byington interviewed the mother of Michigan State's Arthur Ray Jr. during the game he started after his return from battling cancer. Watch the video feature of this story here.
Marvin Lewis, the head coach of the NFL's Cincinnati Bengals, got to see his son play at Penn State and talked to BTN about the experience.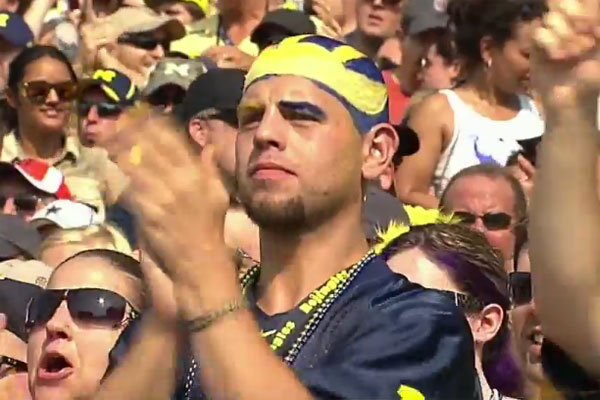 The "painted helmet on the head" look never goes out of style. No, you don't clap for us. Let us applaud you.
School-themed headwear is always encouraged. Coordinated wearing of that headwear is strongly encouraged. Something to really shoot for: Get the whole stadium to wear these foam Spartan headpieces.
Yes, Nebraska. You're going to fit into the Big Ten quite nicely indeed.