BTN.com LiveBIG Staff,

July 13, 2018

What if you could work with the musicians you grew up listening to?

For Mark Plati, what once seemed a distant dream became his everyday reality. A graduate of Indiana University?s renowned Jacobs School of Music, Plati has spent decades working behind the scenes in the recording industry as a producer, engineer and backing musician for acts such as David Bowie, Prince and Fleetwood Mac, to name a few.

?Something in music did something to me that it didn?t do to other kids,? said Plati of the role music played in his early life. Growing up in New York state, he spent his free time learning how to play a variety of instruments, learning drums at age ten and bass guitar at twelve. As a member of his high school jazz ensemble, Plati was afforded the opportunity to take part in a studio recording session.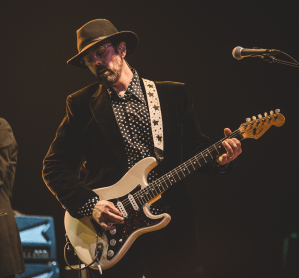 Years later, he got his first taste of music production after watching some friends record their own album. Being able to see how it was constructed in stages and witness the process from both the musical and technical angles gave Plati his first taste of what would become the rest of his career.
?My friend, who was a drummer, went to Indiana, and I really respected him,? Plati said, ?so I thought the school was cool. I wanted a brand-new environment, and I knew that would be different.?
Initially, the comfort of a conventional life pulled him towards pursuing a business degree, but that track lasted only three weeks before he came to the realization his passion lay solely in music. After meeting with his freshman year adviser, Plati was directed towards the audio and technology program.
?My advisor steered me towards the audio and tech program run by Wayne Jackson,? he noted. ?There, I learned basic audio skills and how to work collaboratively with other people. The program was really about learning how to record everything, and Indiana had everything like choral, jazz, and orchestra [music] for recording, which was great. I also got to record my own music in the recording studio and work with singers at school and in town.?
After college, Plati jumped into the music production scene, working various positions for legendary dance music producer Arthur Baker, who worked with acts such as Afrika Bambaataa and New Order. Through Baker, he was able to meet and work with an eclectic mix of artists, notably Prince. His big break to becoming a solo producer was working as a mix engineer on Prince?s album Graffiti Bridge, recorded at the famous Paisley Park Studios.
Plati was then able to connect with David Bowie, starting a seven-year-long partnership that included co-producing the 1996 album Earthling and playing in Bowie?s backing band. He performed with Bowie at major events like the Glastonbury Festival, at Wembley Stadium, and on Saturday Night Live. After working with some of the greatest artists in music history, Plati noted that it?s hard to find talent of that same caliber today.
?I?m not finding new artists because I worked with my dream artists that I grew up with,? he explained. ?After my first album with David, I said to myself, ?What do I do with my life now???
Plati has also been able to witness the transformation of the music industry in terms of technological advances.
?Computers entered the picture,? he explained. ?When I started, you had to go to a dedicated recording studio because the equipment was too expensive. Now, everything has been reduced to software. Readily available technology means that anyone can become a producer or engineer, but not anybody can have the musical experience and know-how. People still need to have talent and ideas to make interesting music.?
Even though many in the industry lament the changes, Plati loves having the luxury of music at his fingertips. ?I listen to everything, through radios, through coffee shops,? he said. ?The ubiquity of Spotify and Shazam means everything is at our fingertips.?
He also denotes the differences between recording in a studio, working for a live act and being the performer himself. ?Recording in the studio allows me more time to set up the artist and consider the microphones and instruments,? Plati said. ?I have a huge palate to choose from, and there?s time for a piece to evolve. For a live act, there is a specific time to set up and check that things are ready. There?s no second chance for a show. [For performing,] I need to be in a different headspace and surrender the technical capture to someone else.? However, he finds that these very different aspects of music all try to capture a specific moment in time.
As of late, Plati is running a New York recording studio, Alice?s Restaurant, as well as traveling to places like France, Germany and the Czech Republic to teach, perform and create. When asked what advice he would give himself as a freshman at Indiana, he said he would not change a thing.
?I would do exactly what I did. Freshman year is an important time for a lot of us to reinvent ourselves or cement our identities because we?re away from all that is familiar. I would say listen to my own voice and pay heed to that, and don?t be afraid to explore.?
by Meaghan Lanctot