Scott Smith,

August 10, 2017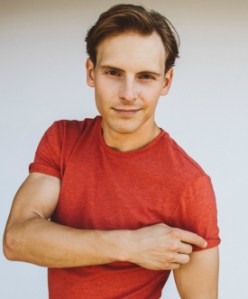 If you saw Spider-Man: Homecoming, you saw Chris Silcox. You just didn?t realize it.
Silcox, a San Antonio native and graduate of the University of Illinois, was one of three stunt doubles for Spider-Man star Tom Holland and spent the majority of his screen time in Spidey?s suit.
While at U of I, Silcox was an All-American gymnast and was named to the 2007 World University Games team, which came in seventh that year. After graduating from U of I in 2008, Silcox pursued a theater career and had a number of TV roles that combined his love of acting, dancing and gymnastics including two turns in Cirque Du Soleil shows and an appearance in NBC?s televised production of ?The Wiz.? But it?s stunt work that?s kept him busy in the last few years, culminating in his appearance in this summer?s blockbuster.
BTN LiveBIG talked to Silcox about life in Big Ten competitive gymnastics, how he almost didn?t get the Spider-Man gig and how U of I prepared him for life in Hollywood.
BTN LiveBIG: How did you end up getting cast as a stunt double for Spider-Man: Homecoming?
Chris Silcox: Our stunt coordinator George Cottle emailed me out of the blue asking for my sizes. I hadn?t met him before. I?m kinda new to the stunt world so I haven?t learned everybody?s names I didn?t know what it was for or who he was so I said ?Who is this?? He sent me an email back and said ?I?m a coordinator, it?s for a film I?m doing.? I was a little thrown off because people don?t normally do that. It was kinda bizarre to me. After I kept asking him questions he said ?Nah, nevermind, don?t worry about it, mate.?
I checked him out on IMDB just to make sure he was doing something and he?s one of the biggest coordinators around. I panicked and then profusely apologized to him. He thought it was nice that I apologized. They sent me in for a fitting with a bunch of other guys. I just happened to be exactly the measurements they needed. He was willing to take a chance on me. I owe him a lot.
Chris Silcox appears as Spider-Man in Moscow as part of the film's promotional tour.
BTN LiveBIG: What was your toughest scene to film?
Silcox: Probably the [Staten Island] ferry scene because it?s such a big mechanism. It was [filmed] outside in Atlanta and parts of it were on the actual Staten Island Ferry. But they had a whole huge ferry built that actually split in half. It was massive: 60 feet high, if not more. We must have had at least 15 cranes in the air. It was just crazy.
BTN LiveBIG: I?ve looked at a lot of your YouTube videos. Is there a type of stunt work you think is your specialty?
Silcox: Anything acrobatic is really my speciality. Not having been a fighter most of my life, film fighting is another world. It?s a lot different. I like that a lot. And then combining them with any kind of acrobatic stuff that is available, which is a lot easier for somebody who?s a super hero like Spider-Man.
BTN LiveBIG: As an NCAA All-American gymnast your teammates gave you the Fighting Illini Attitude award. Do you remember why?
Silcox: I don?t remember the specific reason, but I was really loud and boisterous and theatrical at all of our competitions. I tried to get everybody riled up as much as possible. I wasn?t as talented as the other guys. I didn?t really have all of the strength that the other guys had so I had to work really hard to get to be as good as the other guys. Maybe it was work ethic.
BTN LiveBIG: You're from San Antonio. What made you decide to attend U of I?
Silcox: I was a gymnast since I was about seven. I was going around to a bunch of different colleges to see where I could continue to do gymnastics in the NCAA and where I could also do theatre and acting as a major. U of I was one of the only ones where I could do both. I liked the team, I liked the school. I had been offered more scholarship [money by] Oklahoma University and Michigan, but I liked U of I more.
BTN LiveBIG: Was that your plan career-wise, to pursue something at the nexus of gymnastics and acting?
Silcox: I had no clue. I didn?t really know too much about what was out there. I wanted to go to Broadway as soon as I got done with school. My movement teacher – I had known about Cirque du Soleil for a while – he put it in my head that that might be a fun career path to go for. That stuck in my head and then I pursued that as soon as I got out of school.
BTN LiveBIG: That?s a pretty intense parallel track: theatre and gymnastics.
Silcox: I don?t know that I ever had a moment free in school. I don?t even know if I learned anything too well because I was so spread thin. [Laughs] I think I at least learned to manage [having] a little time and a lot of stress. Nothing afterward has been anywhere near as stressful.