Scott Smith,

July 22, 2017
Listen, we understand that it?s summer, and you probably have a lot on your plate: backyard BBQs, pool parties, maybe even a little beach bumming if you can get down to the shore. But while you?re out there having fun in the sun, remember to take along a good read.

Need a suggestion? Every week this summer, BTN LiveBIG is bringing you our top picks written and/or edited by the faculty, staff, students and alumni of our 14 great universities. So, go out there and work on your tan; just don?t forget to pack a BTN Book Club suggestion in your beach bag.
The Ohio State University in the Sixties: The Unraveling of the Old Order
By William J. Shkurti
(Retired Senior Vice-President for Business and Finance, Ohio State University)
On Wednesday, April 29th, 1970 – the day before President Nixon announced an expansion of the Vietnam War into Cambodia and five days before the shooting at Kent State – student protesters at Ohio State University closed a gated entrance to the school at the corner of 11th and Neal on the Columbus, OH campus. A conflict erupted between the protesters, highway patrolmen and 200 members of the Columbus police department. It set off days of campus-wide protests and confrontations between university officials, police, students and activists.
A week later, OSU President Novice G. Fawcett closed the campus, sealing it off to students, faculty and staff. It remained closed for 12 days due to safety concerns, despite the efforts of 1500 law enforcement officers who had attempted to restore order.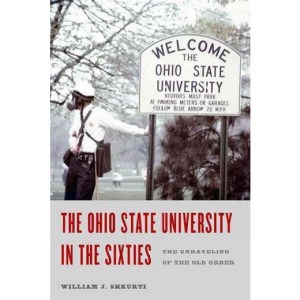 William J. Shkurti, a twenty-year staff member at OSU and a student there during the late 1960s and early 1970s, dives deep into the decade-long journey to that confrontation in his book The Ohio State University in the Sixties.
Shkurti?s book sets out to answer two questions: what changes on the previously conservative campus led to these violent confrontations and how did the university reform itself to prevent their reoccurrence.
Each chapter covers a year in a decade of change for OSU. The issues that would roil campus ten years later began in 1960 with concerns over the treatment of black and female students (still referred to as coeds), the presence of the campus ROTC program and a building desire on the part of the student body to participate in the decisions made by the university, which then – like most universities – operated under the paternalistic idea of in loco parentis.
A decision by the university to not participate in the Rose Bowl, concern over speakers invited to campus and a growing protest movement throughout the country all factor into the changes at OSU?s campus, but Shkurti zooms out to look at other developments on campus such as new construction due to Baby Boomer-led student enrollment increases and OSU?s place as a top university for funded research.
A quarter of the book is spent on the five months of unrest and its aftermath as well as the reform process undertaken by the university: Women and black students became a more visible part of the campus, the ROTC?s numbers dwindled, research programs would depend less on military funding and OSU?s academic offerings would be more student-focused than ever before.
Shkurti brings nuance and previously overlooked context to a complex period, all wrapped within a brisk, compelling read. The book tells a crucial, if painful, part of the university?s history that?s required reading to understand what it has come to stand for in the present.