John Tolley,

July 7, 2017
BTN Book Club
Listen, we understand that it?s summer, and you probably have a lot on your plate: backyard BBQs, pool parties, maybe even a little beach bumming if you can get down to the shore. But while you?re out there having fun in the sun, remember to take along a good read.

Need a suggestion? Every week this summer, BTN LiveBIG is bringing you our top picks written and/or edited by the faculty, staff, students and alumni of our 14 great universities. So, go out there and work on your tan; just don?t forget to pack a BTN Book Club suggestion in your beach bag.
A Wrestling Life
By Dan Gable, with Scott Schulte
For famed Olympian Dan Gable, wrestling has always been second nature.
?I was born on October 25, 1948 in Waterloo, Iowa,? Gable writes in his New York Time bestselling book A Wrestling Life. ?Our family?s house at that time was small? My father, Mack, heard me crying in my crib one night. When he made his way from the bedroom to my crib, he found me on my back, fighting to get off of it. I was actually bridging up on my head to get off my back.?
The famed former University of Iowa coach?s book of recollections from a life lived on and off the mat is an easy primer on the value of hard work and tenacity.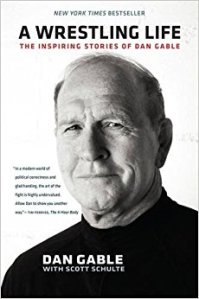 From his spirited youthful rebellion to the tragic murder of his sister, Gable (with the help of co-author Scott Schulte) strings along stories of triumph and failure and the lessons that can be extracted from each.
The most dramatic example comes shortly after winning the gold medal at the 1972 Munich Olympics, Gable limped into his parents? house after a particularly brutal practice. Even with the top prize in his sport now within reach, he was still punishing his body evermore in the pursuit of perfection. Looking at her son?s freshly blackened eye, Gable?s mother had a simple piece of advice: ?Dan, it?s time to move on.?
?In reality, my mother is probably the only person who could have made that decision for me,? remembers Gable. ?I took her words not as a suggestion, but nearly as a direct order from a superior. She made the decision for me, and it was based on her love for me.?
Gable recently followed up the success of his first book with A Wrestling Life 2, further outlining his approach to wrestling, coaching and life through his Gable Trained Principles of preparedness, outperformance and the force of will.