Scott Smith,

July 1, 2017

Listen, we understand that it's summer, and you probably have a lot on your plate: backyard BBQs, pool parties, maybe even a little beach bumming if you can get down to the shore. But while you're out there having fun in the sun, remember to take along a good read.

Need a suggestion? Every week this summer, BTN LiveBIG is bringing you our top picks written and/or edited by the faculty, staff, students and alumni of our 14 great universities. So, go out there and work on your tan; just don't forget to pack a BTN Book Club suggestion in your beach bag.
The Physics of Everyday Things:
The Extraordinary Science Behind an Ordinary Day
By James Kakalios
(School of Physics and Astronomy professor, University of Minnesota)
Taking a cue from late night dorm room conversations, University of Minnesota professor James Kakalios's first book The Physics of Superheroes, examined, among other feats of the fantastic, the underlying science of Superman's single-bound leaps of tall buildings and the forces that really killed Spider-man's girlfriend Gwen Stacy.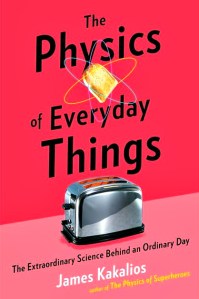 Kakalios's third book, The Physics of Everyday Things: The Extraordinary Science Behind an Ordinary Day brings physics back into the real world. A slim volume that makes the perfect addition to a beach bag or morning commute, the books contextualizes the macro with the micro. Seven chapters narrated as a day in the life ("It is early morning and you're asleep in bed."), Everyday Things explains the world around the reader starting with the automatic timer on a coffee maker and ending in front of a flat-panel TV as you drift off, dreaming of Back to the Future's flying cars.
Kakalios's book is well-timed. The internet of things now places high-tech into previously low-tech objects like cameras, light bulbs and hotel room keys, all of which change the nature of how things work in our lives. With so much of science fiction now considered science fact – and with the work of scientists becoming increasingly politicized – understanding the forces around us and why we need them is essential.
For everyone who ever sat in a physics class and wondered "When am I ever going to use this?", Kakalios offers a bookful of breezy, thought-provoking answers.