John Tolley,

April 2, 2017

The story of how Diondra Harmon found the OSU Star House isn?t a pleasant one.

She?d been homeless for a while, drifting from couch to couch, staying with friends or acquaintances. In fact, she was at a friend?s house, a place where she was told she could stay a while, a place that she thought was safe, when she was physically attacked by a man she barely knew.

Jumping through an open window, Harmon ran. She approached numerous people on the street, pleading for help, but, one by one, they turned away.

Finally, an employee at a grocery store called 911, but by the time the police arrived and investigated, her attacker had fled. They could escort her back to her friend?s house, they said, but Harmon was rattled, still bleeding from the attack. One officer, though, did know of a place that could help her: The OSU Star House.

?He brought me here and I can say that for the first hour, I was nervous, I was shook up? says Harmon, 22. ?But then right away they were able to help me find a shelter to stay at and give me fresh clothes, some food, they let me take a shower. That felt really good.?

Since its inception in 2006, The Ohio State University?s Star House, a drop-in center with an open door policy for young people between the ages of 14 and 24, has been helping the homeless youth of Columbus connect with the resources they need to get safe, healthy, and off the streets for good.

According to Star House?s founder, Dr. Natasha Slesnick, homelessness among youth populations is largely an ?invisible? problem which has led to a dearth of services targeting the young.

?Even in Columbus, people did not recognize that there were homeless youth in the community,? says Slesnick, a professor of Human Development and Family Science in the College of Education. ?Around the country, figures are rough because homeless youth don?t fit into school surveys because they?re not in school to be surveyed. So, we don?t have an accurate estimate of how many homeless youth there are in the country.?

Seed funding for Star House originated from a National Institutes of Health grant to study new strategies to combat homelessness. Slesnick started with a small house on Ohio State?s campus, offering a range of services 5 days a week. Then as now, active outreach to shelters, soup kitchens and informal encampments proved crucial to spreading the word about Star House.

?We?re a low-demand program,? she explains. ?We don?t require that kids do something when they come here. We focus on success. We?re not here to judge; we?re here to give second and third chances to kids that?ve had a rough start to life.?

Now, with help from Ohio State and outside donors, Star House has moved into a brand-new 14,000 square foot facility that CEO Ann Bischoff describes as a ?one-stop shop for young people who are transient.?

?When youth come to OSU Star House, they have access to a computer lab where they can look for jobs, a medical exam room where they can receive preventative care, a kitchen, a laundry facility, a free clothing store,? says Bischoff. ?There?s an art room so they can express themselves, there are musical instruments, there?s a library, a TV room, a gym and a place to be.?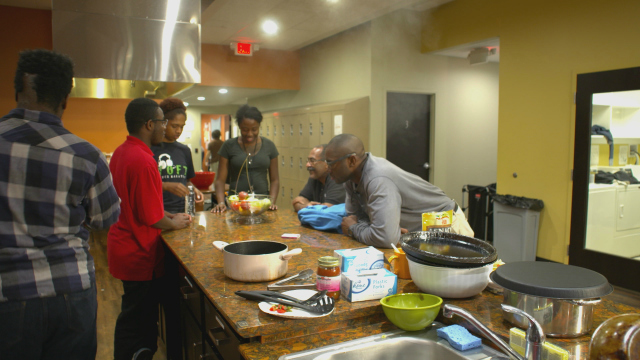 That last element may be the most important. Building a sense of safety, trust and community is paramount to the mission of Star House as most of the young people it serves are victims of abuse and neglect.
?Housing doesn?t solve homelessness, relationships do and we see that time and time again here,? says Bischoff. ?We?re all about community, developing orientation for family and relationships. You have to have relationships in your life to succeed.?
Harmon gushes when she reflects on the opportunities afforded to her by Star House. She was able to get treatment for a few chronic health issues, land three jobs and several promising leads on internships in her desired field of healthcare and social work. But it?s the way everyone at the Star House approached her with simple kindness and basic humanity that stands out.
?I?ve had people completely ignore me. They would look me dead in the face when I would ask for help, and they?d completely ignore me. But Star House, they treat you like you?re still a person, you just got hit with bad luck or you made some bad choices, but at least you?re trying to get better. It?s my sanctuary, my little escape from reality. It?s my temple.?