Matthew Wood,

January 27, 2017

To better track hurricanes, a team at the University of Michigan rocketed to space. Paradoxically, travelling so many miles away will enable them to get closer to the eye of the storm.

The Cyclone Global Navigation Satellite System, or CYGNSS, was conceived in part by professors Aaron Ridley and Chris Ruf of the U of M?s Climate and Space Sciences and Engineering department. They were commissioned by NASA to build a rocket that could send out eight separate satellites, which will then orbit the earth at different speeds and send data about forming weather patterns.

?I got a call for proposals for Earth Venture, which was a new program at NASA dealing with remote observations of weather and earth system from space for low cost,? says Ridley, who teaches space science. ?I asked Chris if he had a small instrument to put on this. He said, ?We have this GPS spectronomy [instrument] that?s pretty cool.??

Five years and $150 million later, their brainchild launched this past December. The satellites are in orbit now and just started tracking data.

?So far, everything seems to be working really well. It?s hard to keep track of eight satellites, but they?re working through it. The next thing on their checklist was to turn on the science instrument and see if it works. It?s all working just great. It?s pretty amazing. It?s pretty unbelievably amazing.?

So, how exactly does it work? Ridley says that, for those of us who haven?t taken classes of his like satellite mission design, it?s kind of like a hula hoop — albeit one moving at speeds of 17,000 miles per hour. While the rocket orbits around the earth, it shoots out the eight separate satellites — no bigger than a few inches in diameter — at differing speeds. That way, they are able to take readings below at different points in the orbit.

?The idea of using a bunch of satellites to take measurements across the globe, that?s the novel thing this does that others don?t do,? Ridley says. ?CYGNSS said, ?Let?s measure one thing but do it at eight satellites.? So you get this ring of measurements across the globe at one time. So you have a number of satellites moving over, collecting data.

?It?s a very different way of looking at it. We think it?s like the future of the way NASA would want to do things. It hasn?t been until quite recently where they have worked on the concept of building a bunch of itty bitty satellites.?

Ruf, who teaches atmospheric science and electrical engineering, said it was a great opportunity for his department.

?It?s really a unique project for any academic department because NASA hadn't put one in charge of an entire earth science mission before,? he says.

While these Wolverines were two of the primary researchers for the project, they were hardly alone. Another dozen people at the university had a major hand in the work, along with partners at the National Oceanic and Atmospheric Administration in Miami and another 30 to 40 people working full time to build and test the satellites.

?Then, when we went to launch, the people in charge of building the rocket, there were 100 people on that side of the fence,? Ridley says. ?There are just massive [numbers of] people working on this project.?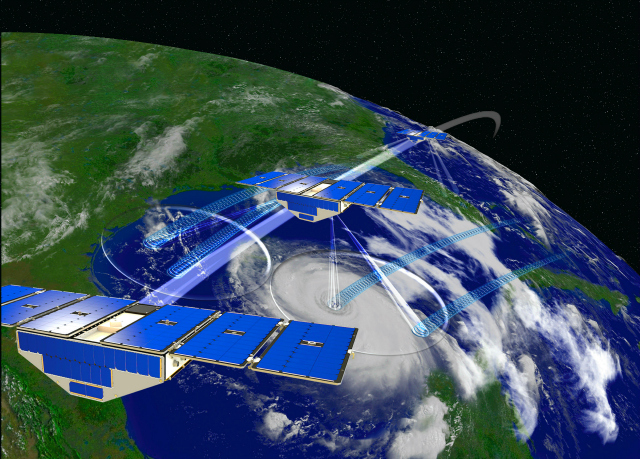 While hurricane measurements are their primary function, the satellites are also expected to track data both on water and land in order to find out more about weather patterns and more.
?There are unanswered questions about the general relationship between tropical precipitation and the air/sea boundary that we will help answer,? Ruf says. ?Over land, our measurements will be sensitive to the amount of moisture beneath the surface, which is beneficial for agricultural and meteorological applications as well as for flood forecasting.?