Alex Roux, BTN.com editor,

January 13, 2017

"This is not the same old Penn State basketball."

[btn-post-package-v2]

That?s the message that head coach Pat Chambers, his players and everyone in the Nittany Lions program wants you to know. And according to freshman forward Lamar Stevens, that?s the message that was delivered during Penn State?s game at Philadelphia?s famed Palestra on Jan. 7.

Program alert: "The Journey" profiles Penn State's freshman class and its recent win at the Palestra in Philadelphia, at 9:30 p.m. ET Sunday.

***

Stevens scored a game-high 18 points in the Nittany Lions? 72-63 win over Michigan State that day. The victory over a traditional college basketball powerhouse was the perfect finish to an experience that Chambers designed to ensure his program continues to build momentum.

No one would argue if you described Penn State as a football school to its core, built on decades of success that brought with it deep loyalty and support. But ?football schools? also generally earn that moniker because the other revenue sport on campus doesn?t enjoy similar spoils. Historically, Nittany Lions hoops has fallen in that beleaguered category.

Rebuilding Penn State basketball has always been a daunting and - until recently - perpetually bleak prospect. In Year Six at the helm, Chambers has yet to reach an NCAA tournament at Penn State. He probably won?t get there this year, either. But thanks to a serious upswing in recruiting, the Nittany Lions? five-going-on-six-year NCAA tournament drought looks like it will end sooner rather than later.

How does Penn State?s recent win at the Palestra figure into all this? Beyond the obvious notch in the win column, Chambers? presence in Philly has fueled his recruiting resurgence.

Along with former Penn State player DJ Newbill, current junior Shep Garner has been credited with laying the foundation for a rejuvenated Nittany Lions roster. Garner went to Philadelphia?s Roman Catholic High School and unofficially opened a Philly pipeline to Penn State that would nearly overflow two recruiting classes later.

***

Chambers? 2015 class included major contributors Josh Reaves and Philly native Mike Watkins, but it was the 2016 class that went down as the best Signing Day haul in program history. Stevens, Tony Carr and Nazeer Bostick all went to the same Roman Catholic High as Garner in Philadelphia, winning two state titles at the school. All three signed with Penn State as part of the No. 26 class in the country, cementing a dominating Philly presence on Chambers? roster.

Now the burgeoning crop of young talent is hooping in Happy Valley, and they took advantage of their chance to return to the Palestra. Widely known as The Cathedral of College Basketball, the Palestra is known to host high school teams in the Philadelphia area, including Roman Catholic. Philly?s five Division I teams play there often, but the game between Michigan State and Penn State was the first Big Ten game held at the arena.

The unique atmosphere provided a great opportunity for Philly-area alumni to catch the Nittany Lions, and they packed the arena with white shirts and an enthusiasm usually seen at football games. Key recruits were front and center to take it all in. It?s also worth pointing out that without legendary Michigan State head coach Tom Izzo?s willingness to play at the Palestra, the opportunity likely would have never happened.

The game itself represented Penn State?s ongoing shift to a new identity. It?s an identity that?s athletic, exciting, and one that has not always shown up consistently as this young team continues to develop. But if you hadn?t watched the Nittany Lions yet this season, the contrast from previous seasons was obvious. Dunks came from multiple players and positions. Penn State exposed the Spartans? own young defense with sharp cuts to the basket and a balanced attack. Their two leading scorers were freshmen in Stevens and Carr.

Above all, it was fun to watch.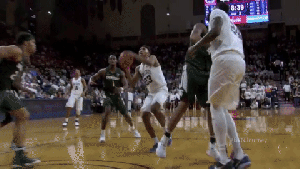 The performance gave serious substance to Chambers? claim:
?We?re here now.?