BTN.com LiveBIG Staff,

May 14, 2016

When Caleb Lindhorst opened his eyes on one fateful day in January 2014, he didn?t know where he was. Or when.

This University of Nebraska student?s last conscious memory prior to that moment was on the day after he?d finished his final exams - in the previous month. He was looking forward to getting some rest and relaxation over the winter break and spending Christmas and New Year?s Day with family and friends in his hometown of Lindsay, Neb., population 321.

But it was not to be. That very day, Lindhorst was ejected from a vehicle that rolled over on a gravel road. The accident caused a severe brain injury that put him into a coma and required him to be airlifted to Omaha for treatment.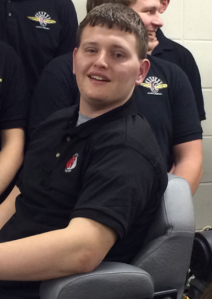 Many of the people close to Lindhorst heard about his terrible mishap and came to his bedside within a day or two. One of them was Roger Hoy, professor of biological systems engineering, director of the Nebraska Tractor Test Laboratory at UNL and academic advisor to Lindhorst. Hoy knew this student reasonably well, and appreciated his intellect, work ethic and manner.
?As soon as I heard this happened, I wanted to be up in Omaha,? he said. ?I drove there the day it happened. My first thought was, ?How could something so terrible happen to such a nice person???
Doctors who examined Lindhorst in Omaha said he had a 10 percent chance of ever regaining consciousness. But Hoy and others kept the faith.
?My brain was hearing the numbers, but my heart was telling me that wasn?t going to happen,? Hoy said. ?I prayed that wouldn?t happen. I think half the state of Nebraska prayed that wouldn?t happen.?
The professor visited the hospital about a half-dozen times over the break, and he was regularly joined by several dozen of Lindhorst?s friends and relatives.
?Caleb comes from a really strong family and fantastic community,? Hoy said. ?It seemed like half of his town was at the hospital in Omaha on Christmas Day.?
More than five weeks after the accident, Lindhorst came out of his coma. Though he couldn?t speak and was completely paralyzed on the left side of his body, it was inarguably a day of great joy for everyone who knew him - and even many who didn?t.
After that, Lindhorst was transported to the Madonna Rehabilitation Hospital in Lincoln. He regained his ability to talk relatively quickly, and one of the first things he told Hoy was that he wanted to take part in an annual tractor competition that June.
?Right then and there, I knew he was going to be alright,? Hoy said. ?I wasn?t going to let his mind deteriorate if I could help it at all.?
Lindhorst intended to resume his studies at Nebraska, something his professor fully supported. They were once again working against the odds, as doctors expressed their doubts that he?d ever be physically or mentally up for that.
Despite having just overcome a seemingly insurmountable obstacle and being told another challenge was all but out of reach, the young man was undaunted.
?I am a natural competitor,? Lindhorst said. ?I want to do the best that I can. When they told me that I could never go back to school, not only did I go back to school, I went back full-time.?
Throughout the spring of 2014, Hoy visited him at the hospital a few times a week to help get him back into the rhythm of student life. Lindhorst went back to Lincoln that fall to finish what he?d started, and with assistance from his professor - as well as Luke Prosser, a friend, fellow student and, now, Nebraska graduate - he was soon well on his way.
In fact, he?s maintained a GPA in the 3.6-3.8 range since returning.
?He?s got a great mind,? Hoy said. ?Before the accident, Caleb was an exceptional student and an exceptional young man. He hasn?t lost a step in that regard.?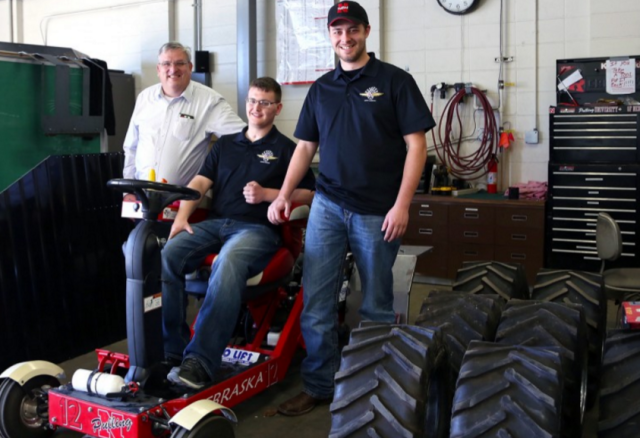 As an agriculture engineering major, Lindhorst studies a field that combines a sophisticated blend of mechanical, electrical and civil engineering, and he gets to apply that knowledge at the Nebraska Tractor Test Laboratory. For instance, he recently programmed a cutting-edge touchscreen interface onboard a tractor, Hoy said.
?Somebody like Caleb, who grew up on a farm and knows all that equipment and what it?s supposed to do, is going to be incredibly valuable,? he added.
And he?s accomplished all of this in spite of the fact that he still spends several hours every day performing a rigorous regimen of special exercises to maintain and gradually improve his physical condition. Still, he insists he?s not so different from everyone else.
?I?m just a normal college kid,? Lindhorst said. ?I go to every single Nebraska football game.?
[btn-post-package]Lindhorst can look forward to another Cornhuskers season this fall. A senior, he?s got 10 more credit hours to earn before he graduates this December. In the meantime, he?s got another big step ahead of him: He?ll be living by himself in Lincoln all summer while interning at the Nebraska Tractor Test Laboratory.
In the face of the accident and its aftermath, Lindhorst nevertheless believes he?s been fortunate to have a great family, community, university and state behind him through all of this.
?My mom, dad and grandma really pushed me hard,? he said. ?And my whole town always wants to know how I?m doing.?
?Caleb is a product of a farming family and community that?s the backbone of this country,? Hoy added. ?I don?t think a lot of people could have gone through what he went through and succeeded the way he?s succeeded. That foundation, and his drive and determination, is what did it.?
By Brian Summerfield