Brent Yarina, BTN.com Senior Editor,

April 18, 2016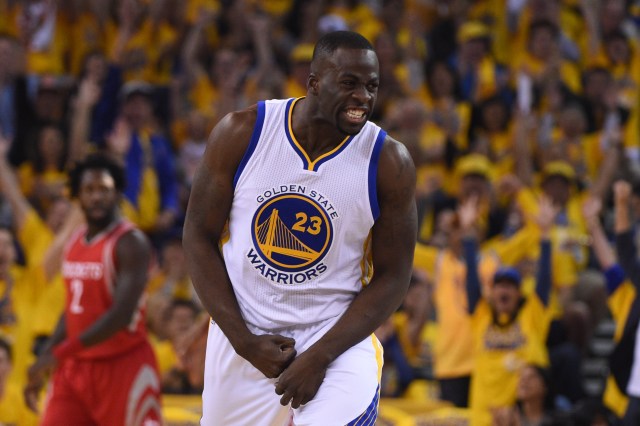 The 2016 NBA Playoffs tipped off Saturday, and there are plenty of Big Ten names still playing.
Eighteen of them, to be exact, according to NBA.com's team roster pages.
Golden State do-it-all star Draymond Green (Michigan State) headlines the list, and is one of three former Big Ten player of year award winners in the postseason, joining Boston's Evan Turner (Ohio State) and Charlotte's Frank Kaminsky (Wisconsin).
If you're wondering, Michigan's four playoff players pace the Big Ten, followed by Michigan State, Ohio State and Wisconsin, which have three apiece.
Here's the full list.
ATLANTA HAWKS
Tim Hardaway Jr., Michigan
Kris Humphries, Minnesota
BOSTON CELTICS
Jared Sullinger, Ohio State
Evan Turner, Ohio State
CHARLOTTE HORNETS
Frank Kaminsky, Wisconsin
Cody Zeller, Indiana
DALLAS MAVERICKS
Devin Harris, Wisconsin
Deron Williams, Illinois
GOLDEN STATE WARRIORS
Draymond Green, Michigan State
HOUSTON ROCKETS
Sam Dekker, Wisconsin
INDIANA PACERS
Glenn Robinson III, Michigan
LOS ANGELES CLIPPERS
Jamal Crawford, Michigan
Branden Dawson, Michigan State
MEMPHIS GRIZZLIES
Mike Conley, Ohio State
Zach Randolph, Michigan State
OKLAHOMA CITY THUNDER
Mitch McGary, Michigan
PORTLAND TRAILBLAZERS
Meyers Leonard, Illinois
Noah Vonleh, Indiana